The Emotionally Intelligent Workplace: How to Select For, Measure, and Improve Emotional Intelligence in Individuals, Groups, and Organizations
ISBN: 978-1-118-30879-0
384 pages
June 2001, Jossey-Bass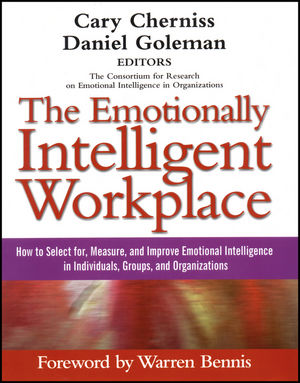 How does emotional intelligence as a competency go beyond the individual to become something a group or entire organization can build and utilize collectively? Written primarily by members of the Consortium for Research on Emotional Intelligence in Organizations, founded by recognized EI experts Daniel Goleman and Cary Cherniss, this groundbreaking compendium examines the conceptual and strategic issues involved in defining, measuring and promoting emotional intelligence in organizations. The book's contributing authors share fifteen models that have been field-tested and empirically validated in existing organizations. They also detail twenty-two guidelines for promoting emotional intelligence and outline a variety of measurement strategies for assessing emotional and social competence in organizations.
See More
Tables, Figures, & Exhibits xi
Foreword xv
Warren Bennis
Preface xix
The Contributors xxvii
PART ONE: DEFINING AND ASSESSING EMOTIONAL INTELLIGENCE 1
1 Emotional Intelligence and Organizational Effectiveness 3
Cary Cherniss
2 Emotional Intelligence: Issues in Paradigm Building 13
Daniel Goleman
3 An EI-Based Theory of Performance 27
Daniel Goleman
4 The Economic Value of Emotional Intelligence Competencies and EIC-Based HR Programs 45
Lyle M. Spencer
5 Measurement of Individual Emotional Competence 83
Marilyn K. Gowing
6 Group Emotional Intelligence and Its Influence on Group Effectiveness 132
Vanessa Urch Druskat, Steven B. Wolff
PART TWO: HUMAN RESOURCE APPLICATIONS AND EMOTIONAL INTELLIGENCE 157
7 Using Human Resource Functions to Enhance Emotional Intelligence 159
Ruth L. Jacobs
8 The Challenge of Hiring Senior Executives 182
Claudio Fernández-Aráoz
PART THREE: EFFECTIVE SOCIAL AND EMOTIONAL LEARNING IN ORGANIZATIONS 207
9 Training for Emotional Intelligence: A Model 209
Cary Cherniss, Daniel Goleman
10 How and Why Individuals Are Able to Develop Emotional Intelligence 234
Richard E. Boyatzis
11 Developing Emotional Competence Through Relationships at Work 254
Kathy E. Kram, Cary Cherniss
12 Implementing Emotional Intelligence Programs in Organizations 286
Cary Cherniss, Robert D. Caplan
References 305
Name Index 327
Subject Index 333
See More
CARY CHERNISS
is professor of applied psychology at Rutgers University. Cherniss is a specialist in emotional intelligence, work stress and burnout, management training and development, planned organizational change, and career development.
DANIEL GOLEMAN is the author of the New York Times best-seller Emotional Intelligence and Working with Emotional Intelligence.
Goleman and Cherniss cochair the Consortium for Research on Emotional Intelligence in Organizations at Rutgers.
See More