E-book
Sage 50 Accounts For Dummies, 2nd Edition Updated for 2014
ISBN: 978-1-118-31123-3
424 pages
March 2012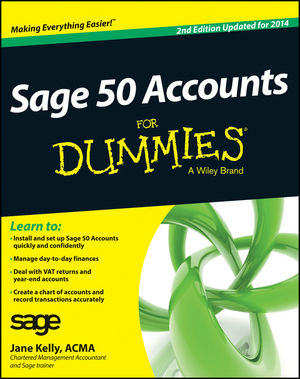 Get to grips with Sage 50 Accounts in simple steps
This comprehensive guide walks you through every aspect of setting up and using Sage 50 Accounts, from installing the software to running VAT returns and producing monthly and yearly accounts. Inside you′ll discover the quickest way to complete tasks and how to customise Sage to suit your specific business needs. Packed with step-by-step instructions and fully illustrated with screenshots, this book is the easiest way to get the most from Sage 50 Accounts and take control of your business finances.
Completely up-to-date for the 2014 edition of Sage 50 software
Set up and start using Sage 50 Accounts with minimum fuss
Fully illustrated with the latest screenshots to help you every step of the way
Guidance on going mobile - with the new Sage 50 app
Details on the new Sage Quicksearch feature
See More
Introduction 1
Part I: Setting Up and Installing Sage 50 Accounts 7
Chapter 1: Introducing Sage 50 Accounts 9
Chapter 2: Creating Your Chart of Accounts and Assigning Nominal Codes 33
Chapter 3: Setting Up Records 53
Chapter 4: Recording Your Opening Balances 77
Part II: Looking into Day-to-Day Functions 93
Chapter 5: Processing Your Customer Paperwork 95
Chapter 6: Invoicing Your Customers 105
Chapter 7: Dealing with Paperwork from Your Suppliers 121
Chapter 8: Recording Your Bank Entries 131
Chapter 9: Maintaining and Correcting Entries 147
Part III: Functions for Plus and Professional Users 159
Chapter 10: Processing Sales Orders 161
Chapter 11: Processing Purchase Orders 181
Chapter 12: Keeping Track of Your Products 197
Chapter 13: Managing Projects 213
Chapter 14: Using Foreign Currencies 229
Part IV: Running Monthly, Quarterly and Annual Routines 247
Chapter 15: Reconciling Your Bank Accounts 249
Chapter 16: Running Your Monthly and Yearly Routines 261
Chapter 17: Running Your VAT Return 279
Part V: Using Reports 301
Chapter 18: Running Monthly Reports 303
Chapter 19: Tackling the Complicated Stuff 321
Chapter 20: Running Key Reports 337
Chapter 21: Going Mobile 355
Part VI: The Part of Tens 367
Chapter 22: Ten (Okay, Eleven) Funky Functions 369
Chapter 23: Ten (Or More) Wizards to Conjure 373
Appendix: Glossary 381
Index 385
See More
Jane Kelly, ACMA is a Chartered Management Accountant and Sage trainer. As well as being a successful For Dummies author, she is currently working on online training solutions for Bookkeeping and Sage 50.
See More