The Street-Smart Salesman: How Growing Up Poor Helped Make Me Rich
ISBN: 978-1-118-31319-0
240 pages
June 2012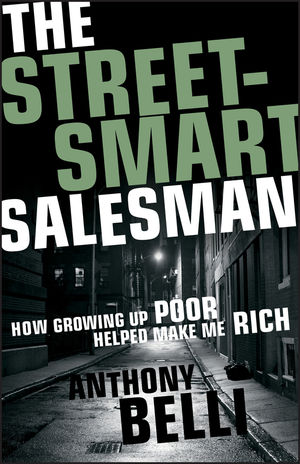 "The benefit to my own company's fortunes, having worked with Anthony,has been a steadily expanding client roster, a leg up on my competition, and the ability to comfortably walk through any door knowing that the prospect who sits in judgment of my service needs me at least as much as I need them."—Rob Katz, CEO, Medical Eyeglass Center
"My time with Anthony Belli played an immeasurably important role in mytransformation from an engineer to hardcore, street-smart sales professional. Countless milestones later, I received [my company's] highest lifetime career achievement honor. Thank you, Anthony, for helping me write my own script in life."—Michael Burton, Principal Technical Consultant, St. Jude Medical Cardiac Rhythm Management
"Having myself grown up in an ethnic, blue-collar Boston community,the legitimacy of a 'street-smart' way of doing things intrigued me. Anthonycreates in the customer's mind a perceived value beyond product features,benefits, and price while building a sustainable relationship that few othersalespeople successfully accomplish . . . The lessons he teaches can, inmany instances, be applied to any profession, whether in sales or not."—From the Foreword by Joe Mandato, DM, Fellow, Advanced Leadership Initiative, Harvard University
When you start out with nothing in life, each and every mistake, misplay, andmissed opportunity can cost you dearly. But that lack of a safety net can hone your judgment and create precision radar for opportunity in a way that no cushy upbringing can. The Street-Smart Salesman shows how growing up poor teaches pricelesslessons that can make you a fortune in sales and business. Strategies include:
Channeling fear and stress into high-performance sales

Creating irresistible value propositions: Blazing a trail from the head to the heart to the wallet

Understanding that all prospects lie—and how to get to the truth
See More
Foreword Joe Mandato, D.M. v
Introduction xi
Part I Eating without Stealing 1
Chapter 1 Birth of a Salesman 3
Chapter 2 The Million-Dollar Accident 23
Chapter 3 Why Not Me? 36
Chapter 4 Your Advantage Is That No One Takes You Seriously 43
Part II Street-Smart Selling 59
Chapter 5 Game-Changers 61
Chapter 6 Shut Up! 80
Chapter 7 Nothing Is as It Appears 90
Chapter 8 Managing First Impressions 95
Chapter 9 A Sense of Urgency: Setting Priorities 106
Chapter 10 The Role of Emotion 112
Chapter 11 Abandon Hope! 120
Chapter 12 Charming Strangers: Prospecting 128
Chapter 13 A Minute to Live: Cold Calling 137
Chapter 14 What's Fair Is Fair 145
Chapter 15 Ready, Set, Improvise: Using Visualization 151
Chapter 16 Defy Expectations 158
Chapter 17 Getting to the Truth: Asking Effective Questions 168
Chapter 18 TheWill to Walk: Negotiating 174
Chapter 19 Flag on the Play! Reading a Customer 183
Chapter 20 Closing, or The Gentle Kill 192
Chapter 21 Teaching Instincts 209
Notes 219
See More
ANTHONY BELLI, a high-income sales and sales management professional and marketing entrepreneur, was born in Italian East Harlem in New York City in 1953, into one of the poorest families in one of the city's worst slums. A chronic truant, in 1971 he was accepted into the SEEK program for disadvantaged students at the City College of New York. There he earned bachelor's and master's degrees with honors, followed by an Advanced Certificate in Marketing from the Lubin School of Business at Pace University. In recent years, he also has been a popular visiting professor at Mercy College in Dobbs Ferry, New York. Belli began his sales career with Metropolitan Life in 1978, making the company's Million-Dollar Club in his first year. As a sales representative specializing in high-tech goods, he has consistently performed in the highest ranks, winning dozens of company, regional, and national sales awards for his employers and earning millions in commissions.
See More