Textbook
The Professional Bakeshop: Tools, Techniques, and Formulas for the Professional Baker
ISBN: 978-1-118-31410-4
576 pages
July 2013, ©2012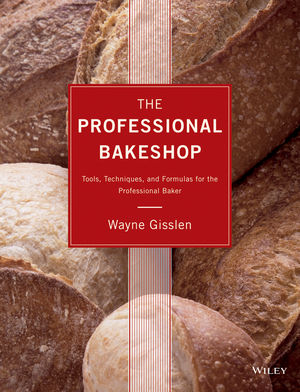 The most comprehensive guide on the market for aspiring or professional bakers and pastry chefs and serious home bakers
This complete guide to the art and science of baking and pastry from Wayne Gisslen offers straightforward, practical guidance on the fundamentals of baking. Covering everything from how ingredients interact to mixing methods for doughs to step-by-step baking advice, this is an essential resource for professionals who want to brush up on technique as well as home bakers who want to take their hobby to a higher level.
The book offers a complete guide to the basics of preparing breads, pastry doughs, cakes, creams, icings, and much more. Throughout, step-by-step photographs explain key techniques while luscious illustrations of finished items offer plating and decorating suggestions.
Ideal for professionals and home bakers at almost any skill level, covering everything from the fundamentals of baking to the complexities of chocolate and sugarwork
Features nearly 750 recipes and variations, many including both large and small batch measurements
Written by Wayne Gisslen, bestselling author of Professional Cooking, Professional Baking, Essentials of Professional Cooking, and The Chef's Art and coauthor of Professional Garde Manger, all from Wiley
See More
Preface  8
Acknowledgments  10
Special Contributors  11
1 Introduction to Professional Baking 12
Formulas and Measurement  13
Measurements  14
Baker's Percentages  16
Formula Yields  17
2 Fundamentals of Baking 20
Ingredients  21 Basic Baking Principles  44
3 Fundamentals of Yeast Dough and Artisan Bread 56
Lean Dough Products  57
Rich Dough Products  57
Laminated or Rolled-In Yeast Dough Products  57
Yeast Dough Production  57
Types of Dough-Making Processes  68
Controlling Fermentation  68
Bread Faults and Their Causes  71
Artisan Breads  72
4 Yeast Dough Formulas 80
Introduction to Handcrafted Breads  81
Crisp-Crusted Bread Formulas  81
Soft-Crusted Bread and Rye Bread Formulas  87
Sourdough Formulas and Specialty Breads for the Artisan Baker  92
Rich Yeast Doughs  105
Sweet Dough and Rich Dough Formulas  105
Laminated Dough Formulas  112
Fillings and Toppings  118
Makeup Techniques  124
5 Quick Breads and Fried Items 144
Quick Breads  145
Doughnuts  160
Fritters  165
Pancakes and Waffles  169
6 Syrups, Creams, Sauces, and Fruit Preparations 176
Sugar Cooking  177
Basic Creams  181
Dessert Sauces  196
Basic Fruit Preparations  202
7 Pies and Baked Fruit Desserts 210
Pie Doughs  211
Assembly and Baking  214
Fillings  218
Pie Faults and Their Causes  239
Baked Fruit Desserts  240
8 Pastries and Tarts 244
Pâte Brisée and Short Pastries  245
Puff Pastry  249
Éclair Paste  264
Strudel and Phyllo  269
Baked Meringues  276
Tarts and Tartlets  281
Special Pastries  290
9 Cake Basics 300
Mixing  301
Cake Formula Balance  310
Scaling, Panning, and Baking  311
Altitude Adjustments  314
Cake Formulas  314
Icings  336
Assembling and Icing Simple Cakes  349
Basic Decorating Techniques  353
10 Advanced and Specialty Cakes 360
Planning and Assembling Specialty Cakes  361 Procedures for Specialty Cakes  367
11 Cookies 390
Cookie Characteristics and Their Causes  391
Mixing Methods  392
Types and Makeup Methods  393
Panning, Baking, and Cooling  396
Petits Fours Secs  396
Formulas  398
12 Custards, Puddings, and Frozen Desserts 422
Custards and Puddings  423
Bavarians and Mousses  436
Soufflés  454
Churn-Frozen Desserts  456
Still-Frozen Desserts  466
13 Advanced Techniques 474
Introduction to Chocolate  475
Working with Couverture  476
Molding Chocolate  479
Chocolate Decorations  480
Chocolate Truffles and Confections  488
Marzipan  497
Pastillage  501
Nougatine  507
Boiling Syrups for Sugar Work  509
Spun Sugar and Caramel Decorations  510
Poured Sugar  514
Pulled Sugar and Blown Sugar  516
Boiled Sugar Confections  524
14 Plating and Presentation 530
Overview of Dessert Plating  531 Practical Plating Guidelines  533
Appendix 1: Metric Conversion Factors  562
Appendix 2 : Approximate Volume Equivalents of Dry Foods  563
Bibliography  564
Recipe Index  565
Subject Index  572
See More
Buy Both and Save 25%!
The Professional Bakeshop: Tools, Techniques, and Formulas for the Professional Baker (US $65.00)
-and- Professional Cake Decorating, 2nd Edition (US $65.00)
Total List Price: US $130.00
Discounted Price: US $97.50 (Save: US $32.50)
Cannot be combined with any other offers. Learn more.