Confidence For Dummies, 2nd Edition
ISBN: 978-1-118-31467-8
292 pages
July 2012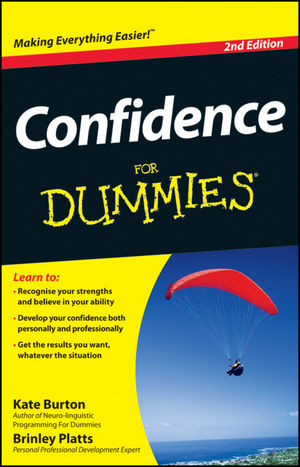 Build up your confidence levels and become more effective in all areas of your life
Self-confidence is more than just a feeling inside – it's an indispensable ingredient for success in life. Written by two of the most sought-after executive coaches in the world, Confidence For Dummies, 2nd Edition arms you with proven tools and techniques for overcoming insecurity and social inhibitions, and for learning how to think and behave with more confidence at work, socially, and even in love.
Know where you stand – gauge your confidence level, identify which aspects of your life need confidence-building, and find out what's keeping you stuck in place

Get on track – tailor a personal programme for creating the new super-confident you that you want to present to the world

Find your focus – find out how to let go of perfectionism and unrealistic expectations

Project self-confidence – broadcast your new-found confidence to the world and connect more easily with others
Open the book and find:
What confidence is and where it comes from

How to connect confidently through social media

Top tips to prepare you for a presentation or job interview

Advice for approaching romantic relationships with confidence

How to say 'No' with confidence

Ways to recover quickly from any setback
Learn to:
Recognise your strengths and believe in your ability

Develop your confidence both personally and professionally

Get the results you want, whatever the situation
See More
Introduction 1
Part I: Considering the Basics 7
Chapter 1: Assessing Your Confidence 9
Chapter 2: Identifying Your Sticking Points 29
Chapter 3: Charting Your Course Ahead 43
Part II: Gathering the Elements 55
Chapter 4: Finding Your Motivation 57
Chapter 5: Sticking to Your Principles 71
Chapter 6: Making Friends with Your Emotions 87
Chapter 7: Unleashing Your Passion 101
Part III: Building Your Confident Self 117
Chapter 8: Moving Beyond Perfection 119
Chapter 9: Stretching Yourself Mentally 137
Chapter 10: Developing Your Physical Confidence 153
Chapter 11: Raising Your Voice 163
Chapter 12: Getting the Result You Want 175
Part IV: Engaging Other People 191
Chapter 13: Demonstrating Confidence in the Workplace 193
Chapter 14: Approaching Romantic Relationships with Confidence 219
Chapter 15: Connecting Confidently via Social Media 233
Part V: The Part of Tens 249
Chapter 16: Ten Great Questions to Spur You into Action 251
Chapter 17: Ten Daily Habits to Raise Your Confidence 257
Index 263
See More
Kate Burton is a leading international executive coach with a background in corporate communication in IT, and works with clients such as HP, KPMG and Microsoft. Brinley Platts is a leading authority on the development of senior executives.
See More