E-book
Trading Secrets: Killer trading strategies to beat the markets and finally achieve the success you deserve, 3rd Edition
ISBN: 978-1-118-31923-9
120 pages
March 2012, Wrightbooks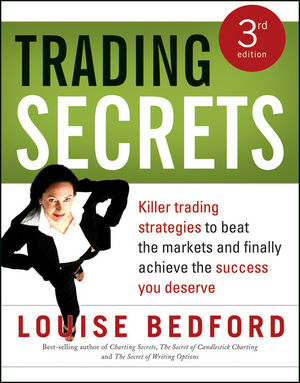 A practical, informative, and accessible guide to getting started in trading
Louise Bedford has been coaching and mentoring traders for almost twenty years, and in Trading Secrets, Third Edition she's back to share what she's learned. Whether you're just starting out in the trading world, or you're an old hand looking for some new tricks, this book is for you. Packed with everything you need to get in on the action and consistently profit from the markets, Trading Secrets is your personal coach to becoming a trading mastermind.
Designed to educate, motivate, and guide you through the sometimes confusing world of trading, the book shows you how to set up a trading business and, most importantly, master your number one trading foe; yourself. Known for her witty and entertaining style, Bedford has demystified the world of share trading for thousands of investors and traders, and you're next.
Brings together the processes, careful planning, and risk control techniques that Bedford has used throughout her own successful trading career
Offers fascinating insights into everything from how to handle a windfall profit to why men and women trade differently
Includes end-of-chapter review materials, essential for helping you master the material
See More
Acknowledgements vii
Introduction ix
Part I — Business secrets 1
1 Stop trading, start thinking 3
2 Trust a broker? Are you crazy? 13
3 Get ready for action 27
4 Got a job? Hang on in there … for a while 33
Part II — It takes all sorts 41
5 It's all about sex 43
6 The best gift you can give your child 49
7 Find a hero — the undervalued success secret 55
8 Trader — know thyself 63
Part III — Trading tools 73
9 History never repeats. Are you sure? 75
10 Stop playing blind archery 95
11 Speed counts. Should you get online? 133
12 Show me the money! 143
13 Sector analysis — your shortcut 151
Part IV — Trade management secrets 159
14 GFC victims didn't use stops 161
15 Most people suck at money management 181
16 More bang for your buck 199
17 It's TattsLotto time 209
18 Warning! Measure or go broke 215
Part V — Recession-smashing strategies 225
19 Make the bear your friend 227
20 Options multiply your results 239
21 New trading products 251
Part VI — Words of wisdom 259
22 Associate with success 261
23 Write it down or suff er the consequences 273
24 Habits determine your success 289
25 The real secret 295
Further reading 299
Glossary 301
Testimonials 313
Index 317
More from Louise . . . 325
See More
Louise Bedford has been trading for over 20 years and is one of Australia's best-selling authors on the sharemarket. Her other books include Charting Secrets, The Secret of Candlestick Charting and The Secret of Writing Options.
See More