E-book
Your Property Success with Renovation
ISBN: 978-1-118-31929-1
280 pages
April 2012, Wrightbooks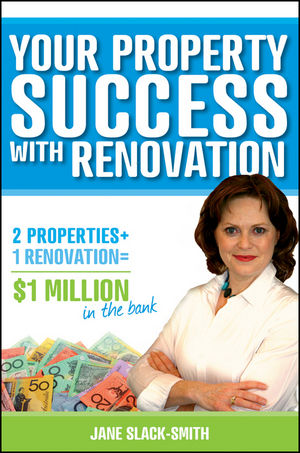 The ultimate guide to investing in property...and making a million!
Everyone's looking to get rich, and a lot of those people are looking at investing in property as the way to get there. But watch out—making money in real estate isn't always as easy as it might look. At least, not without Your Property Success with Renovation in hand, that is. Written by Jane Slack-Smith, a true investment guru who's put together her own multi-million dollar property portfolio, this is the ultimate guide to making the housing market work for you.
Loaded with no-nonsense advice to help you avoid the traps that so many would-be real estate investors fall into, Your Property Success with Renovation introduces a unique three-pronged, low-risk investing strategy. Rather than focusing on fast money, the book encourages a low-risk plan—find an area with above average capital growth, buy below market value, and build value through renovation—that will help you build a strong, profitable real estate portfolio.
Introduces "The Trident," a new way of approaching investing in real estate that focuses on low-risks and high rewards, not fast money
Written by real estate portfolio expert Jane Slack-Smith, who transformed an initial investment of $45k into a multi-million dollar fortune using the techniques outlined in this book
Shows you how to get the most out of the real estate market by emphasizing the value of property renovation
With just two investment properties and one renovation the average Australian can put a million dollars in the bank within fifteen years, and mortgage broker Jane Slack-Smith is here to show you how.
See More
About the author vii
Acknowledgements ix
My story xi
Introduction xix
Part I: The foundations 1
1 Knowing what you want 3
2 Establishing your goals 11
3 Assessing your finances 19
4 Understanding your risk profile 27
5 Developing your property investing strategy 33
6 The Trident Strategy: minimising risk 43
7 Setting your buying criteria 55
Part II: The purchasing process 63
8 Funding your purchase 65
9 Getting your loan approved 75
10 Locating a property 87
11 Knowing your demographics 101
12 Hitting the streets 109
13 Finding a renovator's dream 115
14 Purchasing your property 131
15 The buying process 143
Part III: Renovating 149
16 Renovating for prosperity 151
17 Costing your renovation 157
18 My tips, mistakes and recommendations 165
19 Organising the renovation 177
20 Review, repair, repent and replicate 187
21 My renovation examples 197
22 Bringing it all together 213
Glossary 221
Index 227
See More
JANE SLACK-SMITH
amassed a multimillion dollar property portfolio that started with an initial investment of just $45,000. In 2005 she founded Investors Choice Mortgages and in 2010 she was awarded 'Mortgage Broker of the Year' by
Your Investment Property
magazine. Visit Jane's website at
www.yourpropertysucessnow.com.au
for more information.
See More