E-book
The World Economy: Global Trade Policy 2011
ISBN: 978-1-118-32146-1
304 pages
April 2012, Wiley-Blackwell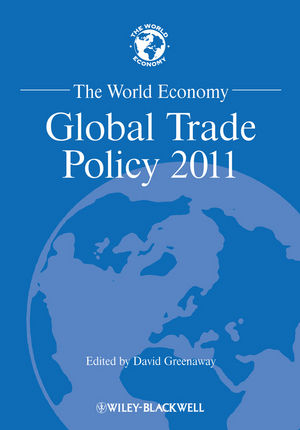 This is the eighteenth volume in an annual series in which leading economists provide a concise and accessible evaluation of major developments in trade and trade policy.
Examines key issues pertinent to the multinational trading system, as well as regional trade arrangements and policy developments at the national level

The 2011 issue analyses global trade policy in areas such as Malaysia, West Africa and China

Includes a review of antidumping, safeguards and countervailing duties from 1990–2009

Includes chapters exploring WTO issues, and a special section on agricultural trading issues

Provides up-to-date assessments of the World Trade Organization's current Trade Policy Reviews

A vital resource for researchers, analysts and policy-advisors interested in trade policy and other open economy issues
See More
Notes on Contributors vi
TRADE POLICY REVIEWS
1 Trade Policy Review – Malaysia 2010
CAMILLA JENSEN AND NASRA KARA 1
2 China's Economic and Trade Development: Imbalance to Equilibrium
XIANGUO YAO AND MINGHAI ZHOU 19
ISSUES IN AGRICULTURAL TRADE
3 Free Trade in Agriculture and Global Poverty
MAURIZIO BUSSOLO, RAFAEL DE HOYOS AND DENIS MEDVEDEV 35
4 Agricultural Export Subsidies and Domestic Support Reform under the WTO System: What Does It Mean for Welfare in West Africa?
JOHN ALEXANDER NUETAH, TING ZUO AND XIN XIAN 61
SPECIAL TOPICS
5 Taking Stock of Antidumping, Safeguards and Countervailing Duties, 1990–2009
CHAD P. BOWN 81
6 Special and Differential Treatment of Developing Countries and Export Promotion Policies under the WTO
JAI S. MAH 125
Index 145
See More
David Greenaway is Vice-Chancellor of the University of Nottingham, where he is also Professor of Economics and Research Fellow in the Leverhulme Centre for Research on Globalisation and Economic Policy.
See More
More in this series