CompTIA A+ Complete Study Guide: Exams 220-801 and 220-802, 2nd Edition
ISBN: 978-1-118-32405-9
1224 pages
October 2012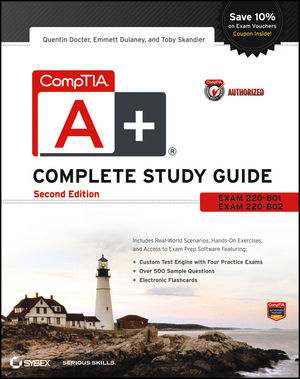 CompTIA Authorized, fully updated Study Guide for the leading IT certification: CompTIA A+
CompTIA A+ is the de facto certification for IT technicians. Some vendors even require employees to achieve certification as part of their job training. This book prepares you for both required exams: 220-801 and 220-802. Totally updated to cover the 2012 exams, this popular prep guide covers all the exam objectives. Readers will also have access to additional study tools, including the Sybex Test Engine with bonus practice exams, electronic flashcards, and a glossary of important terms in searchable PDF form.
Includes a coupon for 10% Off CompTIA Certification Exams
A complete study guide to both exams required for CompTIA A+ certification, the standard certification for software and hardware vendors and major technology companies
Covers personal computer components, laptops and portable devices, operating systems (including mobile), printers and scanners, networks, security, safety and environmental issues, communication, and professionalism
Provides clear and concise information on crucial hardware and operating system maintenance and troubleshooting topics
Offers practical examples, real-world insights, exam highlights, and end-of-chapter reviews
CompTIA A+ Complete Study Guide prepares the diligent student to pass both parts of the A+ exam with confidence.
See More
Introduction xxxi
Assessment Test liv
Part I 220-801 1
Chapter 1 Motherboards, Processors, and Memory 3
Chapter 2 Storage Devices and Power Supplies 69
Chapter 3 Peripherals and Expansion 125
Chapter 4 Display Devices 197
Chapter 5 Custom Configurations 235
Chapter 6 Networking Fundamentals 261
Chapter 7 Introduction to TCP/IP 309
Chapter 8 Installing Wireless and SOHO Networks 337
Chapter 9 Understanding Laptops 395
Chapter 10 Installing and Configuring Printers 445
Chapter 11 Understanding Operational Procedures 501
Part II 220-802 559
Chapter 12 Operating System Basics 561
Chapter 13 Operating System Administration 607
Chapter 14 Working with Windows 7 665
Chapter 15 Working with Windows Vista 709
Chapter 16 Working with Windows XP 747
Chapter 17 Security 797
Chapter 18 Mobile Devices 837
Chapter 19 Troubleshooting Theory, OSs, and Security 929
Chapter 20 Hardware and Network Troubleshooting 981
Appendix A Answers to Review Questions 1041
Appendix B Answers to Performance-Based Questions 1075
Appendix C About the Additional Study Tools 1099
Additional Study Tools 1100
Sybex Test Engine 1100
Electronic Flashcards 1100
PDF of Glossary of Terms 1100
Adobe Reader 1100
System Requirements 1101
Using the Study Tools 1101
Troubleshooting 1101
Customer Care 1102
Index 1103
See More
Quentin Docter, A+, MCSE, CNE, CCNA, SCSA, is an IT consultant and has over 17 years of IT experience.
Emmett Dulaney, A+, Network+, Security+, MCT, is an assistant professor at Anderson University. He has written several certification books, and is coauthor of Sybex's leading certification title: CompTIA Security+ Study Guide. He is also a well-known columnist for CertCities.com.
Toby Skandier, A+, Network+, i-Net+, Server+, is founder of Talskan Technologies, LLC, a technical education provider in North Carolina. All three authors coauthored the previous edition of the CompTIA A+ Complete Study Guide.
See More
Download Title
Size
Download
Click the "Register or Login Now" link below to register or login
Thank you for your interest in this Sybex product. This downloadable product includes the practice exams, flashcards and glossary of terms. To access the free downloadable files, please login or register by clicking the following URL. You'll proceed to the login/registration screen.
Register or Login Now
After you have registered and downloaded your Sybex product's zip file, follow these steps:

Unzip the downloaded file on your Windows computer.
** Note that the interface will not function properly unless you first unzip the file.
Click on start.exe to open the interface.
Read through the license agreement, and then click the Accept button to browse the contents.
If you experience trouble with the start.exe file or interface, please refer to the product ReadMe.txt file.

CompTIA Voucher Discount
68.61 KB
Click to Download
Chapter 10 section on EP Print Process, pages 464-469
The section on the Electrophotographic (EP) Print Process on pages 464-469 was not updated to the revised CompTIA A+ Exam Objectives. Download a PDF of the corrected section.
278.10 KB
Click to Download
Glossary
The Glossary that was included with the original version of the Study Tools was from a different book.
2.21 MB
Click to Download
See More
Do you think you've discovered an error in this book? Please check the list of errata below to see if we've already addressed the error. If not, please submit the error via our Errata Form. We will attempt to verify your error; if you're right, we will post a correction below.
Chapter
Page
Details
Date
Print Run
Incorrect Glossary in Study Tools
The Glossary that was included with the original version of the Study Tools was from a different book. You can download the correct Glossary from the Downloads section on this page.
4/10/14
9
440
Text correction to Chapter 9 Review Question 6
The question should read: "How many pins can a MicroDIMM module have? (choose two)"
12/4/13
1st & 2nd
10
464
Text corrections: Electrophotographic (EP) Print Process
The discussion of the EP Print Process in Chapter 10 was not updated to the revised CompTIA A+ exam. The list on page 464 should read:

Processing
Charging
Exposing (writing)
Developing
Transferring
Fusing
Cleaning


You can dowload a corrected PDF of this section (pages 464-469) from the Downloads area of this page.
See also the errata entry for Chapter 10 Review Questions for corrections related to this update.
10/30/13
1st
10
495-7
Text corrections: Chapter 10 Review Questions
Questions 5, 9 and 18 relate to the EP Print Process, the discussion of which in Chapter 10 was not updated to the new A+ Exam. See the previous errata entry and the downloadable PDF of the relevant section in the chapter.

Question 5: Option A should be "Exposing"

Question 9: the options should read as follows:

Developing, exposing, transferring, fusing, charging, cleaning, processing
Charging, processing, exposing, developing, transferring, fusing, cleaning
Processing transferring, exposing, developing, charging, cleaning, fusing
Processing, charging, exposing, developing, transferring, fusing, cleaning

Question 18: The question should read "Which step in the laser printer printing process occurs immediately after the exposing phase?"
10/30/13
1st
Appendix A
1056
Text correction: Error in Answer to Chapter 9 Review Question 6
The answer should be B, C. The explanation should read: "MicroDIMMs can have 144, 172, or 214 pins."
12/4/13
1st & 2nd
See More
Learn more about