E-book
Illustrated Guide to Door Hardware: Design, Specification, Selection
ISBN: 978-1-118-33027-2
464 pages
April 2015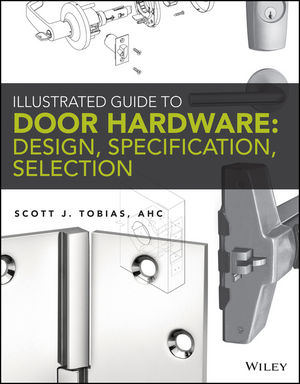 Your one-stop, comprehensive guide to commercial doors and door hardware—from the brand you trust
Illustrated Guide to Door Hardware: Design, Specification, Selection is the only book of its kind to compile all the relevant information regarding design, specifications, crafting, and reviewing shop drawings for door openings in one easy-to-access place. Content is presented consistently across chapters so professionals can find what they need quickly and reliably, and the book is illustrated with charts, photographs, and architectural details to more easily and meaningfully convey key information. Organized according to industry standards, each chapter focuses on a component of the door opening or door hardware and provides all options available, complete with everything professionals need to know about that component.
When designing, specifying, creating, and reviewing shop drawings for door openings, there are many elements to consider: physical items, such as the door, frame, and hanging devices; the opening's function; local codes and standards related to fire, life safety, and accessibility; aesthetics; quality and longevity versus cost; hardware cycle tests; security considerations; and electrified hardware requirements, to name a few. Until now, there hasn't been a single resource for this information.
The only resource available that consolidates all the door and hardware standards and guidelines into one comprehensive publication
Consistently formatted across chapters and topics for ease of use
Packed with drawings and photographs
Serves as a valuable study aid for DHI's certification exams
If you're a professional tired of referring to numerous product magazines or endless online searches only to find short, out-of-date material, Illustrated Guide to Door Hardware: Design, Specification, Selection gives you everything you need in one convenient, comprehensive resource.
See More
Foreword VII
Acknowledgments IX
User Guide XI
Who This Book Is For XI
How This Book Is Organized XII
How to Use This Book XII
About the Author XIII
Introduction XV
Associations XV
Codes XVIII
Finishes XIX
Grades XXIV
Handing XXIV
Materials XXV
Fire Rating XXV
Listing XXVI
Specifications XXVI
Standards XXIX
Submittals XXXI
Substitutions XXXI
Sustainability XXXI
Chapter 1: HANGING DEVICES 1
Hinges 1
Continuous Hinges 28
Pivots 46
Floor Closers 58
Sliding and Folding Door Hardware 70
References 80
Chapter 2: SECURING DEVICES 85
Inactive Leaf of Pairs of Doors 85
Bolts 86
Cylinders for Locking Devices 98
Dummy Trim 110
Electric Strikes 116
Panic and Fire Exit Hardware 122
Removable Mullions 148
Two- or Three-Point Locksets 151
Unlatch Devices 165
Electromagnetic Locksets 169
Active Leaf of Pair or Single Door 177
Cylinder for Locking Devices 177
Deadlocks 178
Door Position Switches 184
Dummy Trim 184
Dutch Door Bolts 184
Electric Strikes 184
Electromagnetic Locksets 185
Latchsets and Locksets 185
Panic and Fire Exit Hardware 218
Two- or Three-Point Locksets 218
Unlatch Devices 218
References 218
Chapter 3: OPERATING TRIM 225
Door Pulls 225
Push Plates 231
Push and Pull Bars 236
References 239
Chapter 4: ACCESSORIES FOR PAIRS OF DOORS ONLY 243
Coordinator 243
Carry Bar 247
References 249
Chapter 5: CLOSING AND CONTROL DEVICES 253
Door Closer 253
Electronic or Pneumatic Door Closers 263
Power-Operated Door Closers 268
Overhead Door Stops and or Holders 274
References 279
Chapter 6: PROTECTIVE PLATES AND TRIM 283
Armor Plates 283
Door Edge Guards 288
Kickplates 292
Mop Plates 300
Stretcher Plates 304
References 308
Chapter 7: STOPS AND HOLDERS 311
Door Holders 311
Electromagnetic Door Holders 314
Floor Stops 318
Wall Stops 322
References 326
Chapter 8: ACCESSORIES 329
Astragals 329
Threshold 333
Weatherstripping and Gasketing 339
References 347
Chapter 9: MISCELLANEOUS ITEMS 351
Bumper Guard 351
Card Holders 353
Coat Hooks 355
Decals 357
Gate Latch 359
Guard 360
Knockers 362
Latch Protector 364
Letterbox Plates 366
Magnetic Catch 368
Roller Latch 369
Signage—Room Name Plates and Numbers 370
Silencers 373
Vertical Rod Cover 376
Viewer 377
Wire Pull 379
Smoke and Fire Detection Devices 380
References 380
Chapter 10: MISCELLANEOUS ITEMS 383
Computers 383
Drawings and Diagrams 383
Electromechanical Hardware 385
Key Control Cabinets 391
Key Control Software 391
Manuals 391
Wire 392
References 392
Index 395
See More
Scott Tobias, AHC, CDC, CDT, CSI, CFDI, FDAI, LEED AP, has been servicing the door, hardware, and construction industries for over 25 years. Having served on the board of DHI as well as CSI, he is one of the most knowledgeable leaders in door hardware applications, code references, and specifications. As an expert educator in the architectural, design, and construction communities, he has authored numerous articles for the Construction Specifier magazine, Cleaning & Maintenance magazine, Life Safety Digest, and Door and Hardware magazine.
See More