E-book
Wealth Regeneration at Retirement: Planning for a Lifetime of Leadership
ISBN: 978-1-118-33057-9
165 pages
September 2012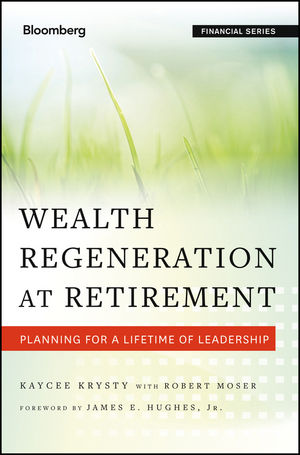 Tailoring retirement for successful business leaders 
Traditional retirement planning fails to meet the needs of wealthy baby boomers, particularly those who are business leaders. There is no "one size fits all" answer. 
Wealth Regeneration at Retirement: Planning for a Lifetime of Leadership presents an alternative – one that acts more like a GPS.   The authors, Kaycee Krysty and Bob Moser, leaders of the highly regarded Seattle-based wealth management firm, Laird Norton Tyee, use a proprietary discipline, Wealth Regeneration®, to calculate the route to retirement and beyond for those at the top.
The authors challenge successful boomers to redefine retirement on their own terms. They outline a process to create a sustainable plan to achieve retirement objectives. Their years of experience in counseling CEO's and business founders through transitions is reflected throughout.  For many successful boomers, the answer to the prospect of retirement has been, "I'd rather not." Yet change is inevitable. Wealth Regeneration at Retirement provides a thoughtful and thorough way for leaders to move onward. 
Describing Wealth Regeneration in a digestible, actionable format, the book provides the framework, tools, and techniques that successful baby boomers and their advisors need to incorporate this innovative approach for a lifetime of leadership and legacy. Packed with learning aids, including graphics, diagrams, worksheets and exercises, the book helps readers build a unique life plan that is about more than simply retirement.
The book includes:
A proprietary approach to retirement planning that changes seamlessly when times and circumstances change
A four component  methodology  - Where You Are; What You Want; What to Do; and Make it Happen – to ensure continuous feedback, accountability, and measurement of lifetime goals
Retirement planning expertise from wealth management firm Laird Norton Tyee   
Wealth Regeneration at Retirement: Planning for a Lifetime of Leadership is artfully illustrated and filled with practical advice for wealthy baby boomers and the financial advisors they rely on.    It explains exactly how to build a personalized and sustainable plan for retirement no matter where life may lead.
See More
Acknowledgments xi
Foreword xiii
Introduction: Where to Begin? xvii
Could This Be You? xvii
Intense? Me? Really? Yes, You xviii
Now, It's Your Turn xix
Standing on the Edge of the Cliff xx
PART I: REDEFINING RETIREMENT
CHAPTER 1 It's All about You (Really It Is) 3
We versus Me 3
It's Time for It to Be All about You 4
Real Life, Real Money 5
Wealth Regeneration, What's That? 5
Old Money 5
New Wealth 6
The Principles 7
What's Next? 7
You Have to Sleep at Night 7
Parting Thoughts 8
CHAPTER 2 The "R" Word 9
There Are Lots of Us 10
Now What? 10
The Hero's Farewell 11
What about Me? 12
What We've Learned 13
Where Do You Fit? 14
Parting Thoughts 16
CHAPTER 3 The Grab Bag of Life 17
Change Has Impact 17
Managing Change 18
The New Rules 19
Parting Thoughts 23
CHAPTER 4 It's Not Rocket Science 25
Strategic Planning 25
Change Management 26
Financial Forecasting 27
Risk Assessment 28
Building Teams 29
Holding People Accountable 30
Meaningful Work 30
You've Got This Wired 31
Parting Thoughts 31
CHAPTER 5 Leading in a New Way 33
What Is Generativity? 33
Generativity Is Leadership 34
Have It Your Way 35
It's About Regeneration 36
Parting Thoughts 36
PART II: THE WEALTH REGENERATION DISCIPLINE
CHAPTER 6 The Concept of the Wheel 39
Circle to Wheel 40
Dealing with Change 42
What's Next? 43
You Know How to Do This 43
Get It Rolling 44
A Kick in the . . . 45
Looking at What Happens 46
Profile: Tom Campion 47
CHAPTER 7 Know Where You Are 51
Defining Your Wealth 52
Lifestyle Analysis—How Much Is Enough? 58
How Sustainable Is Your Wealth? 60
Profile: Dick Pechter 61
Toolkit 63
CHAPTER 8 Know Who You Are 69
Recognizing the Crucible 69
Facing the Questions 70
Back to the Future 71
Seriously, Try This Now 71
And When You Have a Partner 71
Flow 73
So Enough Touchy-Feely Already? 74
Profile: Peter Nostrand 75
Toolkit 76
CHAPTER 9 Know Where You Want to Go 81
Embracing the Endgame 81
Getting Strategic 84
Your Purpose 85
Now for That Vision Thing 87
How Does It Look from the Top of the Mountain? 88
Profile: Bob Bunting 88
Tookit 90
CHAPTER 10 What to Do to Get There from Here 95
Keeping It Real 95
Begin at the Beginning 97
Purpose Is the Destination 97
What's Nonnegotiable? 97
What's Just Ahead? 99
Then, Get Going 99
What to Do If You Still Don't Know What to Do 100
Finally, Let's Talk about Money 101
What If the Scenarios Suggest I'm Spending Too Much Money? 102
A Word about Investment Policy 103
You Can Do This 103
Profile: Julie Weston and Gerry Morrison 104
Toolkit 105
CHAPTER 11 Rolling It Forward 109
Have a System 109
The Quick Look Check-In 111
The Sit-Down 111
Now for the Deep Dive 112
Keeping the Plan 114
Where the Rubber Most Likely Meets the Road 115
The Big Picture 115
When Stuff Happens 116
What to Share with Your Advisor 117
The Time Is Now 117
Profile: Steve Altmayer 117
CHAPTER 12 Legacy 119
There Are Challenges 120
What a Letter of Intent Looks Like 122
Seriously, This Isn't That Hard 124
Legacy Is Generativity in Action 125
Profile: Beth Bazley 126
Toolkit 127
And in Conclusion 133
You Are in Charge 133
The Bare Essentials 133
That Being Said . . . 134
Pulling Yourself Up to the Top of the Mountain 135
Appendix 1: How to Choose a Wealth Advisor 137
Appendix 2: How to Vet a Personal Financial Forecast 145
Appendix 3: Cash Flow Management 149
Appendix 4: Wealth Regeneration Interview Format 153
Recommended Reading 155
About the Authors 157
Index 161
See More
KAYCEE KRYSTY, CPA, CFP, recently transitioned from chief executive officer to President Emerita of Laird Norton Tyee. An accomplished writer and speaker, Kaycee speaks frequently on matters of personal legacy and the business of the family. She was a founding board member of Washington Women in Tax and a founding member of the WSCPA Personal Financial Planning Committee, and is the former chair of the AICPA Personal Financial Planning Division. She has more than thirty years of experience in financial planning.
ROBERT MOSER is President and Chief Executive Officer of Laird Norton Tyee. Bob has more than twenty-five years of private wealth management, financial services, and business management experience. Before joining Laird Norton Tyee, Bob was a senior executive at SunTrust Banks, Inc., where he worked for nineteen years. He has also served as a consultant to several private foundations in the areas of governance and strategic planning.
See More
More in this series