E-book
Sun, Wind, and Light: Architectural Design Strategies, 3rd Edition
ISBN: 978-1-118-33288-7
432 pages
December 2013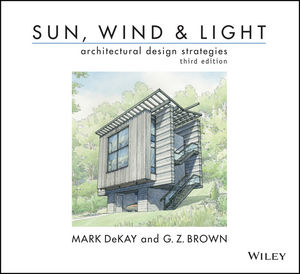 An updated guide to designing buildings that heat with the sun, cool with the wind, and light with the sky.
This fully updated Third Edition covers principles of designing buildings that use the sun for heating, wind for cooling, and daylight for natural lighting. Using hundreds of illustrations, this book offers practical strategies that give the designer the tools they need to make energy efficient buildings.
Hundreds of illustrations and practical strategies give the designer the tools they need to make energy efficient buildings.
Organized to quickly guide the designer in making buildings respond to the sun, wind and light.
See More
WHAT'S IN THE SWL PRINTED
I NAVIGATION 20
SWL Printed Contents
SWL Electronic Contents
Additional Navigation Methods
II USING SUN, WIND & LIGHT 50
Buildings and Energy Use
Design Decision Chart for Net-Zero
III SYNERGIES 78
7 essential themes for net-zero design
IV BUNDLES 94
Bundles Explained
Selecting Bundles and Making Your Own
Some Fundamental Bundles: 9 sets strategy sets for high-performance design
V FAVORITE DESIGN TOOLS, condensed 194
VI FAVORITE DESIGN STRATEGIES, condensed 216
VII HIGH-PERFORMANCE BUILDINGS 250
6 techniques for net-zero energy and carbon-neutral design
APPENDICES A-E 293
INDICES 339
See More
MARK DeKAY is a registered architect and Associate Professor of architecture at the University of Tennessee, Knoxville. He is a Fulbright Scholar, a Climate Reality Leadership Corps member, author of Integral Sustainable Design: Transformative Perspectives and editor of the UT/RedVector.com online Sustainable Design and Green Building continuing education program.
G. Z. BROWN is a registered architect and Professor of Architecture at the University of Oregon. He is director of the UO Energy Studies in Buildings Laboratory (ESBL) in Portland and Eugene and coauthor of InsideOut: Design Procedures for Passive Environmental Technologies and Natural Ventilation in Northwest Buildings.
See More