E-book
Bond Investing For Dummies, 2nd Edition
ISBN: 978-1-118-33335-8
360 pages
July 2012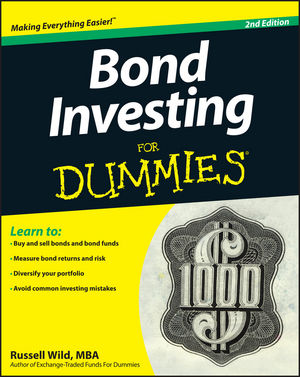 Your friendly guide to trading the bond and bond fund market
Bonds and bond funds are among the safest and most reliable investments you can make to ensure an ample and dependable retirement income—if you do it right! Bond Investing For Dummies helps you do just that, with clear explanations of everything you need to know to build a diversified bond portfolio that will be there when you need it no matter what happens in the stock market.
This plain-English guide clearly explains the pros and cons of investing in bonds, how they differ from stocks, and the best (and worst!) ways to select and purchase bonds for your needs. You'll get up to speed on the different bond varieties and see how to get the best prices when you sell.
Covers the ups and downs of today's market, which reinforces the importance of bonds in a portfolio
Explains how a radical fall in interest rates make bond investing trickier than ever
Explores the historic downgrade of U.S. Treasuries and its possible effects on government bonds
If you're an investor looking for a resource that helps you understand, evaluate, and incorporate bonds into your portfolio, Bond Investing For Dummies has you covered.
See More
Introduction 1
Part I: Bond Appetit! 9
Chapter 1: So You Want to Be a Bondholder 11
Chapter 2: Developing Your Investment Game Plan 23
Chapter 3: The (Often, But Not Always) Heroic History of Bonds 35
Chapter 4: Sweet Interest Is the Name of the Game 49
Part II: Numerous and Varied Ways to Make
Money in Bonds 71
Chapter 5: "Risk-Free" Investing: U.S. Treasury Bonds  73
Chapter 6: Industrial Returns: Corporate Bonds  91
Chapter 7: Lots of Protection (and Just a Touch of Confusion): Agency Bonds 105
Chapter 8: (Almost) Tax-Free Havens: Municipal Bonds  117
Chapter 9: Le Bond du Jour: Global Bonds and Other Seemingly Exotic Offerings 131
Part III: Customizing and Optimizing Your Bond Portfolio 149
Chapter 10: Risk, Return, and Realistic Expectations  151
Chapter 11: The Science (and Pseudoscience) of Portfolio-Building 169
Chapter 12: Dividing Up the Pie: What Percentage Should Be in Bonds? 179
Chapter 13: Which Kinds of Bonds Make the Most Sense for You? 197
Part IV: Bonds Away! Navigating the Fixed-Income Marketplace 211
Chapter 14: Strategizing Your Bond Buys and Sells 213
Chapter 15: Investing (Carefully!) in Individual Bonds .229
Chapter 16: Picking a Bond Fund That Will Serve You for Life .245
Part V: Bonds As Replacements for the Old Paycheck... 271
Chapter 17: Fulfi lling the Need for Steady, Ready, Heady Cash 273
Chapter 18: Finding Comfort and Security in Old Age    291
Part VI: The Part of Tens  303
Chapter 19: Ten Most Common Misconceptions about Bonds 305
Chapter 20: Ten Mistakes That Most Bond Investors Make 311
Chapter 21: Ten Q & A's with Bond Guru Dan Fuss 317
Appendix: Helpful Web Resources for Successful Bond Investing 321
Index 325
See More
Russell Wild, MBA, is the author or coauthor of many nonfiction books, including Exchange-Traded Funds For Dummies, Index Investing For Dummies, and One Year to an Organized Financial Life. He is a NAPFA-certified financial advisor, registered with the Pennsylvania Securities Commission.
See More