E-book
Wine For Dummies, 5th Edition
ISBN: 978-1-118-33389-1
432 pages
August 2012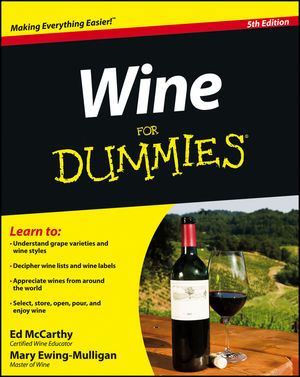 The #1 wine book—now updated!
The art of winemaking may be a time-honored tradition dating back thousands of years, but today, wine is trendier and hotter than ever. Now, wine experts and authors Ed McCarthy and Mary Ewing-Mulligan have revised their popular Wine For Dummies to deliver an updated, down-to-earth look at what's in, what's out, and what's new in wine.
Wine enthusiasts and novices, raise your glasses! The #1 wine book has been updated! If you're a connoisseur, Wine For Dummies will get you up to speed on what's in and help you take your hobby to the next level. If you're new to the world of wine, it will clue you in on what you've been missing and show you how to get started. It begins with the basic types of wine, how wines are made, and more. Then it gets down to specifics, like navigating restaurant wine lists, deciphering wine labels, dislodging stubborn corks, and so much more.
Includes updated information on wine regions throughout the world, including the changes that have taken place in Chile, Argentina, parts of Eastern Europe, the Mt. Etna region in Sicily, among other wine regions in Italy and California's Sonoma Coast
Covers what's happening in the "Old World" of wine, including France, Italy, and Spain, and gets you up-to-speed on what's hot (and what's not) in the "New World" of Wine, including the U.S., Australia, and New Zealand
Features updated vintage charts and price guidelines
Covers wine bloggers and the use of smartphone apps
Wine For Dummies is not just a great resource and reference, it's a good read. It's full-bodied, yet light...rich, yet crisp...robust, yet refreshing....
See More
Introduction 1
Part I: Getting to Know Wine 7
Chapter 1: Wine 101 9
Chapter 2: These Taste Buds Are for You 21
Chapter 3: Pinot Envy and Other Secrets about Grape Varieties 35
Chapter 4: Wine Names and Label Lingo 49
Chapter 5: Behind the Scenes of Winemaking 65
Part II: Wine and You: Up Close and Personal 73
Chapter 6: Buying Wine to Drink at Home 75
Chapter 7: Confronting a Restaurant Wine List 87
Chapter 8: Serving Wine 101
Chapter 9: Marrying Wine with Food 119
Part III: The "Old World" of Wine 127
Chapter 10: Doing France 129
Chapter 11: Italy, the Heartland of Vino 169
Chapter 12: Spain, Germany, and Elsewhere in Europe 191
Part IV: Discovering the "New World" of Wine 215
Chapter 13: The Southern Hemisphere Arises 217
Chapter 14: America, America 237
Part V: Wine's Exotic Face 269
Chapter 15: Champagne and Other Sparklers 271
Chapter 16: Wine Roads Less Traveled: Fortified and Dessert Wines 293
Part VI: When You've Caught the Bug 313
Chapter 17: Buying and Collecting Wine 315
Chapter 18: Continuing Education for Wine Lovers 333
Chapter 19: Describing and Rating Wine 347
Part VII: The Part of Tens 355
Chapter 20: Answers to Ten Common Questions about Wine 357
Chapter 21: Ten Wine Myths Demystified 365
Part VIII: Appendixes 373
Appendix A: Pronunciation Guide to Wine Terms 375
Appendix B: Glossary of Wine Terms 379
Appendix C: Vintage Wine Chart: 1991–2010 387
Index 391
See More
Ed McCarthy, CWE, is a regular contributor to WineReviewOnline.com and Beverage Media. Mary Ewing-Mulligan, MW, is president of the International Wine Center in New York. Together, they are the authors of many For Dummies wine guides, including Italian Wine For Dummies.
See More