Leader to Leader (LTL), Volume 64, Spring 2012
ISBN: 978-1-118-33742-4
68 pages
April 2012, Jossey-Bass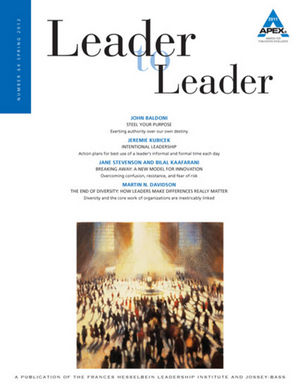 Get insightful articles on leadership, management, and strategy written by today's leaders with this award-winning journal. Brought to you by the Frances Hesselbein Leadership Institute, Leader to Leader brings together a peerless selection of world-class executives, best-selling management authors, top consultants, and respected social thinkers. Leader to Leader poses provocative questions that challenge your leadership assumptions and provides compelling evidence powerful enough to change your leadership thinking while offering thoughtful analysis of complex leadership issues.
See More
HESSELBEIN & COMPANY
Frances Hesselbein 4
Inspirations and Opportunities for the Future
A new year brings a new name.
James Quigley and Stephen Langton 7
Developing the Language of Collective Leadership
A tool to measure the strategic readiness of organizations.
Jane Hyun 14
Leadership Principles for Capitalizing on Culturally Diverse Teams: The Bamboo Ceiling Revisited
Invisible, values-driven aspects of culture at the heart of behaviors and communication.
Philip Mirvis, Kevin Thompson, and John Gohring 20
Toward Next-Generation Leadership: Global Service
Partnerships that benefit corporations, nonprofits, and society.
M. S. Rao 27
Soft Leadership: Make Others Feel More Important
An inclusive model based on character, conviction, courage, and other virtues.
EXECUTIVE FORUM
John Baldoni 33
Steel Your Purpose
Progressing through life's journey via thought and action.
Jeremie Kubicek 38
Intentional Leadership
Leadership development through continuity, strategy, and perspective.
Jane Stevenson and Bilal Kaafarani 44
Breaking Away: A New Model for Innovation
Four types of innovation that can lead to growth.
Martin N. Davidson 51
The End of Diversity: How Leaders Make Differences Really Matter
Building on difference to re-vision everything you do in an organization.
Traci L. Fenton 57
Inspiring Democracy in the Workplace: From Fear-Based to Freedom-Centered Organizations
Unleashing human greatness and building world-class organizations.
FROM THE FRONT LINES
Generating and Developing Ideas in Organizations 64
When ideas flow and connections are made, a firm operates much more like a brain.
Demystifying Word-of-Mouth Marketing 65
Surprising findings on what drives people to talk about products.
See More
The Leader to Leader Institute's mission is to strengthen the leadership of the social sector. Established in 1990 as the Peter F. Drucker Foundation for Nonprofit Management, the Institute, in collaboration with its partners in the private and public sectors, furthers its mission by providing social sector leaders with the essential leadership wisdom, inspiration, and resources needed to lead for innovation and to build vibrant social nonprofit organizations.
See More