Protected Areas: Are They Safeguarding Biodiversity?
ISBN: 978-1-118-33815-5
282 pages
March 2016, Wiley-Blackwell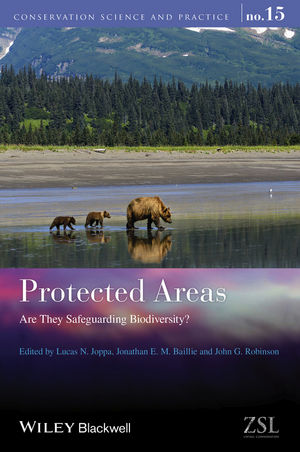 Protected areas spearhead our response to the rapidly accelerating biodiversity crisis. However, while the number of protected areas has been growing rapidly over the past 20 years, the extent to which the world's protected areas are effectively conserving species, ecosystems, and ecosystem services is poorly understood.
Highlights new techniques for better management and monitoring of protected areas
Sets guidelines for the decision making processes involved in setting up and maintaining protected areas
Fully international in scope and covering all ecosystems and biomes
See More
Contributors ix
Introduction: Do Protected Areas Safeguard Biodiversity? 1
J. E. M. Baillie, L. Joppa and J. G. Robinson
Part I The Global Protected Area Portfolio 11
1. Government Commitments for Protected Areas: Status of Implementation and Sources of Leverage to Enhance Ambition 13
L. Krueger
2. Protected Area Diversity and Potential for Improvement 34
N. Dudley and S. Stolton
3. Sound Investments: Protected Areas as Natural Solutions to Climate Change and Biodiversity Conservation 49
K. MacKinnon
4. Optimal Protection of the World's Threatened Birds, Mammals, and Amphibians 66
J. E. M. Watson, D. B. Segan and R. A. Fuller
5. Maintaining a Global Data Set on Protected Areas 81
A. Milam, S. Kenney, D. Juffe‐Bignoli, B. Bertzky, C. Corrigan, B. MacSharry, N. D. Burgess and N. Kingston
Part II The Fate of Species in Protected Areas 103
6. Species Population Trends in Protected Areas 105
B. Collen, L. McRae, E. Nicholson, I. D. Craigie, E. J. Milner‐Gulland, J. Loh and S. Whitmee
7. Effectiveness of Protected Areas in Conserving Large Carnivores in Europe 122
L. Santini, L. Boitani, L. Maiorano and C. Rondinini
8. Towards Understanding Drivers of Wildlife Population Trends in Terrestrial Protected Areas 134
M. Barnes, I. D. Craigie and M. Hockings
Part III Managing Protected Areas at System Scales 151
9. Toward Assessing the Vulnerability of US National Parks to Land Use and Climate Change 153
A. Hansen, C. Davis, J. Haas and N. Piekielek
10. Integrating Community‐Managed Areas into Protected Area Systems: The Promise of Synergies and the Reality of Trade‐Offs 169
M. Rao, H. Nagendra, G. Shahabuddin and L. R. Carrasco
11. The Importance of Asia's Protected Areas for Safeguarding Commercially High Value Species 190
J. Walston, E. J. Stokes and S. Hedges
Part IV Monitoring Protected Areas at System Scales 209
12. Monitoring Protected Area Coverage and Impact on Key Biodiversity Areas, Important Bird Areas and Alliance for Zero Extinction Sites 211
S. H. M. Butchart, T. M. Brooks, J. P. W. Scharlemann and M. A. K. Mwangi
13. Camera Traps for Conservation: Monitoring Protected Area Investments 228
T. G. O'Brien
14. Monitoring Protected Areas from Space 242
N. Pettorelli, M. Wegmann, L. Gurney and G. Dubois
Index 260
See More
More in this series