Office 2010 Visual Quick Steps
ISBN: 978-1-118-33877-3
144 pages
February 2012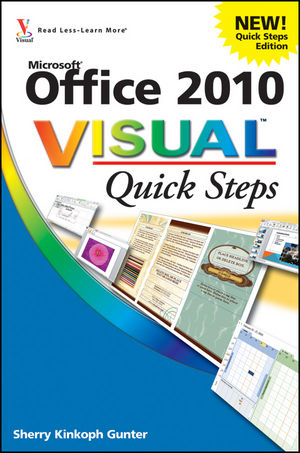 A handy collection of shortcuts, tips, and tricks to boost your productivity with Office 2010
Microsoft Office is overwhelmingly the number one office productivity suite, and it's now available on the web as well. This handy, step-by-step guide helps you make the most of Word, Excel, and PowerPoint, with tips and techniques that optimize these Office applications. Designed for those who learn best visually, it uses numbered steps and full-color screen shots to teach each technique, helping you save time, boost your productivity, and create better documents, spreadsheets, and presentations.
A step-by-step guide to great productivity-enhancing shortcuts, tricks, and techniques for the key applications of Microsoft Office 2010
Uses numbered steps and full-color screen shots to visually teach a selection of techniques
Ideal for those upgrading from an earlier version of Office and for anyone who wants to use the software more efficiently
Office 2010 Visual Quick Steps will help you get more from Word, Excel, and PowerPoint.
See More
Chapter 1: General Office 2010 Maximizing Tips
Customize the Quick Access Toolbar 4
Customize the Ribbon 6
Control the Ribbon Display 8
Automate Office Tasks with Macros 10
Change the Default Font and Size 12
Chapter 2 Timesaving Tips for Office Files
Change the Default File Save Location 16
Save Office Files as PDF Documents 18
Remove Sensitive Document Information 20
Encrypt a Document 22
Add a Digital Signature 24
Recover an Unsaved Document 26
Chapter 3 Boosting Your Productivity in Word
Add a Header or Footer Building Block 30
Create a Blog Post 32
Search Through a Document 34
Fix Misspellings with AutoCorrect 36
Emphasize Text with Drop Caps 38
Set a New Default Line Spacing 40
Quickly Insert a Horizontal Line 42
Resume Numbering in an Interrupted Numbered List 43
Set Off a Paragraph with a Border 44
Track Changes in a Document 46
Compare Documents 48
Summarize Information with a Chart 50
Chapter 4 Utilizing Word's Document Building Tools
Insert Footnotes and Endnotes 54
Generate a Table of Contents 56
Add a Cross-Reference 58
Chapter 5 Optimizing Excel
Automatically Open Your Favorite Workbook 62
Automate Data Entry with AutoFill 64
Color-Code and Name Worksheet Tabs 66
Protect Cells from Unauthorized Changes 68
Generate Random Numbers in Your Cells 70
Freeze Headings for Easier Scrolling 71
Insert a Comment in a Formula 72
Join Text from Separate Cells 73
Audit a Worksheet for Errors 74
Create Projections 76
Create a Database Table 78
Add and Edit Records Using Data Forms 80
Chapter 6 Polishing Your Spreadsheet Data
Apply Workbook Themes 84
Change Gridline Color 86
Print Gridlines 87
Add a Background Color, Pattern, or Image 88
Color-Code Your Data with Conditional Formatting 90
Wrap Text for Easy Reading 92
Change Cell Text Orientation 93
Center-Align Printed Data 94
Center Text Across Columns without Merging Cells 95
Chapter 7 Increasing PowerPoint's Potential
Convert a Word Document into a Presentation 98
Organize a Presentation into Sections 100
Reuse a Slide from Another Presentation 102
Rehearse Timings 104
Add an Equation 106
Create a Self-Running Presentation 107
Write on a Slide During a Presentation 108
Create Speaker Notes 110
Print Handouts 111
Compress Media Files 112
Turn a Presentation into a Video 114
Broadcast a Presentation 116
Chapter 8 Enhancing Your Presentations
Create a Custom Slide Layout 120
Insert a Custom Slide Master 122
Streamline Your Presentation with Themes 124
Customize a Theme 126
Save a Custom Theme 128
Add a Picture to Your Presentation 130
Insert a SmartArt Graphic 132
Add Video or Sound to Your Presentation 134
Animate Your Slides 136
See More
Sherry Kinkoph Gunter (Alexandria, IN) has authored more than 60 computer books over the past 10 years on a variety of topics. Office 2007 Top 100 Simplified Tips & Tricks, Microsoft Office 2008 for Mac Bible, and Teach Yourself HTML, 2nd Edition, are just a few of Sherry's publications. A native of the Midwest, Sherry currently resides in the Indianapolis area and continues in her quest to help users of all levels and ages master ever-changing computer technologies.
See More