Digital Photography Visual Quick Steps
ISBN: 978-1-118-33879-7
160 pages
February 2012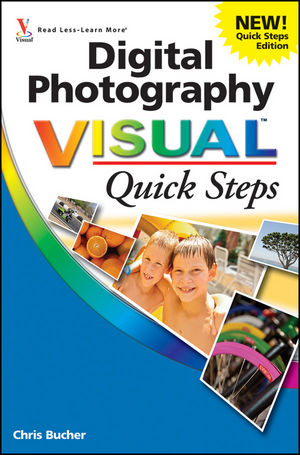 Follow these clear-cut steps and start taking better photos
If you want to get more out of your digital camera and start taking better photographs, this easy-to-follow guide is for you. Designed for visual learners who'd rather see how to do something quickly instead of wading through paragraphs of text, this useful book offers highly visual tutorials and full-color screen shots on every page. You'll see just how to compose and light pictures using professional techniques, learn how to mix and match focus and lens settings, and find great ways to enhance your photos with digital imaging software.
Helps digital camera users capture, produce, and print better photos
Teaches practical techniques using easy-to-follow, step-by-step visuals and brief explanations
Features full-color screen shots on every page to clearly illustrate techniques and steps
Covers composing and lighting techniques, setting focus and lenses, enhancing photos with software, and more
Digital Photography Visual Quick Steps is packed with full-color quick steps to help you improve your digital photography.
See More
Chapter 1 Understanding Digital Photography
Why Go Digital? 4
Discover Digital Cameras 6
From Start to Finish: The Digital Workflow 8
Chapter 2 What You Need to Get Started
Choose a Digital Camera 14
Consider Digital Camera Accessories 16
Build a Digital Darkroom 20
Choose a Photo Printer 22
Chapter 3 Controlling Exposure and Focal Length
Learn About ISO 26
Learn About Aperture 27
Control Depth of Field 28
Understanding Shutter Speed 29
Discover Exposure Modes 30
Learn About Focal Length 32
Use a Wide-Angle Lens 33
Use a Telephoto Lens 34
Use a Zoom Lens 35
Learn About Digital Camera Lenses 36
Chapter 4 Understanding Light
Learn About the Color of Light 42
Measure and Correct Light for Color 44
Learn About Light Quality 46
Use a Flash 50
Chapter 5 Learning About Focus
Understanding Focus Systems 54
Focus on an Off-Center Subject 56
Use Focus Modes 58
Discover Focus Techniques 59
Chapter 6 Composing Pictures like a Pro
Visualize Composition 62
Consider Design Principles 64
Discover Rules of Composition 66
Learn to Control Composition 68
Chapter 7 Putting It All Together
Experiment with Depth of Field 72
Mix and Match Settings 74
Change Shutter Speed for Effect 76
Focus Selectively 77
Compose Creatively 78
Explore Different Lighting Options 80
Try Creative Techniques 82
Chapter 8 Taking Your First Digital Photos
Set Up a Digital Camera 86
Take Test Pictures 88
Troubleshoot Problems 90
Transfer Pictures to Your Computer 92
Evaluate Your Photos 94
Fine-Tune Camera Settings 96
Chapter 9 Taking Advantage of Your Camera's Settings
Match the Scene to the Setting 100
Be Aware of In-Camera Settings 101
How Do the Scene Settings Change the Images? 102
Use the Settings Creatively 104
Evaluate Your Photos 106
Better to Change Things Later? 107
Chapter 10 Avoiding Digital Photography Pitfalls
Avoid Taking Unfixable Pictures 110
What Is a Histogram? 111
Use a Histogram as You Take Pictures 112
Compensate for Shutter Lag 114
Avoid Blowouts 115
Keep Your Camera Steady 116
Avoid Undesirable Colorcasts 117
Never Use Digital Zoom 118
Reduce Digital Noise 119
Chapter 11 Capturing Unique Photo Opportunities
Photograph Products to Sell on eBay 122
Take Great Close-Up Photos 124
Take Photos at Night without a Flash 126
Capture Firework Displays 127
Chapter 12 Organizing Your Photos
Why Use Image Editing Programs? 130
What Is a Digital Editing Workflow? 132
Photo Editing Options 134
Understanding Metadata in Your Photos 136
What Are RAW Digital Photos? 137
Import Photos to Your Browser 138
Review, Sort, and Tag Your Photos 140
Tag Photos 142
Find Images Using Tags 146
Use Tags to Sort 148
See More
Chris Bucher (Indianapolis, IN) is a professional photographer whose work can be found in everything from corporate annual reports to national ad campaigns and regional publications, such as Home Trends. Chris predominately works in advertising and marketing but has a strong affinity for simple family portraiture and landscapes. He is the author of Lighting Photo Workshop.
See More