E-book
A Companion to Livy
ISBN: 978-1-118-33897-1
504 pages
September 2014, Wiley-Blackwell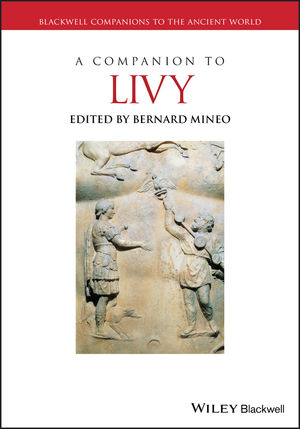 A Companion to Livy
features a collection of essays representing the most up-to-date international scholarship on the life and works of the Roman historian Livy.
Features contributions from top Livian scholars from around the world
Presents for the first time a new interpretation of Livy's historical philosophy, which represents a key to an overall interpretation of Livy's body of work
Includes studies of Livy's work from an Indo-European comparative aspect
Provides the most modern studies on literary archetypes for Livy's narrative of the history of early Rome
See More
Figures ix
Maps xi
Notes on Contributors xvii
Abbreviations xxiii
Introduction: Livy xxxi
Bernard Mineo
PART I Text and Context 1
1 Livian Manuscript Tradition 3
Marielle de Franchis
2 Historical Context of the Ab Urbe Condita 24
Barbara Levick
PART II Ideological and Historical Aspects 37
3 Portraits of Peoples 39
Jacques-Emmanuel Bernard
4 Rome, Magna Graecia, and Sicily in Livy from 326 to 200 BC 52
Kathryn Lomas
5 Urban Landscape, Monuments, and the Building of Memory in Livy 65
Mary Jaeger
6 Livy and Religion 78
John Scheid
7 Livy's Liturgical Order: Systematization in the History 90
Frances Hickson Hahn
8 Livy's Use of Exempla 102
Jane D. Chaplin
9 Roman Wars and Armies in Livy 114
Yann Le Bohec
10 Livy's Political and Moral Values and the Principate 125
Bernard Mineo
11 Livy's Historical Philosophy 139
Bernard Mineo
PART III Literary Aspects 153
12 Livy and Indo-European Comparatism 155
Dominique Briquel
13 Livy and the Annalistic Tradition 167
Jürgen von Ungern-Sternberg
14 The Complications of Quellenforschung: The Case of Livy and Fabius Pictor 178
James H. Richardson
15 Livy and the Greek Historians from Herodotus to Dionysius: Some Soundings and Reflections 190
Craige B. Champion
16 Allusions and Intertextuality in Livy's Third Decade 205
David S. Levene
17 The Composition of the Ab Urbe Condita: The Case of the First Pentad 217
Ann Vasaly
18 Reading Livy's Book 5 230
Stephen P. Oakley
PART IV Book 1. The Regal Period 243
19 Livy's Narrative of the Regal Period and Historical and Archaeological Facts 245
Timothy Cornell
20 Livy's Narrative of the Regal Period: Structure and Ideology 259
Paul-Marius Martin
21 Literary Archetypes for the Regal Period 274
Marianna Scapini
22 The Representation of the Regal Period in Livy 286
Matthew Fox
PART V Book 1–5. From Tarquinius Superbus to the Siege of Rome by the Gauls (390 BC) 299
23 Tarquin the Superb and the Proclamation of the Roman Republic 301
Attilio Mastrocinque
24 The Beginnings of the Republic from 509 to 390 BC 314
Gary Forsythe
PART VI Book 6–10. From the Siege of Rome (390 BC) to Sentinum (295 BC) 327
25 From 390 BC to Sentinum: Diplomatic and Military Livian History 329
Ghislaine Stouder
26 From 390 BC to Sentinum: Political and Ideological Aspects 342
Michel Humm
PART VII Books 21–45: From the Second Punic War to Pydna 367
27 Rome and Carthage in Livy 369
Dexter Hoyos
28 Livy: Overseas Wars 382
Giovanni Brizzi and Giambattista Cairo
29 The Roman Republic and its Internal Politics between 232 and 167 BC 394
Klaus Bringmann
30 Livy, Polybius, and the Greek East (Books 31–45) 407
Arthur M. Eckstein
PART VIII Books 1–142/150. Periochae 423
31 The Periochae 425
Luigi Bessone
PART IX Reception 437
32 The Transmission of Livy from the End of the Roman Empire to the Beginning of the Seventeenth Century: Distortion or Discovery, a Story of Corruption 439
Pierre Maréchaux
Index 453
See More
Bernard Mineo is Professor of Latin Literature at the Université de Nantes in Brittany, France. He is the author of a monograph on Livy entitled Tite-Live et l'histoire de Rome (2006), and editor of Book 32 of Livy's Roman History for the Collection des Universités de France (2003).
See More
More in this series