iPhone Secrets
ISBN: 978-1-118-33903-9
312 pages
November 2012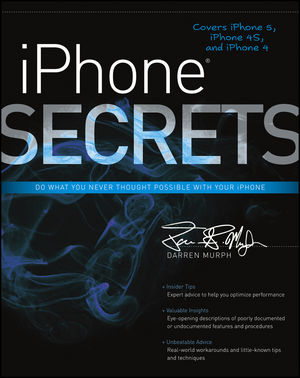 A top tech blogger takes you behind the scenes for an in-depth look at the iPhone
The world's love of the iPhone only continues to grow by leaps and bounds. Darren Murph, managing editor of Engadget and a Guinness World Record holder as the most prolific blogger, explores every amazing capability of the iPhone and shows you how to take full advantage of this remarkable mini-computer. He reveals secret shortcuts, best ways to boost your productivity, how to take advantage of iMessage and push notifications, international iPhone travel tips, how to maximize AirPlay, and so much more.
Most iPhone users barely scratch the surface of what the device can do; the world's leading tech blogger shares little-known secrets that let you take your iPhone use to a new level
Covers keeping the iPhone synced via iCloud, using mobile social networking and location-based platforms, multitasking, iMessage, making the most of Siri, and using all the video calling options
Helps you maximize wireless convenience with AirPlay streaming media, Wi-Fi calling solutions for international travel, and the GameCenter
Looks at troubleshooting and jailbreaking for peak performance
Perfect for any gadget freak, even those with their first iPhone
iPhone Secrets opens up a new dimension of productivity, convenience, and fun for iPhone users.
See More
Introduction xvii
PART I Becoming an iPhone Setup Pro 1
Chapter 1 Selecting and Setting Up Your iPhone 3
Chapter 2 Icon Placement and O rganization 21
Chapter 3 Managing Your E‑Mail Accounts with iPhone 39
Chapter 4 Wrangling iTunes (While Maintaining Your Sanity) 57
PART II Acing the Advanced Features 73
Chapter 5 Multi-Tasking Magic 75
Chapter 6 Taking FaceTime (and Those Other Video Calling Solutions) to the Next Level 93
Chapter 7 Streaming Your Multimedia Without Wires: AirPlay 105
Chapter 8 Cutting the Cord: Utilizing Wireless Functionality 123
PART III Diving Into Software 139
Chapter 9 Game On with Game Center 141
Chapter 10 Useful Productivity Apps 153
Chapter 11 The Best Not-E xactly-Productive Apps 183
Chapter 12 iMessage and the Wide World of Push Notifications 201
PART IV Becoming a Digital Genius 211
Chapter 13 Utilizing the iPhone's Camera 213
Chapter 14 Utilizing Your Personal Assistant: Siri 227
Chapter 15 Social Networking Savvy 237
Chapter 16 iCloud, the Cloud, and iTunes Match 247
Chapter 17 Ace Accessories 261
Chapter 18 Jailbreaking and Troubleshooting 269
Summary 281
Index 283
See More
Darren Murph is the Managing Editor for Engadget, a respected publication in the world of consumer electronics. He's written more than 20,000 posts on everything from speech synthesis to gadget dissection, which has earned him a Guinness World Record as the planet's most prolific professional blogger. He is also the author of iPad Secrets.
See More