E-book
Mothers Making Latin America: Gender, Households, and Politics Since 1825
ISBN: 978-1-118-34112-4
312 pages
March 2014, Wiley-Blackwell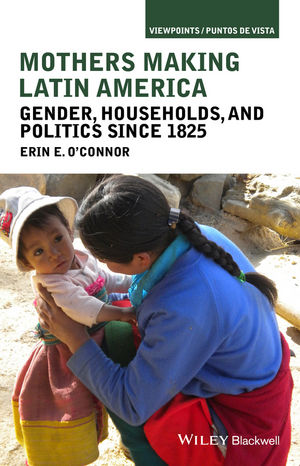 Mothers Making Latin America utilizes a combination of gender scholarship and source material to dispel the belief that women were separated from—or unimportant to—central developments in Latin American history since independence. 
Presents nuanced issues in gender historiography for Latin America in a readable narrative for undergraduate students
Offers brief, primary-source document excerpts at the end of each chapter that instructors can use to stimulate class discussion
Adheres to a focus on motherhood, which allows for a coherent narrative that touches upon important themes without falling into a "list of facts" textbook style
See More
Series Editor's Preface vi
Acknowledgments viii
Source Acknowledgments xi
1 Introduction: Gender and Latin American History, or: Why Motherhood? 1
2 Motherhood in Transition: From Colonies to Independent Nations 24
3 Poor Women: Mothering the Majority in the Nineteenth Century 51
4 Middle-Class and Elite Mothers: Feminism, Femininity, and the Nation in the Nineteenth Century 80
5 Motherhood at the Crossroads of Tradition and Modernity, circa 1900–1950 102
6 Poor Mothers and the Contradictions of Modernity, circa 1900–1950 133
7 Mothers and Revolution, circa 1910–1990: Mexico, Cuba, and Nicaragua 158
8 Maternalizing Politics, Politicizing Motherhood: Women and Politics, circa 1950–1990s 193
9 Bodies, Policies, and Globalization: Contraception and Abortion in Latin America 222
10 Motherhood Transformed? History, Gender, and the Shift into the Twenty-First Century 248
Bibliography 267
Subject Index 283
See More
Erin E. O'Connor is Associate Professor of History at Bridgewater State University in Massachusetts.  Her publications include Gender, Indian, Nation: the Contradictions of Making Ecuador, 1830-1925 (2007), Documenting Latin America: Gender, Race, and Empire, Volume 1 (with L. Garofalo, 2011)and Documenting Latin America: Gender, Race, and Nation, Volume 2 (with L. Garofalo, 2011). 
See More
More in this series