A Graphic Design Student's Guide to Freelance: Practice Makes Perfect
ISBN: 978-1-118-34196-4
240 pages
October 2012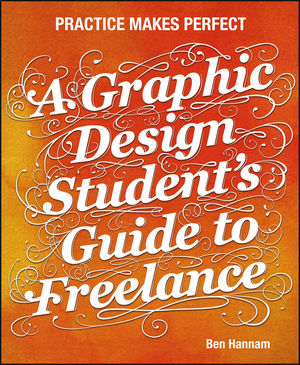 A complete guide to freelance graphic design—created specifically for design students
Why wait until you graduate? Freelancing is a great way to jumpstart your career in graphic design. It lets you apply what you've been learning in school, close the gaps in your education with real-world experience, enhance your portfolio—and make a little money at the same time.
A Graphic Design Student's Guide to Freelance: Practice Makes Perfect covers everything you need to know to begin successfully freelancing as a designer, including how to set up your business, deal with legal and financial issues, find clients, and work with them effectively.
This full-color guide is divided into sections that correspond to your particular skill level as a student—beginner, intermediate, or advanced. These sections give you specific tasks and goals to help your freelance design work go smoothly as you progress from your very first professional job to gain experience with a range of projects and clients and prepare to move into a full-time graphic design career once you complete your studies.
Complete with sample forms available online (invoices, a proof approval form, job jacket, and more) and 175 color images, including samples of paid work created by students, A Graphic Design Student's Guide to Freelance: Practice Makes Perfect will help you navigate the world of freelance design with confidence.
Inside this book, you will learn to:
Write a business plan
Purchase key equipment
Set rates and draw up contracts
Find and manage clients
Create and show concepts
Market your company
Expand your business
Develop your portfolio
And more
See More
Accessing Digital Files Online vii
Preface ix
Acknowledgments xiii
GENERAL INFORMATION
1. INTRODUCTION 1
Filling in the Gaps in Your Education 2
What Is Freelance? 4
Don't Wait until You Graduate 4
About This Book 6
2. WHY SHOULD YOU FREELANCE? 9
Balancing Creativity and Commerce 9
Escaping the Project Mode Mentality 10
Working for Money 18
Working for Trade. 23
Enhancing Your Portfolio 24
Learning to Fail 25
Experience the Thrill of Owning a Business 27
3. PLANNING YOUR BUSINESS 29
Writing a Business Plan 30
Performing a SWOT Analysis 31
Identifying External Factors 39
4. I HAVE A BUSINESS PLAN. NOW WHAT? 43
Choosing a Business Name 43
Talk to a CPA and Fill Out Your LLC Paperwork 49
Apply for an Employer Identifi cation Number 50
Opening a Business Checking Account 52
Getting a Business License 53
BEGINNER LEVEL
5. THERE'S A FIRST TIME FOR EVERYTHING 55
Goals for Beginning Freelancers 55
Equipment to Purchase 56
How Do You Find Your First Client? 60
What Type of Work Should You Do? 61
Writing a Contract 68
Understanding What's in Your Contract 70
Meeting Your Client 76
Creating Sketches and Concepts 78
Showing Your Client Your Concepts 82
Delivering Your Proof 83
Delivering the Final Product 86
Sending an Invoice 88
Lather, Rinse, Repeat 88
INTERMEDIATE LEVEL
6. GAINING MOMENTUM 91
Goals for Intermediate Level Freelancers 91
Equipment to Purchase 92
How Do You Find Clients? 96
What Type of Work Should You Do? 109
Establishing an Internal Work-Flow System 116
Creating a Master Client List 116
Creating a Master Job Tracking List 117
Tracking Your Jobs 118
Archiving Your Work 120
Creating a Business Card 123
Working with Vendors 127
Managing Your Time 130
Documenting Your Process Work 131
Finding an Internship 137
Ethical Considerations 138
ADVANCED LEVEL
7. STRETCHING YOUR WINGS 145
Goals for Advanced Level Freelancers 145
Equipment to Purchase 146
Types of Clients You Should Work With 151
Creating a Web Presence for Your Company 156
Planning for What Comes After School 158
Choosing the Right Portfolio for the Job 159
Choosing the Right Portfolio Pieces 165
Creating a Monthly Budget 171
Creating a PDF Portfolio 173
Submitting a PDF Portfolio 174
What to Say in Your Letter of Interest 175
LANDING A JOB
8. MOVING FORWARD 181
Getting a Job 181
Writing a Resume 183
Preparing for an Interview 191
Negotiating an Offer 200
Tips from Professionals 202
EPILOGUE
9. EPILOGUE 211
Looking Back on Your Experience 211
Resources 215
Index 221
See More
BEN HANNAM is an Assistant Professor in the Visual Communication Design Program at Virginia Tech and the founder of the design firm Accomplish Studios, LLC. He has won numerous awards for his graphic design work and teaching, and lectures internationally on topics such as freelance graphic design, graphic design pedagogy, and experiential learning environments.
See More
Instructors Resources
Request a print evaluation copy
Contact us

See More
See Less
Learn more about