The New Yorker Book of Golf Cartoons, Revised and Updated
ISBN: 978-1-118-34202-2
144 pages
June 2012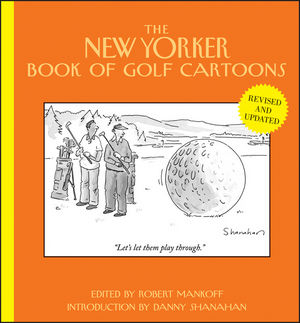 A wry look at the golfing world, from the beloved cartoonists at The New Yorker
A hilarious hole-in-one for golfers and cartoon-lovers alike, The New Yorker Book of Golf Cartoons, Second Edition brings together over a hundred classic images from across the magazine's eighty-plus-year history. Edited by Robert Mankoff, acclaimed cartoonist and cartoon editor at The New Yorker, and featuring work from legendary artists including Charles Addams, Roz Chast, Whitney Darrow Jr., Edward Koren, George Price, William Steig, and many others, the book is a side-splitting tribute to the game.
Brings together over 100 golf-related cartoons by the best-loved cartoonists at The New Yorker
Edited by the cartoonist and New Yorker cartoon editor Robert Mankoff
Newly revised and updated to include coverage of the most recent developments in the golfing world, including Tiger Woods's troubles and more
Features an introduction by Danny Shanahan
A timeless anthology of the very best golf cartoons ever to grace the pages of America's favorite magazine, The New Yorker Book of Golf Cartoons captures the passion and the pain of the game.
See More
Robert Mankoff
is the cartoon editor of
The New Yorker
. He is also a cartoonist, and more than 900 of his cartoons have been published in the magazine in the past thirty years, including the best-selling
New Yorker
cartoon of all time. He is the author of the book
The Naked Cartoonist
, published in 2002, about the creative process behind developing magazine-style cartoons. He has also edited dozens of cartoon books and published four of his own.
Danny Shanahan has published more than 800 cartoons, covers, and illustrations in The New Yorker since 1988. His work has also appeared in many other publications, including Time, Newsweek, Playboy, Esquire, and the New York Times. Shanahan has illustrated several children's books, has had four collections of his own cartoons published, and has had work exhibited in museums and galleries, from London and Berlin to New York and San Francisco.
See More