Fishes of the World, 5th Edition
ISBN: 978-1-118-34233-6
752 pages
March 2016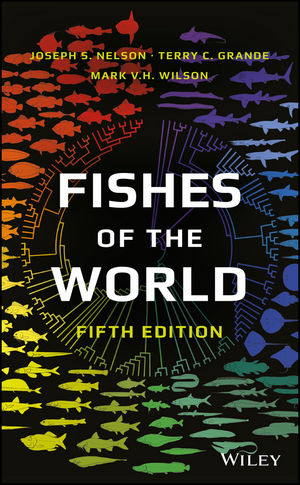 Take your knowledge of fishes to the next level
Fishes of the World, Fifth Edition is the only modern, phylogenetically based classification of the world's fishes. The updated text offers new phylogenetic diagrams that clarify the relationships among fish groups, as well as cutting-edge global knowledge that brings this classic reference up to date. With this resource, you can classify orders, families, and genera of fishes, understand the connections among fish groups, organize fishes in their evolutionary context, and imagine new areas of research. To further assist your work, this text provides representative drawings, many of them new, for most families of fishes, allowing you to make visual connections to the information as you read. It also contains many references to the classical as well as the most up-to-date literature on fish relationships, based on both morphology and molecular biology.
The study of fishes is one that certainly requires dedication—and access to reliable, accurate information. With more than 30,000 known species of sharks, rays, and bony fishes, both lobe-finned and ray-finned, you will need to master your area of study with the assistance of the best reference materials available. This text will help you bring your knowledge of fishes to the next level.
Explore the anatomical characteristics, distribution, common and scientific names, and phylogenetic relationships of fishes
Access biological and anatomical information on more than 515 families of living fishes
Better appreciate the complexities and controversies behind the modern view of fish relationships
Refer to an extensive bibliography, which points you in the direction of additional, valuable, and up-to-date information, much of it published within the last few years
Fishes of the World, Fifth Edition
is an invaluable resource for professional ichthyologists, aquatic ecologists, marine biologists, fish breeders, aquaculturists, and conservationists.
See More
MEMORIES OF JOE NELSON xxix
FOREWORD xxxiii
PREFACE xxxvii
ACKNOWLEDGMENTS xxxix
INTRODUCTION 1
Taxonomic Diversity 3
Importance to People 4
Systematics and Classification 4
Anatomical Terminology 7
Distribution and Biogeography 8
Human Impacts 11
PHYLUM CHORDATA 13
SUBPHYLUM UROCHORDATA (Tunicata: the tunicates) 15
Class ASCIDIACEA (ascidians), 15
Class THALIACEA (salps), 15
Order PYROSOMIDA, 15
Order DOLIOLIDA, 15
Order SALPIDA, 15
Class APPENDICULARIA, 15
SUBPHYLUM CEPHALOCHORDATA (Acrania, in part) 16
Order AMPHIOXIFORMES (lancelets), 16
Family BRANCHIOSTOMATIDAE, 16
Family EPIGONICHTHYIDAE, 16
SUBPHYLUM CRANIATA 18
INFRAPHYLUM MYXINOMORPHI 19
Class MYXINI, 20
Order MYXINIFORMES (1)—hagfishes, 20
Family MYXINIDAE (1)—hagfishes, 20
INFRAPHYLUM VERTEBRATA (vertebrates) 22
SUPERCLASS PETROMYZONTOMORPHI 23
Class PETROMYZONTIDA, 23
Order PETROMYZONTIFORMES (2)—lampreys, 23
Family PETROMYZONTIDAE (2)—northern lampreys, 24
Family GEOTRIIDAE (3)—southern lampreys, 25
Family MORDACIIDAE (4)—southern topeyed lampreys, 26
SUPERCLASS GNATHOSTOMATA (jawed vertebrates) 34
EUGNATHOSTOMATA, 40
GRADE CHONDRICHTHYOMORPHI 40
Class CHONDRICHTHYES—cartilaginous fishes, 40
Superorder HOLOCEPHALIMORPHA, 50
Order CHIMAERIFORMES (3)—chimaeras, 51
Family CALLORHINCHIDAE (5)—plownose chimaeras, 52
Family RHINOCHIMAERIDAE (6)—longnose chimaeras, 52
Family CHIMAERIDAE (7)—shortnose chimaeras or ratfishes, 53
Subclass EUSELACHII (sharks, rays, and related fossils), 53
Infraclass ELASMOBRANCHII, 56
Division SELACHII—sharks, 58
Superorder GALEOMORPHI, 58
Order HETERODONTIFORMES (4)—bullhead sharks, 59
Family HETERODONTIDAE (8)—bullhead sharks, 59
Order ORECTOLOBIFORMES (5)—carpet sharks, 59
Family PARASCYLLIIDAE (9)—collared carpet sharks, 60
Family BRACHAELURIDAE (10)—blind sharks, 60
Family ORECTOLOBIDAE (11)—wobbegongs, 61
Order LAMNIFORMES (6)—mackerel sharks, 63
Order CARCHARHINIFORMES (7)—ground sharks, 68
Superorder SQUALOMORPHI, 73
Series HEXANCHIDA, 73
Order HEXANCHIFORMES (8)—six-gill sharks, 73
Family CHLAMYDOSELACHIDAE (31)—frilled sharks, 74
Family HEXANCHIDAE (32)—cow sharks, 74
Series SQUALIDA, 75
Order SQUALIFORMES (9)—dogfish sharks, 75
Series SQUATINIDA, 78
Order ECHINORHINIFORMES (10)—bramble sharks, 78
Family ECHINORHINIDAE (39)—bramble sharks, 78
Order SQUATINIFORMES (11)—angel sharks, 79
Family SQUATINIDAE (40)—angel sharks, 79
Order PRISTIOPHORIFORMES (12)—saw sharks, 80
Family PRISTIOPHORIDAE (41)—saw sharks, 80
Division BATOMORPHI—rays, 80
Order TORPEDINIFORMES (13)—electric rays, 82
Family TORPEDINIDAE (42)—torpedo electric rays, 82
Family NARCINIDAE (43)—numbfishes, 83
Order RAJIFORMES (14)—skates, 84
Family RAJIDAE (44)—skates, 84
Order PRISTIFORMES (15)—guitarfishes and sawfishes, 85
Order MYLIOBATIFORMES (16)—stingrays, 87
Grade TELEOSTOMI 95
Class OSTEICHTHYES—bony fishes and tetrapods, 101
Subclass SARCOPTERYGII—lobe-finned fishes and tetrapods, 102
Infraclass ACTINISTIA—coelacanths, 103
Order COELACANTHIFORMES (17)—coelacanths, 104
Family LATIMERIIDAE (59)—gombessas or coelacanths, 105
Infraclass ONYCHODONTIDA, 106
Infraclass DIPNOMORPHA, 106
Superorder DIPNOI, 107
Order CERATODONTIFORMES (18)—living lungfishes and their fossil relatives, 108
Family NEOCERATODONTIDAE (60)—Australian lungfishes, 109
Family LEPIDOSIRENIDAE (61)—South American lungfishes, 109
Family PROTOPTERIDAE (62)—African lungfishes, 109
Infraclass TETRAPODA—tetrapods, 111
Subclass ACTINOPTERYGII—ray-finned fishes, 111
Infraclass CLADISTIA, 116
Order POLYPTERIFORMES (19)—bichirs, 116
Family POLYPTERIDAE (63)—bichirs, 117
Infraclass CHONDROSTEI, 118
Order ACIPENSERIFORMES (20)—paddlefishes and sturgeons, 118
Family POLYODONTIDAE (64)—paddlefishes, 118
Family ACIPENSERIDAE (65)—sturgeons, 119
NEOPTERYGII, 121
Infraclass HOLOSTEI (gars, bowfins, and relatives), 121
Division GINGLYMODI, 122
Order LEPISOSTEIFORMES (21)—gars, 122
Family LEPISOSTEIDAE (66)—gars, 123
Division HALECOMORPHI, 124
Order AMIIFORMES (22)—bowfins, 125
Family AMIIDAE (67)—bowfins, 126
Division TELEOSTEOMORPHA, 126
Subdivision TELEOSTEI, 128
Supercohort TELEOCEPHALA—crown-group Teleostei, 132
Cohort ELOPOMORPHA, 133
Order ELOPIFORMES (23)—tenpounders, 135
Family ELOPIDAE (68)—tenpounders (ladyfishes), 135
Family MEGALOPIDAE (69)—tarpons, 135
Order ALBULIFORMES (24)—bonefishes, 136
Family ALBULIDAE (70)—bonefishes, 136
Order NOTACANTHIFORMES (25)—halosaurs and deep-sea spiny eels, 137
Family HALOSAURIDAE (71)—halosaurs, 137
Family NOTACANTHIDAE (72)—deep-sea spiny eels, 138
Order ANGUILLIFORMES (26)—eels, 139
OSTEOGLOSSOCEPHALA, 153
Cohort OSTEOGLOSSOMORPHA, 153
Order HIODONTIFORMES (27)—mooneyes, 155
Family HIODONTIDAE (92)—mooneyes, 155
Order OSTEOGLOSSIFORMES (28)—bonytongues, 155
CLUPEOCEPHALA, 160
Cohort OTOCEPHALA, 161
Superorder CLUPEOMORPHA, 162
Order CLUPEIFORMES (29)—herrings, 164
Superorder ALEPOCEPHALI, 172
Order ALEPOCEPHALIFORMES (30)—slickheads and tubeshoulders, 172
Superorder OSTARIOPHYSI, 174
Series ANOTOPHYSI, 175
Order GONORYNCHIFORMES (31)—milkfishes, 175
Series OTOPHYSI, 179
Subseries Cypriniphysi, 180
Order CYPRINIFORMES (32)—carps, loaches, minnows, and relatives, 180
Family CYPRINIDAE (109)—minnows, carps, and loaches, 181
Subseries Characiphysi, 193
Order CHARACIFORMES (33)—characins, 193
Subseries Siluriphysi, 207
Order SILURIFORMES (34)—catfishes, 207
Order GYMNOTIFORMES (35)—Neotropical knifefishes, 238
Cohort EUTELEOSTEI, 241
Order LEPIDOGALAXIIFORMES (36)—salamanderfishes, 242
Family LEPIDOGALAXIIDAE (186)—salamanderfishes, 242
Superorder PROTACANTHOPTERYGII, 243
Order SALMONIFORMES (37)—trout, salmon, and whitefish, 244
Family SALMONIDAE (187)—trout, salmon, and whitefish, 244
Order ESOCIFORMES (38)—pikes and mudminnows, 248
Family ESOCIDAE (188)—pikes, 249
Family UMBRIDAE (189)—mudminnows, 251
Superorder OSMEROMORPHA, 252
Order ARGENTINIFORMES (39)—marine smelts, 252
Order GALAXIIFORMES (40)—galaxiiforms, 254
Family GALAXIIDAE (194)—galaxiids, 254
Order OSMERIFORMES (41)—freshwater smelts, 256
Order STOMIIFORMES (42)—dragonfishes, 259
Superorder ATELEOPODOMORPHA, 265
Order ATELEOPODIFORMES (43)—jellynose fishes, 265
Family ATELEOPODIDAE (204)—jellynose fishes, 265
Superorder CYCLOSQUAMATA, 266
Order AULOPIFORMES (44)—lizardfishes, 266
Superorder SCOPELOMORPHA, 276
Order MYCTOPHIFORMES (45)—lanternfishes, 276
Family NEOSCOPELIDAE (221)—blackchins, 277
Family MYCTOPHIDAE (222)—lanternfishes, 277
Superorder LAMPRIMORPHA, 280
Order LAMPRIFORMES (46)—opahs, 280
Superorder PARACANTHOPTERYGII, 284
Order POLYMIXIIFORMES (47)—beardfishes, 285
Family POLYMIXIIDAE (229)—beardfishes, 286
Order PERCOPSIFORMES (48)—trout-perches, 287
Family PERCOPSIDAE (230)—trout-perches, 287
Family APHREDODERIDAE (231)—pirate perches, 288
Family AMBLYOPSIDAE (232)—cavefishes, 289
Order ZEIFORMES (49)—dories, 289
Order STYLEPHORIFORMES (50)—tube-eyes or thread-tails, 293
Family STYLEPHORIDAE (239)—tube-eyes or thread-tails, 293
Order GADIFORMES (51)—cods and hakes, 293
Superorder ACANTHOPTERYGII, 302
Series BERYCIDA, 303
Order HOLOCENTRIFORMES (52)—squirrelfishes, 304
Family HOLOCENTRIDAE (253)—squirrelfishes, 304
Order TRACHICHTHYIFORMES (53)—roughies, 305
Order BERYCIFORMES (54)—beryciforms, 308
Series PERCOMORPHA, 314
Subseries Ophidiida, 315
Order OPHIDIIFORMES (55)—cusk-eels, 315
Subseries Batrachoidida, 320
Order BATRACHOIDIFORMES (56)—toadfishes, 320
Family BATRACHOIDIDAE (272)—toadfishes, 321
Subseries Gobiida, 323
Order KURTIFORMES (57)—nurseryfishes and cardinalfishes, 324
Family KURTIDAE (273)—nurseryfishes, 324
Family APOGONIDAE (274)—cardinalfishes, 324
Order GOBIIFORMES (58)—gobies, 326
Subseries Ovalentaria, 333
Order MUGILIFORMES (59)—mullets, 341
Family MUGILIDAE (291)—mullets, 342
Order CICHLIFORMES (60)—cichlids and convict blennies, 342
Family CICHLIDAE (292)—cichlids, 342
Family PHOLIDICHTHYIDAE (293)—convict blenny, 345
Order BLENNIIFORMES (61)—Blennies, 346
Order GOBIESOCIFORMES (62)—clingfishes, 351
Family GOBIESOCIDAE (300)—clingfishes, 352
Order ATHERINIFORMES (63)—silversides, 354
Order BELONIFORMES (64)—needlefishes, 363
Order CYPRINODONTIFORMES (65)—killifishes, 369
Order SYNBRANCHIFORMES (66)—swamp eels, 380
Order CARANGIFORMES (67)—jacks, 383
Order ISTIOPHORIFORMES (68)—barracudas and billfishes, 387
Order ANABANTIFORMES (69)—labyrinth fishes, 390
Order PLEURONECTIFORMES (70)—flatfishes, 395
Order SYNGNATHIFORMES (71)—pipefishes and seahorses, 405
Order ICOSTEIFORMES (72)—ragfishes, 412
Family ICOSTEIDAE (366)—ragfishes, 412
Order CALLIONYMIFORMES (73), 412
Family CALLIONYMIDAE (367)—dragonets, 412
Family DRACONETTIDAE (368)—slope dragonets, 413
Order SCOMBROLABRACIFORMES (74)—longfin escolars, 413
Family SCOMBROLABRACIDAE (369)—longfin escolars, 413
Order SCOMBRIFORMES (75)—mackerels, 414
Order TRACHINIFORMES (76), 421
Order PERCIFORMES (78)—perches, 430
Order SCORPAENIFORMES (79)—mail-cheeked fishes, 467
Order MORONIFORMES (80)—temperate basses, 495
Order ACANTHURIFORMES—(81) surgeonfishes and relatives, 497
Order SPARIFORMES (82)—breams and porgies, 502
Order CAPROIFORMES (83)—boarfishes, 506
Family CAPROIDAE (508)—boarfishes, 507
Order LOPHIIFORMES (84)—anglerfishes, 508
Order TETRAODONTIFORMES (85)—plectognaths, 518
BIBLIOGRAPHY 527
INDEX 651
See More
JOSEPH S. NELSON, PhD, (1937–2011) is the author of the first four editions, was a Professor Emeritus of Biological Sciences at the University of Alberta, Edmonton, Canada.
TERRY C. GRANDE, PhD, is an expert in fish morphology, development, and phylogeny. She is Professor of Biology at Loyola University Chicago in Chicago, IL, USA.
MARK V.H. WILSON, PhD, is an expert in fish evolution, paleontology, and taxonomy. He is a Professor Emeritus of Biological Sciences at the University of Alberta, Edmonton, Canada, and Affiliate Professor of Biology at Loyola University Chicago in Chicago, IL, USA.
See More