Mentor: Guiding the Journey of Adult Learners (with New Foreword, Introduction, and Afterword), 2nd Edition
ISBN: 978-1-118-34284-8
320 pages
October 2012, Jossey-Bass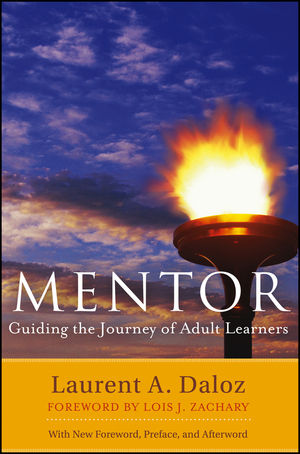 With a new introduction and afterword, this revised second edition is a practical, engaging exploration of mentoring and its power to transform learning. Filled with inspiring vignettes, Mentor shows how anyone who teaches can become a successful mentor to students. Topics covered include adult learning and development; the search for meaning as a motive for learning; education as a transformational journey; how adults change and develop; how learning changes the learner; barriers and incentives to learning and growth; and guiding adults through difficult transitions.
See More
Foreword v
Lois Zachary
Preface to the Original Edition ix
Preface xix
The Author xxxi
Part One: Adult Learning as Development
1 First Shards: The Search for Meaning as a Motive for Learning 3
2 Mentors, Myths, and Metamorphosis: Education as a Transformational Journey 17
3 Maps of Transformation: How Adults Change and Develop 43
Part Two: Learning as a Transformative Journey
4 The Deep and Savage Way: The Unsettling First Steps of an Educational Journey 89
5 The Dynamic of Transformation: How Learning Changes the Learner 125
6 Returning Home: Helping Adults Integrate New Insights 147
Part Three: Fostering Adult Learning
7 The Ecology of Adult Learning: Barriers and Incentives to Learning and Growth 181
8 The Yoda Factor: Guiding Adults Through Difficult Transitions 203
9 The Art of the Mentor: Limits and Possibilities 231
Afterword 249
Notes 263
References 269
Appendix 279
Index 281
See More
February 06, 2013
Mentor: Guiding the Journey of Adult Learners (with New Foreword, Introduction, and Afterword), 2nd Edition
Connect with Wiley Publicity
MENTOR: GUIDING the JOURNEY OF ADULT LEARNERS, 2nd Edition
San Francisco, CA - Whether we're at home, work or in the classroom we all function as either mentor or student, and sometimes both. This is a life-long, ongoing process that continually asks questions like, "How can we help others to learn more?" and, "How can we learn more from others?"
Revised and updated from the award-winning classic Effective Teaching and Mentoring, MENTOR: GUIDING THE JOURNEY OF ADULT LEARNERS, 2nd Edition by Laurent A. Daloz offers up answers to these questions. It is a practical, engaging exploration of mentoring and its power to transform learning. This new edition shines a bright light on understanding adult learners.
Parker J. Palmer called this book, "Essential reading..it will help more of us grow into one of the most life-giving relationships we can have with another person, on that will bring deep fulfillment to our own souls. Daloz has given a great gift to all who teach and learn."
Based on developmental theories, the book suggests concrete ways to work more effectively and improve the quality of the mentoring experience on both sides of the coin. Using interviews and personal descriptions Daloz illustrates what he calls, "the living tissues between real students and teachers," to best apprehend developmental advising and instruction.
MENTOR: GUIDING THE JOURNEY OF ADULT LEARNERS, 2nd helps both the student and the mentor build the kind of relationship that encourages strength and citizenship. This book is for anyone who wants to travel to the heartland of transformative growth.
See More
Learn more about