Turnaround Tools for the Teenage Brain: Helping Underperforming Students Become Lifelong Learners
ISBN: 978-1-118-34305-0
176 pages
April 2013, Jossey-Bass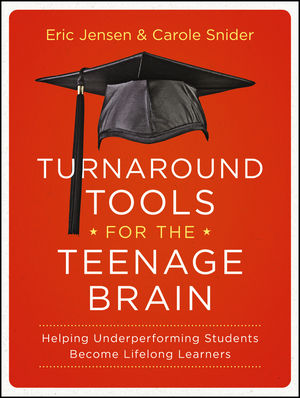 Powerful research-based strategies to turn around struggling adolescent students
The achievement gap is widening and more teens than ever are struggling in school. The latest research shows not only that brains can change, but that teachers and other providers have the power to boost students' effort, focus, attitude, and even IQs. In this book bestselling author Eric Jensen and co-author Carole Snider offer teacher-friendly strategies to ensure that all students graduate, become lifelong learners, and ultimately be successful in school and life. Drawing on cutting-edge science, this breakthrough book reveals core tools to increase student effort, build attitudes, and improve behaviors.
Practical, teacher-tested, and research-supported strategies that will empower educators to make lasting and rapid changes
Powerful academic evidence showing that every teacher can make a significant—and lasting—difference in student effort, behavior, attitude, and achievement
Specific tools for making and managing the student's goal-seeking process and helping to develop a winner's mindset
From the very first chapter, educators will learn how to help their struggling students become excited, lifelong learners. Eric Jensen is a noted authority on brain-based learning and student engagement. Carole Snider is an expert in both adolescent success and adult learning.
See More
About the Authors v
Acknowledgments vii
Introduction ix
1 Teach Students to Learn for Life 1
2 Change Your Students' Brains 15
3 Begin with Attitude Building 39
4 Build Cognitive Capacity 57
5 Foster Student Effort 75
6 Empower Exceptional Learners 97
7 Strengthen Body, Mind, and Soul 115
8 Focus Students on Goals 129
References 145
Index 157
See More
Eric Jensen is a former teacher and cofounder of SuperCamp, the nation's most innovative and largest academic enrichment program. He is the author of numerous popular books about teaching and brain-based education, including Teaching With Poverty in Mind (ASCD) and Enriching the Brain (Jossey-Bass).
Carole Snider is a former teacher and school counselor. She serves on the state governing board for Ohio school counselors, is an adjunct professor, and recently authored the graduate course, Succeeding with Students of Poverty .
See More
Learn more about