Medical Transcription For Dummies
ISBN: 978-1-118-34307-4
360 pages
December 2012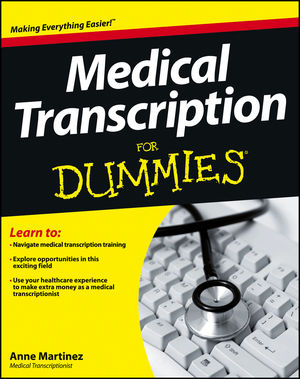 The fast and easy way to explore a medical transcription career
Flexibility is one of the most enticing aspects of a career in medical transcription. Perfect for in the office, at home, or on vacation, medical transcriptionists can often create lifestyle-appropriate schedules. The transcription field also appeals as a part-time, post-retirement income source for ex-healthcare-industry workers. If you're interested in a career in this growing field, Medical Transcription For Dummies serves as an accessible entry point.
With guidance on getting through training and certification and exploring opportunities within the myriad different kinds of employment arrangements, Medical Transcription For Dummies gives you everything you need to get started in medical transcription.
Guides you on getting though medical transcription training and certification
Includes expert advice and tips on how to approach complex medical jargon and understand procedures
Plain-English explanations of medical terminology, anatomy and physiology, diagnostic procedures, pharmacology, and treatment assessments
Whether used as a classroom supplement or a desk reference, students and professionals alike can benefit from Medical Transcription For Dummies.
See More
Introduction 1
Part I: So, You Want to Be a Medical Transcriptionist 7
Chapter 1: Just the Facts 9
Chapter 2: The What, How, Who, and Why of Medical Transcription 17
Chapter 3: Getting a Handle on Job Prospects and Employment Options 35
Chapter 4: Becoming a Working Medical Transcriptionist 49
Part II: Getting the Job Done: Medical Transcription How-To 65
Chapter 5: Medical Language Boot Camp 67
Chapter 6: Formatting: The Basics 85
Chapter 7: Cracking the Code: Deciphering Diffi cult Dictation 101
Chapter 8: Mastering the Key Medical Transcription References 109
Chapter 9: Meeting the Need for Speed 123
Part III: Looking at the Types of Reports You'll Transcribe  131
Chapter 10: History and Physical Examination 133
Chapter 11: Consultation 143
Chapter 12: Operative Reports 151
Chapter 13: Discharge and Death Summaries 161
Chapter 14: Beyond the Big Four: Other Common Reports 169
Part IV: Employment Matters: Landing and
Managing a Medical Transcriptionist Job  189
Chapter 15: Medical Transcriptionist Job Hunting 191
Chapter 16: Managing On-the-Job Issues 205
Chapter 17: Climbing the Career Ladder 215
Chapter 18: Working from Home 223
Chapter 19: Financial Considerations for Independent Contractors 239
Chapter 20: Staying Healthy for the Long Haul 255
Part V: The Part of Tens  265
Chapter 21: Ten Keys to Career Success 267
Chapter 22: Ten Myths about Medical Transcription 275
Chapter 23: Ten Great Online Resources281
Part VI: Appendixes  285
Appendix A: Glossary 287
Appendix B: Commonly Dictated Phrases and How to Transcribe Them299
Appendix C: Sample Reports 309
Index 325
See More
Anne Martinez is an experienced medical transcriptionist who has written more than 100 articles for such publications as Contract Professional, USA Today Magazine, Career Woman, and Parenting.
See More