A Guide to the Wireless Engineering Body of Knowledge (WEBOK), 2nd Edition
ISBN: 978-1-118-34357-9
316 pages
October 2012, Wiley-IEEE Press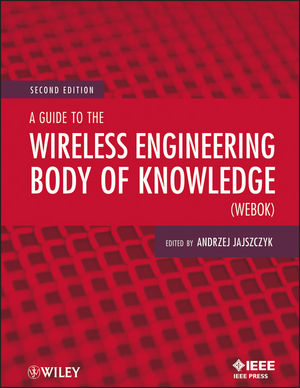 The ultimate reference on wireless technology—now updated and revised
Fully updated to incorporate the latest developments and standards in the field, A Guide to the Wireless Engineering Body of Knowledge, Second Edition provides industry professionals with a one-stop reference to everything they need to design, implement, operate, secure, and troubleshoot wireless networks.
Written by a group of international experts, the book offers an unmatched breadth of coverage and a unique focus on real-world engineering issues. The authors draw upon extensive experience in all areas of the technology to explore topics with proven practical applications, highlighting emerging areas such as Long Term Evolution (LTE) in wireless networks. The new edition is thoroughly revised for clarity, reviews wireless engineering fundamentals, and features numerous references for further study.
Based on the areas of expertise covered in the IEEE Wireless Communication Engineering Technologies (WCET) exam, this book explains:
Wireless access technologies, including the latest in mobile cellular technology
Core network and service architecture, including important protocols and solutions
Network management and security, from operations process models to key security issues
Radio engineering and antennas, with specifics on radio frequency propagation and wireless link design
Facilities infrastructure, from lightning protection to surveillance systems
With this trusted reference at their side, wireless practitioners will get up to speed on advances and best practices in the field and acquire the common technical language and tools needed for working in different parts of the world.
See More
CONTRIBUTING EDITORS AND AUTHORS vii
INTRODUCTION ix
WIRELESS ACCESS TECHNOLOGIES 1
1.1 Introduction 1
1.2 Wireless Access 3
1.3 Mobile Cellular Architecture and Design Fundamentals 10
1.4 Wireless Access Technology Standardization 26
1.5 Digital Mobile Cellular Technologies—GSM to LTE 30
1.6 3GPP2 Radio Access Standards Evolution 46
1.7 IEEE and Other Wireless Access Technologies 53
1.8 Wireless Access Technology Roadmap: Vision of the Future 68
1.9 References 71
1.10 Suggested Further Reading 73
NETWORK AND SERVICE ARCHITECTURE 75
2.1 Introduction 75
2.2 Circuit-Switched Cellular Network Architecture 76
2.3 TCP/IP in Packet Switched Networks 79
2.4 VoIP/SIP for IP Multimedia 84
2.5 Packet-Switched Mobile Networks and IMS 89
2.6 Introduction of the Evolved Packet Core 99
2.7 Alternative Network Architectures—Mesh Networks 105
2.8 Alternative Network Architectures—Mobile Ad Hoc Networks 110
2.9 Wireless Service Technologies and Architectures 112
2.10 Service Framework: Creation, Access, Delivery 117
2.11 Fundamentals of Traffic Engineering 121
2.12 References 128
2.13 Suggested Further Reading 132
NETWORK MANAGEMENT AND SECURITY 135
3.1 Introduction 135
3.2 Network Management Concepts 136
3.3 Operations Process Models 140
3.4 Network Management Protocols 147
3.5 Security Requirements 151
3.6 References 171
RADIO ENGINEERING AND ANTENNAS 173
4.1 Introduction 173
4.2 Radio Frequency Propagation 173
4.3 Antennas 181
4.4 Radio Engineering and Wireless Link Design 190
4.5 Radio System Considerations 203
4.6 Summary 214
4.7 References 215
4.8 Suggested Further Reading 216
FACILITIES INFRASTRUCTURE 219
5.1 Introduction 219
5.2 AC and DC Power Systems 219
5.3 Electrical Protection 222
5.4 Heating, Ventilation, and Air Conditioning 231
5.5 Equipment Racks, Rack Mounting Spaces, and Related Hardware 232
5.6 Waveguides and Transmission Lines 233
5.7 Tower Specifications and Standards 234
5.8 Distributed Antenna Systems and Base Station Hotels 237
5.9 Physical Security, Alarm and Surveillance Systems 239
5.10 National and International Standards and Specifications 241
5.11 Resources 242
5.12 References 243
AGREEMENTS, STANDARDS, POLICIES, AND REGULATIONS 247
6.1 Introduction 247
6.2 Agreements 248
6.3 Standards 250
6.4 Policies 254
6.5 Regulations 258
6.6 References 263
FUNDAMENTAL KNOWLEDGE 265
7.1 Introduction 265
7.2 Electrical and RF Engineering 265
7.3 Communication Engineering 271
7.4 Engineering Management 279
7.5 References 281
APPENDICES
APPENDIX A Glossary of Acronyms 283
APPENDIX B Summary of Knowledge Areas 289
APPENDIX C Creating WEBOK 2.0 301
APPENDIX D About the IEEE Communications Society 303
See More
ANDRZEJ JAJSZCZYK, PhD, is the Director of the National Science Center and a professor at AGH University of Science and Technology in Krakow, Poland. He is the author or coauthor of seven books and more than 270 research papers and holds nineteen patents. A Fellow of the IEEE, he has edited IEEEGlobal Communications Newsletter and IEEE Transactions on Communications, has served as Editor-in-Chief of IEEE Communications Magazine, and is on the editorial boards of various journals.
See More
Buy Both and Save 25%!
A Guide to the Wireless Engineering Body of Knowledge (WEBOK), 2nd Edition (US $80.95)
-and- The Six Immutable Laws of Mobile Business (US $60.00)
Total List Price: US $140.95
Discounted Price: US $105.71 (Save: US $35.24)
Cannot be combined with any other offers. Learn more.
Learn more about