Getting Started in Advanced Options, Illustrated Edition
ISBN: 978-1-118-34363-0
300 pages
December 2013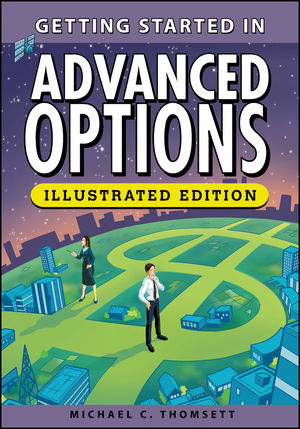 An illustrated, easy-to-read guide to advanced options trading
In Getting Started in Advanced Options, Illustrated Edition, bestselling author Michael C. Thomsett uses nontechnical, easy-to-follow language to demystify the options markets, distinguishing the imagined risks from the real ones and arming investors with the facts they need to make more informed decisions. This illustrated edition includes colourful illustrations, including charts and graphs that make complex subject matter easy to understand. Fully updated to cover the latest changes in the markets, the book introduces advanced strategies and concepts that every successful trader needs. It covers how options can reduce risk, spread strategies, hedges and straddles, swing trading with options, options on futures and indexes, synthetic positions based on options, risks and taxes, choosing stocks for options trading, and more.
An ideal illustrated companion volume to Michael C. Thomsett's Getting Started in Advanced Options
Updated to include the latest changes and newest information on the markets
Loaded with easy-to-understand graphs, charts, and other illustrations
This new illustrated addition to the Getting Started In series makes advanced options trading easy to understand with clear examples, handy illustrations, and plain-English explanations.
See More
Acknowledgments vii
Element Key ix
Introduction xi
Chapter 1: Strategies in Volatile Markets: Uncertainty as an Advantage 1
Avoiding 10 Common Mistakes 3
Modifying Your Risk Tolerance 10
The Nature of Market Volatility 13
Market Volatility Risk 14
Options in the Volatile Environment 19
Chapter 2: Combinations and Spreads: Creative Risk Management 31
Overview of Advanced Strategies 34
Vertical Spread Strategies 41
Horizontal and Diagonal Spread Strategies 52
Altering Spread Patterns 57
Chapter 3: Hedges and Straddles: More Creativity 73
The Two Types of Hedges 73
Hedging Option Positions 77
Straddle Strategies 83
Theory and Practice of Combined Techniques 89
Chapter 4: Options for Specialized Trading: Leveraging the Technical Approach 95
Swing-Trading Basics 97
The Setup Signal 100
Testing the Theory 103
A Strategic View of Options for Swing Trading 107
Options Used for Other Trading Strategies 110
Swing- and Day-Trading Advanced Strategies 111
Chapter 5: Options on Futures: Leveraging Your Leverage 117
Important Distinctions 118
Regulatory Differences 124
Chapter 6: Trading Index Options: Playing the Broader Market 131
Advantages to Trading Index Options 133
Exercise and Expiration Rules 135
Index Option Strategies 137
Structured Index Options 140
Chapter 7: Synthetic Positions: Tracking the Stock 147
Synthetic Put (Protected Short Sale) 149
Synthetic Long Call (Insurance Put or Married Put) 151
Synthetic Long Stock 152
Synthetic Short Stock 155
Split Strike Strategy (Bullish) 157
Split Strike Strategy (Bearish) 159
Collars 162
Synthetic Straddles 169
Chapter 8: Risk: Rules of the Game 177
Identifying the Range of Risk 178
Evaluating Your Risk Tolerance 188
Chapter 9: Taxes: The Wild Card of Options Trading 195
Qualified Covered Calls—Special Rules 200
Looking to the Future 206
Chapter 10: Choosing Stocks: Finding the Right Ingredients 213
Developing an Action Plan 217
Selecting Stocks for Call Writing 220
Averaging Your Cost 225
Analyzing Stocks 230
Applying Analysis to Calls—the "Greeks" 250
Acting on Good Information 258
Glossary 267
Recommended Reading 285
About the Author 287
Index 289
See More
Michael C. Thomsetthas written numerous books on investing and trading. He regularly contributes to Seeking Alpha, Global Risk Community, the Chicago Board Options Exchange (CBOE) website, and other investing websites, and he writes articles for the AAII Journal and NAIC's Better Investing. He also teaches five classes at the prestigious New York Institute of Finance.
See More
Learn more about