E-book
Dietary Treatment of Epilepsy: Practical Implementation of Ketogenic Therapy
ISBN: 978-1-118-34546-7
256 pages
July 2012, Wiley-Blackwell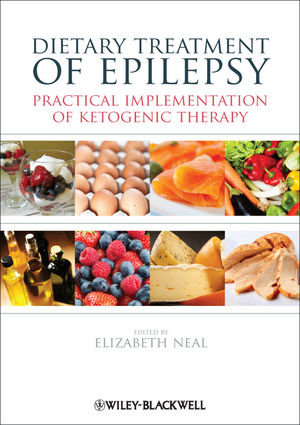 Epilepsy is a common chronic neurological disorder characterised by recurrent unprovoked seizures, and affects 50 million people worldwide. Approximately 30% of these do not have seizure control even with the best available medications, hence renewed and increasing interest in the use of dietary treatments to treat epilepsy. These treatments include the traditional ketogenic diets but also the newer modified Atkins diet and low glycaemic index treatment.
 The ketogenic diet is a high-fat, adequate-protein, low-carbohydrate diet that in medicine is used primarily to treat refractory epilepsy in children, and requires the dedicated support of a multi-disciplinary team including  doctors and dietitians. Dietary Treatment of Epilepsy: Practical Implementation of Ketogenic Therapy provides comprehensive and practical training on all aspects of implementing and managing dietary treatments for epilepsy, with key chapters on assessment, calculations, implementation, monitoring and complications.
 Edited by a highly respected expert in the field supported by a strong team of contributors, this is a must-have resource for paediatric dietitians and other members of the therapy team.
See More
Contributors vii
Foreword ix
A personal note x
Section 1 Introduction and Overview 1
1 Introduction to the ketogenic diet and other dietary treatments 3
Elizabeth Neal
2 Epilepsy and epileptic seizures 11
J. Helen Cross
3 Treatment options in the paediatric epilepsy clinic 19
Ruth E. Williams
4 Efficacy of ketogenic dietary therapy: what is the evidence? 24
Eric H. Kossoff
5 The biochemical basis of dietary therapies for neurological disorders 34
Adam L. Hartman and Jong M. Rho
Section 2 Clinical Implementation 45
6 Preparing for dietary treatment 47
Georgiana Fitzsimmons
7 The challenge of therapeutic diets in children with pre-existing feeding problems 58
Bridget Lambert and Mary-Anne Leung
8 The classical ketogenic diet 66
Gwyneth Magrath and Elizabeth Neal
9 The medium-chain triglyceride ketogenic diet 78
Elizabeth Neal
10 The modified Atkins diet 89
Gwyneth Magrath, Mary-Anne Leung and Tara Randall
11 The Low Glycaemic Index Treatment 100
Heidi H. Pfeifer
12 Managing dietary treatment: further dietetic issues 109
Jan Chapple
13 Managing dietary treatment: a parent's perspective 116
Emma Williams
14 Enteral feeding 124
Jan Chapple
15 Dietary initiation 131
Jan Chapple
16 Ketone monitoring and management of illness 135
Hannah Chaffe
17 Fine tuning 142
Gwyneth Magrath
18 Monitoring and side effects 149
Elizabeth Neal
19 Dietary treatments and bone health 159
Christina Bergqvist
20 Carnitine 166
Elizabeth Neal
21 Switching or discontinuing dietary treatment 172
Bridget Lambert
Section 3 Broader Applications 179
22 Dietary treatment of epilepsy in infants 181
Nicole Dos Santos
23 Dietary treatment of epilepsy in adults 189
Susan Wood
24 Ketogenic dietary therapy in India 198
Janak Nathan
25 Ketogenic dietary therapy in East Asia 206
Hoon-Chul Kang and Heung Dong Kim
26 Ketogenic dietary therapy in Africa 215
Tuscha Du Toit
27 Ketogenic dietary therapy in neurometabolic disease 220
Joerg Klepper
28 Beyond epilepsy: ketogenic diet use in other disease states 225
Adam L. Hartman and Jong M. Rho
Afterword 232
Appendix 234
Index 235
See More
Elizabeth Neal has both clinical and research experience in the dietary treatment of epilepsy, with a PhD in ketogenic diets. She is based at the Institute of Child Health in London, and Matthew's Friends charity and clinics.
See More