The Handbook of Language Contact
ISBN: 978-1-118-34715-7
882 pages
September 2012, Wiley-Blackwell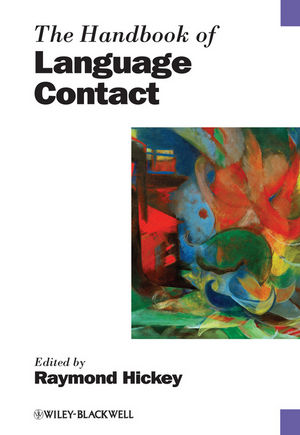 The Handbook of Language Contact
offers systematic coverage of the major issues in this field – ranging from the value of contact explanations in linguistics, to the impact of immigration, to dialectology – combining new research from a team of globally renowned scholars, with case studies of numerous languages.
An authoritative reference work exploring the major issues in the field of language contact: the study of how language changes when speakers of distinct speech varieties interact
Brings together 40 specially-commissioned essays by an international team of scholars
Examines language contact in societies which have significant immigration populations, and includes a fascinating cross-section of case studies drawing on languages across the world
Accessibly structured into sections exploring the place of contact studies within linguistics as a whole; the value of contact studies for research into language change; and language contact in the context of work on language and society
Explores a broad range of topics, making it an excellent resource for both faculty and students across a variety of fields within linguistics
See More
Notes on Contributors viii
Preface xviii
Language Contact: Reconsideration and Reassessment 1
Raymond Hickey
Part I Contact and Linguistics 29
1 Contact Explanations in Linguistics 31
Sarah Thomason
2 Genetic Classification and Language Contact 48
Michael Noonan
3 Contact, Convergence, and Typology 66
Yaron Matras
4 Contact and Grammaticalization 86
Bernd Heine and Tania Kuteva
5 Language Contact and Grammatical Theory 106
Karen P. Corrigan
6 Computational Models and Language Contact 128
April McMahon
Part II Contact and Change 149
7 Contact and Language Shift 151
Raymond Hickey
8 Contact and Borrowing 170
Donald Winford
9 Contact and Code-Switching 188
Penelope Gardner-Chloros
10 Contact and Dialectology 208
David Britain
11 Contact and New Varieties 230
Paul Kerswill
12 Contact and Change: Pidgins and Creoles 252
John Holm
Part III Contact and Society 263
13 Scenarios for Language Contact 265
Pieter Muysken
14 Ethnic Identity and Linguistic Contact 282
Carmen Fought
15 Contact and Sociolinguistic Typology 299
Peter Trudgill
16 Contact and Language Death 320
Suzanne Romaine
17 Fieldwork in Contact Situations 340
Claire Bowern
Part IV Case Studies of Contact 359
18 Macrofamilies, Macroareas, and Contact 361
Johanna Nichols
19 Contact and Prehistory: The Indo-European Northwest 380
Theo Vennemann
20 Contact and the History of Germanic Languages 406
Paul Roberge

21 Contact and the Early History of English 432
Markku Filppula
22 Contact and the Development of American English 454
Joseph C. Salmons and Thomas C. Purnell
23 Contact Englishes and Creoles in the Caribbean 478
Edgar W. Schneider
24 Contact and Asian Varieties of English 498
Umberto Ansaldo
25 Contact and African Englishes 518
Rajend Mesthrie
26 Contact and the Celtic Languages 538
Joseph F. Eska
27 Spanish and Portuguese in Contact 550
John M. Lipski
28 Contact and the Development of the Slavic Languages 581
Lenore A. Grenoble
29 Contact and the Finno-Ugric Languages 598
Johanna Laakso
30 Language Contact in the Balkans 618
Brian D. Joseph
31 Contact and the Development of Arabic 634
Kees Versteegh
32 Turkic Language Contacts 652
Lars Johanson
33 Contact and North American Languages 673
Marianne Mithun
34 Language Contact in Africa: A Selected Review 695
G. Tucker Childs
35 Contact and Siberian Languages 714
Brigitte Pakendorf
36 Language Contact in South Asia 738
Harold F. Schiffman
37 Language Contact and Chinese 757
Stephen Matthews
38 Contact and Indigenous Languages in Australia 770
Patrick McConvell
39 Language Contact in the New Guinea Region 795
William A. Foley
40 Contact Languages of the Pacific 814
Jeff Siegel
Author Index 837
Subject Index 844
See More
Raymond Hickey is Professor of Linguistics at Essen University, Germany. His main areas of research are varieties of English (especially Irish English) and general questions of language contact, shift, and change as well as computer corpus processing. He has published widely, the most recent titles being A Sound Atlas of Irish English (2004), Legacies of Colonial English (2004), Dublin English: Evolution and Change (2005), Irish English: History and Present-Day Forms (2007), and Eighteenth-Century English: Ideology and Change (2010).
See More
Buy Both and Save 25%!
The Handbook of Language Contact (US $51.95)
-and- What Is Sociolinguistics? (US $38.95)
Total List Price: US $90.90
Discounted Price: US $68.17 (Save: US $22.73)
Cannot be combined with any other offers. Learn more.