The Handbook of Language and Speech Disorders
ISBN: 978-1-118-34716-4
666 pages
September 2012, Wiley-Blackwell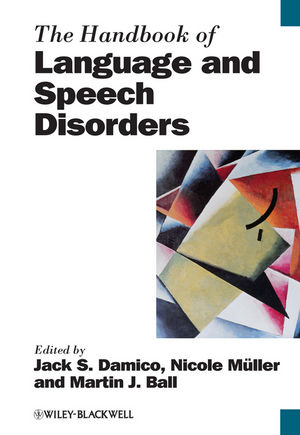 Through contributions from leading experts in the fields of communication science,
The
Handbook of Speech and Language Disorders
presents a comprehensive survey detailing the state of the art in speech, language, and cognitive/intellectual disorders.
Provides the first in-depth exploration of the rapidly expanding field of communication disorders
Examines the current debates, landmark studies, and central themes in the discipline, including analytical methods and assessment
Includes contributions from more than 20 leading scholars to provide an extraordinary breadth of coverage of this growing, multi-disciplinary field
Features a "foundations" section that deals with issues of central importance to all research in the field, including social and practical considerations in classification and diversity, genetic syndromes, and principles of assessment and intervention
See More
List of Figures vii
Notes on Contributors viii
Introduction 1
Jack S. Damico, Nicole Müller, and Martin J. Ball
Part I Foundations 9
1 Social and Practical Considerations in Labeling 11
Jack S. Damico, Nicole Müller, and Martin J. Ball
2 Diversity Considerations in Speech and Language Disorders 38
Brian A. Goldstein and Ramonda Horton-Ikard
3 Intervention for Children with Auditory or Visual Sensory Impairments 57
Laura W. Kretschmer and Richard R. Kretschmer
4 Intelligibility Impairments 99
Megan Hodge and Tara Whitehill
5 Genetic Syndromes and Communication Disorders 115
Vesna Stojanovik
6 Principles of Assessment and Intervention 131
Bonnie Brinton and Martin Fujiki
Part II Language Disorders 151
7 Autism Spectrum Disorders: The State of the Art 153
John Muma and Steven Cloud
8 Delayed Language Development in Preschool Children 178
Deborah Weiss and Rhea Paul
9 Specific Language Impairment 210
Sandra L. Gillam and Alan G. Kamhi
10 Pragmatic Impairment 227
Michael R. Perkins
11 Learning Disabilities 247
Robert Reid and Laura Jacobson
12 Reading and Reading Impairments 267
Jack S. Damico and Ryan Nelson
13 Substance Abuse and Childhood Language Disorders 296
Truman E. Coggins and John C. Thorne
14 Aphasia 317
Chris Code
Part III Speech Disorders 337
15 Children with Speech Sound Disorders 339
Sara Howard
16 Dysarthria 362
Hermann Ackermann, Ingo Hertrich, and Wolfram Ziegler
17 Apraxia of Speech 391
Adam Jacks and Donald A. Robin
18 Augmentative and Alternative Communication: An Introduction 410
Kathryn D. R. Drager, Erinn H. Finke, and Elizabeth C. Serpentine
19 Fluency and Fluency Disorders 431
John A. Tetnowski and Kathy Scaler Scott
20 Describing Voice Disorders 455
Richard Morris and Archie Bernard Harmon
21 Orofacial Anomalies 474
Jane Russell
22 Speech Disorders Related to Head and Neck Cancer: Laryngectomy, Glossectomy, and Velopharyngeal and Maxillofacial Deficits 497
Tim Bressmann
Part IV Cognitive and Intellectual Disorders 527
23 ADHD and Communication Disorders 529
Carol Westby and Silvana Watson
24 Communication Deficits Associated with Right Hemisphere Brain Damage 556
Margaret Lehman Blake
25 Traumatic Brain Injury 577
Jennifer Mozeiko, Karen Lé, and Carl Coelho
26 Dementia 600
Nicole Müller
Author Index 626
Subject Index 644
See More
Jack S. Damico is the Doris B. Hawthorne Eminent Scholar in Communicative Disorders and Special Education at the University of Louisiana at Lafayette. He is co-editor of the Journal of Interactional Research in Communication Disorders . His books include Childhood Language Disorders (1995),Clinical Aphasiology: Future Directions(co-edited with M. Ball, 2007), and Special Education Considerations for English Language Learners (co-authored with E. Hamayan, B. Marler, and C. Sanchez-Lopez, 2007).
Nicole Müller is a Hawthorne-BoRSF Endowed Professor of Communicative Disorders at the University of Louisiana at Lafayette. She is the founder-editor of the Journal of Multilingual Communication Disorders, and is now a co-editor, with Martin J. Ball, of Clinical Linguistics and Phonetics.  She is co-author of Approaches to Discourse in Dementia (2005), and co-editor of The Handbook of Clinical Linguistics (Wiley-Blackwell, 2008).
Martin J. Ball is Hawthorne-BoRSF Endowed Professor, and Director of the Hawthorne Center for Research in Communicative Disorders, at the University of Louisiana at Lafayette. his most recent books are Clinical Sociolinguistics (Wiley-Blackwell, 2005), Phonetics for Communication Disorders (co-authored with N. Müller, 2005) and Critical Concepts in Clinical Linguistics (co-edited with Tom Powell, 2009)
See More
Buy Both and Save 25%!
The Handbook of Language and Speech Disorders (US $55.95)
-and- Discovering Speech, Words, and Mind (US $43.95)
Total List Price: US $99.90
Discounted Price: US $74.92 (Save: US $24.98)
Cannot be combined with any other offers. Learn more.
More in this series