Business Studies For Dummies
ISBN: 978-1-118-34811-6
408 pages
February 2014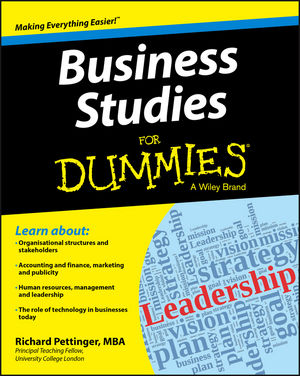 Your hands-on introduction to modern business and business education
Whether you're deciding on a course of study, headed to university, or settling down to your first year, Business Studies For Dummies provides you with a thorough overview of the subjects that form the foundation of a business studies degree.
You'll get trusted, easy-to-follow coverage of all the topics you'll encounter: business start-up, accounting and finance, operations, human resources, management, analytics, business environment, and economics.
Includes a clear, engaging, and concise overview of the key topics you'll encounter in your studies
The perfect study companion for students
With Business Studies For Dummies, you'll be one step ahead of the competition—at university and on the job.
See More
Introduction 1
Part I: What Is Business? 5
Chapter 1: Understanding Business and Business Studies 7
Chapter 2: Identifying the Internal and External Influences on Business 21
Chapter 3: Using Business Analyses 37
Chapter 4: Making Decisions 61
Part II: How Business Works 75
Chapter 5: Structuring and Evolving Organisations 77
Chapter 6: Meeting Stakeholder Demands 91
Chapter 7: Organising for Success 103
Part III: How to Be a Business and Do Business 119
Chapter 8: Understanding Business Strategy 121
Chapter 9: Creating Great Products and Services 137
Chapter 10: Marketing Your Products or Services 151
Part IV: Money, Money, Money 171
Chapter 11: Understanding Finance 173
Chapter 12: Structuring Accounts 193
Chapter 13: Investing in the Present and in the Future 211
Chapter 14: Using Numbers in Business 231
Part V: The Awkward Bit: The People! 245
Chapter 15: Knowing People 247
Chapter 16: Managing Human Resources 269
Chapter 17: Handling Employee Relations 289
Part VI: Putting It All Together 307
Chapter 18: Examining Operations 309
Chapter 19: Delivering Great Projects 327
Chapter 20: Using Technology to Your Best Advantage 341
Part VII: The Part of Tens 357
Chapter 21: Ten Tips for Succeeding at Business School 359
Chapter 22: Ten Ways to Put Your Knowledge to Work Outside the Classroom 367
Index 375
See More
Richard Pettinger, MBA, is the Principal Teaching Fellow in Management Education at the Department of Management Science and Innovation, University College London. He is also Director of the BSc/MSci Information Management for Business programme, a major national initiative to transform undergraduate and pre-professional business and management education.
See More