Passing the PRINCE2 Exams For Dummies
ISBN: 978-1-118-34965-6
348 pages
April 2013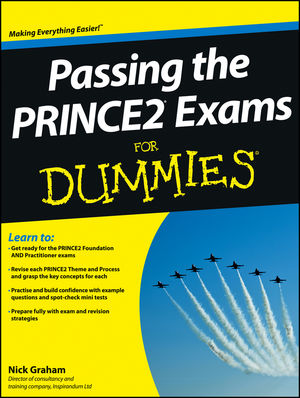 Everything you need to prepare for—and pass—the exams
Does the thought of sitting your PRINCE2 exams bring you out in a cold sweat? Fear not. Passing the PRINCE2 Exams For Dummies is your complete guide to preparing for—and passing—the PRINCE2 Foundation and Practitioner exams.
It's packed with everything you need to learn from both syllabi, plus good advice on revision techniques. You'll also find example exam questions that enable you to practice, practice, practice.
Chapters devoted to revising each of the PRINCE2 Processes (e.g. initiating a project) and Themes (e.g. change)
Revision checklists for both Foundation and Practitioner exams tell you exactly what you need to learn in preparation for the exams
Extra clarification and plain-English explanations of the more tricky concepts
Spot tests to check your understanding as you go
Sample Foundation and Practitioner exam questions for each Theme and Process
Relax and shake off those exams flashbacks of yesteryear—with this guide, you've got it covered.
See More
Introduction 1
Part I: Explaining the Exams 5
Chapter 1: Understanding the PRINCE2 Exams 7
Chapter 2: Revising and Preparing for the Exams 21
Chapter 3: Dealing with Disappointment 45
Part II: Revising the Processes 53
Chapter 4: Starting Up a Project 55
Chapter 5: Directing a Project 71
Chapter 6: Initiating a Project 87
Chapter 7: Controlling a Stage 101
Chapter 8: Managing Product Delivery 117
Chapter 9: Managing a Stage Boundary 133
Chapter 10: Closing a Project 147
Part III: Revising the Themes 161
Chapter 11: Business Case 163
Chapter 12: Organization 179
Chapter 13: Quality 195
Chapter 14: Plans 209
Chapter 15: Risk 227
Chapter 16: Change 243
Chapter 17: Progress 259
Part IV: Revising the Method as a Whole 271
Chapter 18: Revising the Management Products 273
Chapter 19: Knowing How PRINCE2 Fits Together 289
Part V: The Part of Tens 305
Chapter 20: Ten Things for Your Revision 307
Chapter 21: Ten Things to Remember Before Taking an Exam 311
Chapter 22: Ten Points To Be Clear About On Products 315
Index 323
See More
Nick Graham is a director and founder of Inspirandum Ltd, delivering highly practical project management and PRINCE2 training to all types of organisations. He is also a member of the Association for Project Management and of the Institute of Directors. Nick's other books include PRINCE2 For Dummies and Project Management For Dummies.
See More