Transforming Health Care: The Financial Impact of Technology, Electronic Tools and Data Mining
ISBN: 978-1-118-35000-3
240 pages
February 2013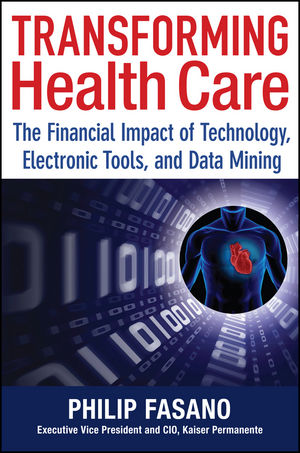 The future of healthcare technologies, and what they mean for investors and entrepreneurs
The healthcare technology revolution is just around the corner. And when it arrives, it will change and enrich our lives in ways we can only begin to imagine. Doctors will perform blood pressure readings via video chat and nutritionists will analyze diet based on photos taken with cellphone cameras. Transforming Health Care combines healthcare, technology, and finance in an innovative new way that explains the future of healthcare and its effects on patient care, exploring the emergence of electronic tools that will transform the medical industry.
Explaining how technology, not politics, will lead the future of the healthcare revolution, author and healthcare technology expert Phil Fasano presents real-life examples that show how the next generation of medical breakthroughs will come from the instant exchange of information across the world
Explores how new technologies will radically change the future of healthcare by making it easier to share information rapidly
Explains what the future of the high tech medical industry means for investors and entrepreneurs
Written by a respected healthcare and health technology expert
Offering an unprecedented look at how technology is transforming the healthcare industry, and what it will mean for future investors and entrepreneurs, Transforming Health Care is a remarkable insight into the next generation of health technologies.
See More
Foreword ix
Preface xiii
Acknowledgments xvii
Introduction xix
Chapter 1 The Emergence of Electronic Tools 1
Real-Time Health Care Begins 2
The Paperless Revolution: Let's Get Going! 4
A Life-Saving Breakthrough 9
The Dawn of the Patient Record 12
The Digital Age Dawns 13
The Kaiser Permanente Experience 15
Electronic Health Records: All You, All Digital 18
From the Back Office to Better Health 21
From Paper to EMRs to EHRs to the Future 25
Notes 26
Chapter 2 The Future 31
Jumping the Hurdles 33
Just Connect 34
Lonely EMRs 35
Patient-Centered Care 38
Health Care Just Got Smarter 39
The Road Ahead 41
Health Financial Exchanges 44
HIEs and HFEs Serve the Patient and Create Profit 47
Notes 48
Chapter 3 Investing in Healthcare IT Innovations 51
The ATM Parallel 54
Consumers: Ahead of the Curve 55
Up Next: Mobile Banking and Mobile Health 57
Investing in Winning Healthcare IT Innovation 58
Looking for Investment in All the Right Places 66
Opportunities for Innovation and Return on Investment Abound 67
Notes 68
Chapter 4 Virtual Visits 71
Easier Than Programming Your TV Remote Control 76
Rx for Good Health: No Waiting with mHealth 81
Mobile Health Is Personal Health 84
Notes 85
Chapter 5 Connected Care Teams 87
Telehealth for One-Stop Care 89
In the Hospital 92
Telemedicine: A Changing Role 93
Changing Practices 95
Where Do We Go from Here? 100
Helping as Many People as We Can 101
Notes 102
Chapter 6 Three Key Players Driving Healthcare IT Innovation 105
Government: Rewarding Success Instead of Funding Failure 106
Government: Guardrails, Handrails, and Connectors 109
Government: Seed Money for Healthcare IT 112
Payers: Healthcare Plans and Insurers Enter the EHR Market 115
Payers Leap into Accountable Care 118
The Private Sector: Leveraging Technology, Filling Unmet Needs 120
Action by Government, Payers, and the Private Sector Needed to Succeed 125
Notes 126
Chapter 7 Global Healthcare IT 129
Denmark: Fostering Digital Health Care 130
The Netherlands: A Controversy over National Health Records 134
New Zealand: Interoperability Leader 138
Global Lessons Hold Domestic Value 141
Notes 142
Chapter 8 Real-Time Learning 145
Introducing Real-Time Analytic Systems 147
Medicine's New Superstar—The Health Data Analyst 149
Care Registries: Putting Data into Practice 151
Putting It All Together 153
Notes 156
Chapter 9 Predictive Medicine 157
Saving Time, Money, Lives 161
Portable Care: Health Information Exchanges 162
World-Class Care for Everyone: Care Registries 164
Future Health: Research and Predictive Care 167
From Prevention to Prediction 169
Notes 170
Chapter 10 Connected System 173
Connected Care: It's Personal 175
At Stake: Your Health and Your Money 180
Proactive Care: It Really Works! 183
Solving the Healthcare Spending Crisis 185
Getting There from Here: A Road Map 186
Conclusion 190
Notes 192
About the Author 197
Index 199
See More
PHILIP FASANO is Executive Vice President and Chief Information Officer at Kaiser Permanente, where he directs the company's 6,000-employee health information technology team. He was named one of Computerworld's 2010 Top 100 Internet Technology Leaders in recognition of his exceptional technology leadership and IT management strategies and, more recently, was named one of CIO magazine's Premier 100 IT Leaders. Since joining Kaiser Permanente in 2007, Fasano has worked on using technology to move the $48 billion not-for-profit health care system toward a vision of total health for more than 9 million members. Fasano also served in IT leadership roles in some of the nation's top finance companies, including JP Morgan and Deutsche Financial Services, a division of Deutsche Bank.
See More