Textbook
Con brio: Beginning Spanish, Activities Manual , 3rd Edition
ISBN: 978-1-118-35038-6
336 pages
February 2013, ©2013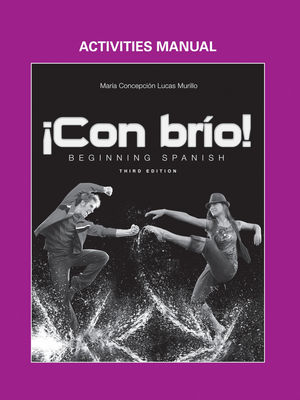 Now in a new edition, this book celebrates the rich diversity of the Spanish-speaking world. A twelve- chapter Introductory Spanish program, this book addresses the needs and life circumstances of a broad audience through a highly practical approach. It focuses on useful vocabulary, functional grammar of high-frequency usage, and cultural content relevant to everyday interactions. Retaining the hallmarks of the previous edition, this book helps students become culturally proficient, so they can be at ease interacting with native speakers.
See More
•A more detailed Scope and Sequence lists all of the grammar concepts covered and connects the text book with the accompanying Grammar Handbook in WileyPLUS.
•A completely revised Tu mundo en vivo section, at the end of each chapter, targets different learning styles, draws on all four language skills, and provides specific strategies for developing those skills.
•Videos en acción includes several new segments, and the Mientras ves el video activity can be completed online in WileyPLUS. Each chapter now grabs students' attention with video right from the beginning .
•Expanded instructors' annotations in the Tu mundo cultural and Tu mundo en vivo sections indicate the ACTFL standards met, and the modes of communication practiced through the various readings, realia, and activities.
•Comic strips provide a contextualized introduction for every major grammar point, and many of them are new or revised in the third edition. Example sentences of grammar in use drawn from the comic strip stories link grammar explanations right back to the illustrations.
•Further revisions include updated ¿Sabes qué? information, revised PowerPoints, Activities Manual, Grammar Handbook, and Testing Program. Autoprueba y repaso is now available in WileyPLUS.
See More
Focuses on building a strong foundation in everyday vocabulary, the basic grammar beginning speakers need, and Hispanic cultural perspectives on everyday life.
Develops the confidence and skills needed to use Spanish in everyday conversations
Unique approach to grammar maximizes flexibility and scalability.
See More