E-book
BRICs and Beyond: Lessons on Emerging Markets
ISBN: 978-1-118-35151-2
304 pages
June 2012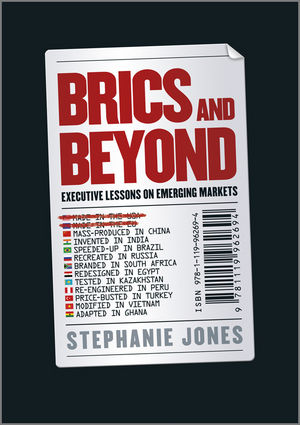 BRICs and Beyond is an international business executive text written especially for executive and MBA students. It is based on extensive consulting in emerging economies and several years of experience teaching executive MBA courses around the globe. The author has continually faced the problem that the available textbooks for teaching international business focused almost exclusively on examples of Western multinationals for case illustrations. In the process of preparing cases nearer to the emerging market she worked in, the author realized that the often fascinating, frequently insightful and always different approach to business illustrated by these cases should be required reading for MBA students in typical Western environments too.
With its wide range of current case illustrations and concise summaries this is a new-generation text that will welcome today's MBA student to the wider world of 21st century international business.
". . . this book is needed not only because it looks at business from the BRICs points of view; it also looks at business from the point of view of tomorrow's business leaders and the challenges that they will have to cope with." --Professor Jonathan Gosling, Centre for Leadership Studies, and co-founder, The One-Planet MBA, the University of Exeter, UK
". . . Stephanie Jones advises Western businesses on doing business in emerging economies in a refreshingly straightforward manner, integrating in a novel way her three decades of global, practical experience with the daily barrage of reporting on the BRICs--distilling from these many lessons and principles. . ." --Extracted from the Foreword, by Professor Wim Naudé, Director of Research, Maastricht School of Management
See More
Foreword by Professor Wim Naudé, Director of Research, ix
Maastricht School of Management
About the Author xiii
Chapter 1 Introduction 1
Doing Business in Emerging Markets – Risks, Opportunities and Practice
PART I – RISKS 7
Chapter 2 Country Risk 9
Politics and Business in Emerging Markets
Chapter 3 Corporate Social Responsibility 57
Transparency, Ethics and Governance in Emerging Markets
Chapter 4 Business Culture 95
Cross-Cultural Management and People in Emerging Markets
PART II – OPPORTUNITIES 119
Chapter 5 Marketing 121
Implementing Marketing Ideas into and from Emerging Markets
Chapter 6 Entrepreneurship and Innovation 151
Technology, Innovation and New Business Ventures in Emerging Markets
PART III – PRACTICE 177
Chapter 7 Strategy and Operations 179
Changing Business Strategies and Operations in Emerging Markets
Chapter 8 Strategic Alliances 211
Western Business and Emerging Market
Business – Working Together
Chapter 9 Lessons for Global Business 249
What We Can Learn from the BRICS and Beyond
Glossary 261
Reading List 267
Recommended Further Reading 275
Index 279
See More
Dr Stephanie Jones is Associate Professor of Organizational Behavior at Maastricht School of Management (MSM), having graduated with a PhD from University College London, and a Bachelor's degree from the London School of Economics. Dr Jones has authored over 25 full-length internationally-published books on business and management. Her most recent books include Nelson's Way: Leadership Lessons from the Great Commander (Nicholas Brealey, 2005), textbooks for MSM on thesis writing, leadership and culture (Meyer & Meyer, 2007-9), Psychological Testing (Harriman House, 2010) and Leadership: Key Concepts (Sage, 2012). Previously a journalist and consultant, she has lived and worked in Hong Kong, China, India, Australia, Dubai and Kuwait. She teaches MBA students based across the world, in Asia, Africa, the Middle East, Eastern Europe and South America, especially courses on leadership, culture, corporate social responsibility and change management.
See More