Teach Yourself VISUALLY Macs, 3rd Edition
ISBN: 978-1-118-35465-0
352 pages
November 2012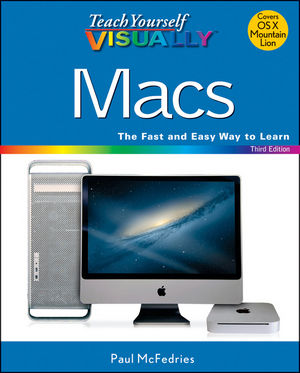 The visual guide to getting up and running with your new Mac
Macs are enjoying robust sales, and visual learners are drawn to their intuitive interface. This colorful, step-by-step guide quickly gets you up to speed on your new Mac, and if you're moving to a Mac from Windows, it smoothes the transition. Full-color screen shots and numbered, step-by-step instructions show you how to navigate the interface and explain how to attach hardware, sync mobile devices, browse the web with Safari, manage photos with iPhoto, shop at the iTunes store, and much more. There are even productivity, maintenance, and troubleshooting tips.
New Mac users, those switching from Windows, and Mac veterans upgrading to the newest version of OS X will get up and running quickly and easily with this full-color, step-by-step guide
Covers basic set-up, hardware add-ons, syncing iPhones and iPods to the Mac, using popular apps, browsing the Internet with Safari, and setting up e-mail
Shows how to manage your photos with iPhoto and create professional-looking home movies with iMovie
Includes a variety of productivity, maintenance, and troubleshooting tasks as well as important details on the capabilities of Mac OS X Lion
Numbered steps and colorful screen shots demonstrate each task
Teach Yourself VISUALLY Macs, 3rd Edition is just what visual learners need to start making the most of the Mac.
See More
Chapter 1 Reviewing Mac Types
Understanding Mac Types  4
Learn About the iMac  6
Delve into the Mac mini  8
Get to Know the Mac Pro  10
Check Out the MacBook Pro  12
Tour the MacBook Air  14
Chapter 2 Learning What You Can Do with a Mac
Create Documents  18
Play and Record Music  20
View and Organize Your Photos  22
Play and Make a Movie or Slide Show  24
Take Advantage of the Web  26
Communicate with Others  28
Organize Your Contacts and Appointments  30
Chapter 3 Connecting Devices
Connect Your Mac to an External Display  34
Connect a Printer  36
Connect a Fax Modem  40
Connect an iPod  42
Connect an iPhone  44
Connect an iPad  46
Connect a Bluetooth Device  48
Connect Your Mac to Another Mac  52
Chapter 4 Learning Mac Basics
Explore the OS X Screen  58
Tour the Dock  59
Start an Application  60
Switch Between Applications  62
Tour an Application Window  63
Select a Command from a Pull-Down Menu  64
Select a Command Using a Toolbar  65
Select Options with Dialog Controls  66
Save a Document  68
Open a Document  69
Print a Document  70
Edit Document Text  72
Copy a File  76
Move a File  77
Rename a File 78
Delete a File 79
Chapter 5 Listening to Music
Open and Close iTunes  82
Understanding the iTunes Library  84
Navigate the iTunes Window  85
Play a Song  86
Play a Music CD  88
Import Tracks from a Music CD  92
Create a Playlist 94
Burn Music Files to a CD  96
Edit Song Information  98
Purchase Music from the iTunes Store 100
Listen to an Internet Radio Station 102
Chapter 6 Viewing and Editing Photos
View a Preview of a Photo 106
View a Slide Show of Your Photos 108
Open and Close iPhoto 110
Import Photos from a Digital Camera 112
View Your Photos 114
Create an Album 116
Crop a Photo 118
Rotate a Photo 120
Straighten a Photo 122
Remove Red Eye from a Photo 124
Add Names to Faces in Your Photos 126
Map Your Photos 128
Email a Photo 130
Take Your Picture 132
Chapter 7 Working with Digital Video
Play a DVD Using DVD Player 136
Play Digital Video with QuickTime Player 138
Create a New Movie Project 140
Import a Video File 142
Add Video Clips to Your Project 144
Trim a Clip 146
Add a Transition Between Clips 148
Add a Photo 150
Add a Music Track 152
Record a Voiceover 154
Add Titles and Credits 156
Play the Movie 158
Publish Your Movie to YouTube 160
Chapter 8 Browsing the Web
Open and Close Safari 164
Select a Link 166
Enter a Web Page Address 167
Open a Web Page in a Tab 168
Navigate Web Pages 170
Navigate with the History List 172
Change Your Home Page 174
Bookmark Web Pages 176
Search for Sites 178
Chapter 9 Communicating with Your Mac
Open and Close Mail 182
Add an Email Account 184
Send an Email Message 186
Add a File Attachment 188
Add a Signature 190
Receive and Read Email Messages 192
Reply to a Message 194
Forward a Message 196
Open and Save an Attachment 198
Configure Messages 200
Send a Message 202
Sign In to FaceTime 204
Connect Through FaceTime 206
Chapter 10 Working with Contacts and Events
Open and Close Contacts 210
Add a New Contact 212
Edit a Contact 214
Create a Contact Group 216
Open and Close Calendar 218
Navigate the Calendar 220
Create an Event 222
Create a Repeating Event 224
Chapter 11 Learning Useful Mac Tasks
Install a Program Using the App Store 228
Write a Note 230
Pin a Note to the Desktop 232
Create a Reminder 234
Create a New Reminder List 236
Sign In to Your Twitter Account 238
Send a Tweet 240
Share Information with Other People 242
Work with the Notification Center 244
View the Mac Screen on Your TV 246
Chapter 12 Working with Your iCloud Account
Create an Apple ID 250
Sign In to iCloud 254
Set Up iCloud Synchronization 256
Send and Receive iCloud Mail 258
Work with iCloud Contacts 260
Manage Your Schedule with iCloud 262
Locate a Lost Mac, iPod touch, iPhone, or iPad 264
Chapter 13 Customizing Your Mac
Display System Preferences 268
Change the Desktop Background 270
Activate the Screen Saver 272
Set Your Mac's Sleep Options 274
Change the Display Resolution 276
Create an App Folder in Launchpad 278
Add a User Account 280
Customize the Dock 282
Add an Icon to the Dock 284
Hide the Dock 286
Chapter 14 Networking with Your Mac
Understanding Networking 290
Connect to a Wireless Network 292
Connect to a Network Resource 294
Turn On File and Printer Sharing 296
Share a Folder 298
Share a Printer 300
Add a Shared Printer 302
Chapter 15 Maintaining Your Mac
Empty the Trash 306
Organize Your Desktop 307
Check Hard Drive Free Space 308
Uninstall Unused Applications 310
Set a Software Update Schedule 312
Update Software Manually 314
Force a Stuck Application to Close 316
Configure Time Machine Backups 318
Restore Files Using Time Machine 320
Recondition Your Mac Notebook Battery 322
Restart Your Mac 324
Index  326
See More
Buy Both and Save 25%!
Teach Yourself VISUALLY Macs, 3rd Edition (US $29.99)
-and- Teach Yourself VISUALLY iPhone 4S (US $24.99)
Total List Price: US $54.98
Discounted Price: US $41.23 (Save: US $13.75)
Cannot be combined with any other offers. Learn more.