The Handbook of Korean Linguistics
ISBN: 978-1-118-35491-9
528 pages
June 2015, Wiley-Blackwell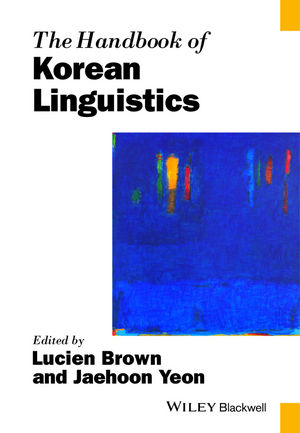 The Handbook of Korean Linguistics presents state-of-the-art overviews of the linguistic research on the Korean language.
• Structured to allow a range of theoretical perspectives in addressing linguistic phenomena
• Includes chapters on Old Korean and Middle Korean, present-day language policies in North and South Korea, social aspects of Korean as a heritage language, and honorifics
• Indispensable and unique resource not only for those studying Korean linguistics but cross-linguistic research in general
See More
Notes on Contributors vii
Editors' Note xi
Note on Transcriptions xii
Part I The Sounds of Korean 1
1 Vowels and consonants 3
Jiyoung Shin
2 Syllable ]based phonological processes 22
Young ]Mee Yu Cho
3 Prosody 41
Hae ]Sung Jeon
Part II Topics in Korean Morphology and Syntax 59
4 Word formation 61
Chung ]Kon Shi
5 Double nominative and double accusative constructions 79
James Hye Suk Yoon
6 Causatives 98
Jae Jung Song
7 Passives 116
Jaehoon Yeon
8 Anaphora and binding 137
Sean Madigan
Part III Syntax, Semantics, and their Interface 155
9 Lexical semantics: Lexicon ]syntax interface 157
Seungho Nam
10 Focus, topic, and contrast 179
Youngchul Jun
11 Case particle ellipsis 196
Hanjung Lee
12 Negation and negative polarity items 212
Peter Sells
13 Tense and aspect 232
Hyo Sang Lee
14 Modality 249
Hyo Sang Lee
Part IV Discourse, Pragmatics, and Grammaticalization 269
15 Conversation analysis 271
Stephanie Hyeri Kim and Kyu ]hyun Kim
16 Korean discourse structure 287
Shin Ja J. Hwang
17 Honorifics and politeness 303
Lucien Brown
18 Grammaticalization 320
Sung ]Ock S. Sohn
Part V Language Acquisition 337
19 First language acquisition 339
Soonja Choi
20 Second language acquisition: syntax 355
William O'Grady and Myong Hee Choi
21 Second language acquisition: phonology 373
Jeong ]Young Kim
22 Second language acquisition: pragmatics 389
Andrew Sangpil Byon
23 Social aspects of korean as a heritage language 405
M. Agnes Kang
Part VI Varieties of Korean 419
24 Old korean 421
John Whitman
25 Middle korean and pre ]modern korean 439
Ho ]Min Sohn
26 Varieties of contemporary korean 459
Lucien Brown and Jaehoon Yeon
27 Language policies in north and south korea 477
Jae Jung Song
28 Linguistic emblems of south korean society 492
Nicholas Harkness
Index 509
See More
Lucien Brown is Assistant Professor of Korean Linguistics at the University of Oregon. His research interests include socio-pragmatics and politeness, as well as second language acquisition. He is the author of Korean Honorifics and Politeness in Language Learning (2011) and the co-author of Korean: A Comprehensive Grammar (with J. Yeon, 2011).
Jaehoon Yeon
is Professor of Korean Language and Linguistics at SOAS, University of London. His research areas include functional-typological linguistics, Korean morpho-syntax, and grammatical constructions. He is the author of
Korean Grammatical Constructions: Their Form and Meaning
(2003),
Get Started in Korean
(2013), and co-author of
Korean: A Comprehensive Grammar
(with L. Brown, 2011).
See More
More in this series