E-book
Where am I Wearing?: A Global Tour to the Countries, Factories, and People That Make Our Clothes, Revised and Updated
ISBN: 978-1-118-35609-8
304 pages
April 2012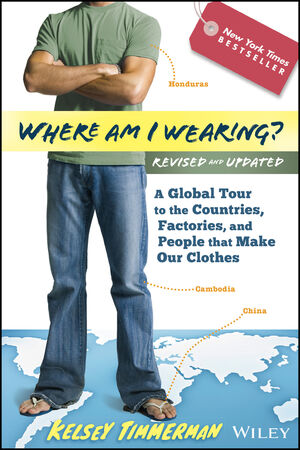 A journalist travels the world to trace the origins of our clothes
When journalist and traveler Kelsey Timmerman wanted to know where his clothes came from and who made them, he began a journey that would take him from Honduras to Bangladesh to Cambodia to China and back again. Where Am I Wearing? intimately describes the connection between impoverished garment workers' standards of living and the all-American material lifestyle. By introducing readers to the human element of globalization—the factory workers, their names, their families, and their way of life—Where Am I Wearing bridges the gap between global producers and consumers.
New content includes: a visit to a fair trade Ethiopian shoe factory that is changing lives one job at time; updates on how workers worldwide have been squeezed by rising food costs and declining orders in the wake of the global financial crisis; and the author's search for the garment worker in Honduras who inspired the first edition of the book
Kelsey Timmerman speaks and universities around the country and maintains a blog at www.whereamiwearing.com. His writing has appeared in the Christian Science Monitor and Condé Nast Portfolio, and has aired on NPR.
Enlightening and thought-provoking at once, Where Am I Wearing? puts a human face on globalization.
See More
Preface xi
Prologue: We Have It Made xv
Part I The Mission 1
Chapter 1 A Consumer Goes Global 3
Chapter 2 Tattoo's Tropical Paradise 13
Chapter 3 Fake Blood, Sweat, and Tears: Anti-Sweatshop Protestors 17
Part II My Underwear: Made in Bangladesh 21
Chapter 4 Jingle These 23
Chapter 5 Undercover in the Underwear Biz 31
Chapter 6 Bangladesh Amusement Park 37
Chapter 7 Inside My First Sweatshop 43
Chapter 8 Child Labor in Action 49
Chapter 9 Arifa, the Garment Worker 55
Chapter 10 Hope 63
Chapter 11 No Black and White, Only Green 69
Update for Revised Edition: Hungry for Choices 75
Part III My Pants: Made in Cambodia 79
Chapter 12 Labor Day 81
Chapter 13 Year Zero 87
Chapter 14 Those Who Wear Levi's 93
Chapter 15 Those Who Make Levi's 99
Chapter 16 Blue Jean Machine 111
Chapter 17 Progress 121
Chapter 18 Treasure and Trash 129
Update for Revised Edition: The Faces of Crisis 135
Part IV My Flip-Flops: Made in China 139
Chapter 19 PO'ed VP 141
Chapter 20 Life at the Bottom 149
Chapter 21 Growing Pains 159
Chapter 22 The Real China 169
Chapter 23 On a Budget 177
Chapter 24 An All-American Chinese Walmart 181
Chapter 25 The Chinese Fantasy 187
Update for Revised Edition: Migration 193
Part V Made in America 197
Chapter 26 For Richer, for Poorer 199
Update for Revised Edition: Restarting, Again 211
Chapter 27 Return to Fantasy Island 215
Chapter 28 Amilcar's Journey 229
Chapter 29 An American Dream 237
Chapter 30 Touron Goes Glocal 249
Appendix A Discussion Questions 269
Appendix B Note to Freshman Me 275
Appendix C Where Are You Teaching?: A Guide to Taking Where Am I Wearing? to a Glocal Context 279
Acknowledgments 285
See More
KELSEY TIMMERMAN is a freelance journalist and public speaker. He's spent the night in Castle Dracula in Romania, gone undercover as an underwear buyer in Bangladesh, and taught an island village to play baseball in Honduras. His writing has appeared in publications such as the Christian Science Monitor and has aired on NPR.
See More