Pressure Cookers For Dummies, 2nd Edition
ISBN: 978-1-118-35645-6
288 pages
October 2012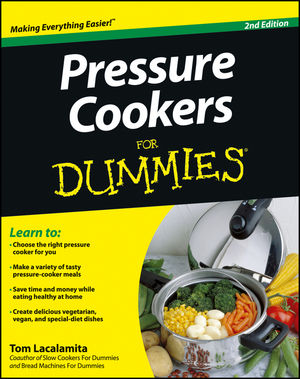 The stress-free way to cook under pressure
In today's "hurry-up" society, pressure cooking is an attractive means of preparing consistent, convenient everyday meals. Increasing health concerns coupled with a continuously rising cost of living have made pressure cooking more popular as a way to save money and eat healthier at home. This revised edition of Pressure Cookers For Dummies includes all new recipes and refreshed content.
Pressure Cookers For Dummies gives you the lowdown on the different pressure cooker options that are available to make sure you get the pressure cooker best equipped to suit your needs. It includes delicious recipes for dishes such as soups, chilis, and stews; roasts and poultry; rice dishes; beans; vegetables; and desserts, jams, and compotes. It also offers a wealth of recipes for those on vegan, vegetarian, gluten-free, and lactose-free diets. Pressure Cookers For Dummies offers tips on adapting your favorite recipes for the pressure cooker plus several comparison recipes made the traditional way. Every recipe Includes preparation times, cooking times, and nutritional information.
Updated expert advice on choosing the best pressure cooker for your kitchen, including coverage of electric cookers
Explanations on how pressure cookers work and tips on adapting your favorite recipes for the pressure cooker
Shows you how to use pressure cookers to create vegetarian, vegan, special diet, and sustainable dishes with flavor and zest; and incorporate ethnic dishes into your pressure cooker repertoire
Includes fun, tasty, and easy recipes for holidays and other occasions that the whole family will enjoy
If you're a new or seasoned cook, Pressure Cookers For Dummies gives you everything you need to make the most of this time-saving appliance.
See More
Introduction 1
Part I: Stress-Free Cooking under Pressure  7
Chapter 1: Cooking with Pressure 101 9
Chapter 2: The Pressure Cooker: Fact versus Fiction  15
Chapter 3: Exploring Modern Pressure-Cooker Options to Find What You Like Best 23
Part II: Making the Best and Safest Use of Your Pressure Cooker 39
Chapter 4: Understanding How Pressure Cookers Work  41
Chapter 5: Pressure Cooking Basics from Start to Finish 55
Chapter 6: From the Pot to the Pressure Cooker  75
Part III: Preparing Delicious Recipes in Your Pressure Cooker 91
Chapter 7: Spoon Foods: Stocks, Soups, and Great Grain Dishes 93
Chapter 8: Fork-Tender Stews 119
Chapter 9: Enjoying Roasts and Prime Poultry Any Day of the Week 135
Chapter 10: Dried Beans and the Pressure Cooker: A Match Made in Heaven! 151
Chapter 11: Vegetables: Nature's Nourishing Bounty 175
Chapter 12: Dynamite Desserts and Fabulous Fruits 193
Chapter 13: Recipes for Special Diets 209
Part IV: The Part of Tens 231
Chapter 14: Ten Problems and How to Handle Them  233
Chapter 15: Ten Tips for Great Pressure Cooking  239
Part V: Appendixes 245
Appendix A: Recommended Cooking Times Under Pressure 247
Appendix B: Metric Conversion Guide 253
Index 255
See More
Nominated for a James Beard cookbook award, Tom Lacalamita is a national authority on housewares and has appeared on hundreds of television and radio shows across the country, including Good Morning America, CNBC, and NPR. Tom is also a spokesperson for various food and housewares manufacturers.
See More