Textbook
Social Entrepreneurship: An Evidence-Based Approach to Creating Social Value
ISBN: 978-1-118-35648-7
352 pages
March 2014, ©2014, Jossey-Bass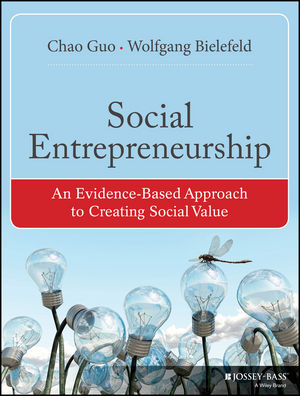 Social entrepreneurship explained
Social entrepreneurship is a hot topic in public and non-profit management. Organizations everywhere are looking for innovative ways to respond to financial, social, and regulatory pressures. The next generation of transformative leaders will be risk takers who know how to face even the biggest challenges using market-driven strategies that get results. This book contains everything students and professionals need to know about the cutting-edge practice of social entrepreneurship.
In Social Entrepreneurship, you'll learn how to read markets and environments to identify opportunities for entrepreneurial activity. Then, the authors show to convert opportunities into successful ventures: one-time initiatives, ongoing programs and new, mission-driven organizations are all covered. Sector-specific strategies and recommendations guide readers directly to the techniques that will have the biggest impact.
Employs an evidence-based approach to help organizations achieve goals more efficiently
Offers advice on taking advantage of new technologies and untapped resources using the most current approaches
Written by renowned experts in the field of social entrepreneurship
Authors Guo and Bielefeld have been instrumental in advancing the study of social entrepreneurship, and they understand the trends and currents in the field. They bring readers up to date and ready them to begin implementing changes that really make a difference. In non-profits and government, leadership is already becoming synonymous with social entrepreneurship, and this book is its foundation.
See More
Tables, Figures, and Exhibit xi
The Authors xiii
Introduction: Understanding and Using Social Entrepreneurship xv
Part One: Social Entrepreneurship: Concept and Context 1
One The Many Faces of Social Entrepreneurship 3
What Is Social Entrepreneurship? 3
Who Are the Social Entrepreneurs? 8
Why Social Entrepreneurship? 11
Where Does Social Entrepreneurship Occur? 17
Concluding Thoughts 22
Two Social Entrepreneurship as Organizational Behavior 25
Entrepreneurial Orientation 27
Measures, Determinants, and Outcomes of EO 32
Entrepreneurial Intensity 34
Limitations of EO and EI 37
Social Entrepreneurial Orientation 38
Concluding Thoughts 43
Part two: Understanding and Managing the Social Entrepreneurial Process 45
Three Discovering and Creating Social Entrepreneurial Opportunities 47
Defining Opportunity 50
How Are Social Entrepreneurial Opportunities Different? 54
How Are Social Entrepreneurial Opportunities Discovered or Created? 55
Phase One: Idea Generation 57
Phase Two: Opportunity Assessment 62
Concluding Thoughts 66
Four From Opportunity to Action 67
Elaborating the Opportunity with Social Impact Theory 69
Putting Theory into Action: Developing the Operating Model 73
Venture Feasibility and Planning 76
Supporting Analysis 80
Concluding Thoughts 88
Five From Action to Impact 89
Social Venture Effectiveness 90
Approaches to Social Venture Effectiveness 94
Outcome and Impact Evaluation 101
Monetizing Outcome and Impact 107
Increasing Social Venture Impact: Scaling 110
Concluding Thoughts 114
Six Funding Social Entrepreneurship 117
Funding Public Sector and For-Profit Social Entrepreneurship 119
Funding Nonprofit Social Entrepreneurship 122
Philanthropy and Social Entrepreneurship 128
Government Funding 132
Earned Income, Loans, and Equity 133
Concluding Thoughts 139
Part three : Understanding and Managing the Social Intrapreneurial Process 141
Seven Social Intrapreneurship: Innovation from Within 143
Clarifying the Social Intrapreneurship Concept 145
Social Intrapreneurship Dimensions 147
Antecedents and Consequences of Social Intrapreneurship 150
Management Challenges of Social Intrapreneurship 154
Concluding Thoughts 158
Eight Managing the Social Intrapreneurial Process 161
The Nature of Innovation in Established Organizations 164
A Two-Phase Model of the Social Intrapreneurial Process 164
The Definition Process 167
The Impetus Process 170
Initiators of Innovations in Public and Nonprofit Organizations 174
The Role of Frontline Managers in the Social Intrapreneurial Process 176
The Role of Middle Managers in the Social Intrapreneurial Process 177
The Role of Top Managers in the Social Intrapreneurial Process 179
Concluding Thoughts 180
Part four: Emerging Trends and Issues 181
Nine Social Entrepreneurship in the Public Sector 183
The Context of Public Sector Entrepreneurship 185
New Public Management and Reinventing Government 188
New Public Service 191
Current Practices and Approaches 192
Concluding Thoughts 200
Ten Boundary Spanning and Social Entrepreneurship 203
Working across Organizational Boundaries 205
Collaboration between Organizations 207
Engagement in Networks 211
Working across Sectors 219
New Legal Forms 228
Concluding Thoughts 230
Eleven New Media and Social Entrepreneurship 233
Introduction 234
New Media, New Possibilities 235
Myths and Realities about Social Media 238
New Media and Information Sharing 239
New Media and Fundraising 240
New Media and Stakeholder Engagement 241
A "Pyramid" Model of Social Media–Based Strategy 243
New Media, New Challenges 244
Concluding Thoughts 250
Conclusion: The Road Traveled and the Journey Ahead 253
Notes 261
Acknowledgments 305
Index 307
See More
CHAO GUO, PhD, is associate professor of nonprofit management in the School of Social Policy and Practice at the University of Pennsylvania. Dr. Guo is senior vice president of the International Council of Voluntarism, Civil Society, and Social Economy Researcher Associations and serves on several boards of directors and editorial boards. In 2008, he was selected as a recipient of the IDEA Award for research promise by the Entrepreneurship Division of the Academy of Management.
WOLFGANG BIELEFELD is professor emeritus at the School of Public and Environmental Affairs and the School of Philanthropy at Indiana University-Purdue University Indianapolis. He has taught at the University of Texas at Dallas, the University of Minnesota, and Stanford University. He has written many articles and books, including Managing Nonprofit Organizations and Nonprofit Organizations in an Age of Uncertainty.
See More
Instructors Resources
Request a print evaluation copy
Contact us

Contact your Wiley Representative
Find Your Rep

See More
See Less