E-book
Packaging Design: Successful Product Branding From Concept to Shelf, 2nd Edition
ISBN: 978-1-118-35854-2
256 pages
February 2013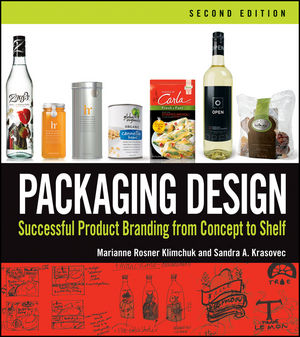 The fully updated single-source guide to creating successful packaging designs for consumer products
Now in full-color throughout, Packaging Design, Second Edition has been fully updated to secure its place as the most comprehensive resource of professional information for creating packaging designs that serve as the marketing vehicles for consumer products. Packed with practical guidance, step-by-step descriptions of the creative process, and all-important insights into the varying perspectives of the stakeholders, the design phases, and the production process, this book illuminates the business of packaging design like no other.
Whether you're a designer, brand manager, or packaging manufacturer, the highly visual coverage in Packaging Design will be useful to you, as well as everyone else involved in the process of marketing consumer products. To address the most current packaging design objectives, this new edition offers:
Fully updated coverage (35 percent new or updated) of the entire packaging design process, including the business of packaging design, terminology, design principles, the creative process, and pre-production and production issues
A new chapter that puts packaging design in the context of brand and business strategies
A new chapter on social responsibility and sustainability
All new case studies and examples that illustrate every phase of the packaging design process
A history of packaging design covered in brief to provide a context and framework for today's business
Useful appendices on portfolio preparation for the student and the professional, along with general legal and regulatory issues and professional practice guidelines
See More
Preface vii
Acknowledgments viii
1 The History 1
The Growth of Trade 3
Emerging Communication 4
Early Commercial Expansion 5
The Industrial Revolution 10
Mass Production 12
Mid-Century Expansion 21
Consumer Protections 29
The Packaging Design Firm 29
New Refinements in Packaging Design 32
Changing Times and Values 35
2 Defining Packaging Design 39
What is Packaging Design? 39
Culture and Values 41
Target Market 42
Packaging Design and Brand 43
Fundamental Principles of Two-Dimensional Design 55
Packaging Design Objectives 58
3 Elements of the Packaging Design 64
The Primary Display Panel 64
Typography 65
Color 83
Imagery 91
Structure, Materials, and Sustainability 104
Production 128
Legal and Regulatory Issues 143
4 The Design Process 148
Predesign 148
Beginning the Assignment 151
Phase 1: Observation, Immersion, and Discovery 153
Phase 2: Design Strategy 158
Phase 3: Design Development 175
Phase 4: Design Refinement 196
Phase 5: Design Finalization and Preproduction 198
Retail Reality 198
Key Points about the Design Process 200
5 The Packaging Design Profession 201
The Stakeholders 201
Managing the Business 213
Entering the Profession 217
Glossary 223
APPENDIX A Consumer Product Categories 230
APPENDIX B Materials And Tools 232
Bibliography 233
Professional Credits 235
Figure Credits 237
Index 239
See More
MARIANNE ROSNER KLIMCHUK is the Chairperson and Professor of Packaging Design at the Fashion Institute of Technology (FIT) in New York City and Partner at designPracticum, specialists in design leadership and management.
SANDRA A. KRASOVEC is Associate Professor of Packaging Design at FIT and Partner at designPracticum, specialists in design leadership and management.
See More