E-book
The New Yorker Book of Teacher Cartoons, Revised and Updated
ISBN: 978-1-118-36235-8
160 pages
April 2012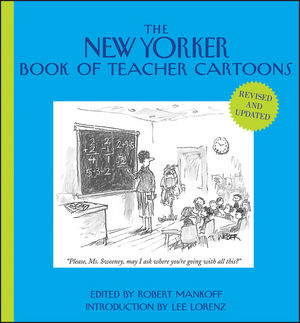 The riotous world of the classroom, captured by the cartoonists at The New Yorker
The New Yorker Book of Teacher Cartoons, Second Edition is a hilarious compilation of cartoons that capture the joy, terror, excitement, anxiety, fun, and bedlam that teachers experience every day, as seen through the eyes of The New Yorker's best-loved cartoonists.
A wonderful collection from some of the best and brightest artists in the world, The New Yorker Book of Teacher Cartoons takes a wry look into the classroom—at the students, at their devoted and demanding parents, and, especially, at the teachers in the thick of things.
Includes more than 100 hilarious cartoons
Updated edition reflects recent changes in the world of education
Features an introduction by Lee Lorenz
Compiled by Robert Mankoff, cartoon editor of The New Yorker and creator of more than eight hundred cartoons published in the magazine, The New Yorker Book of Teacher Cartoons is a perfect gift for teachers, and an encyclopedia of laughs for us all.
See More
Robert Mankoff is the cartoon editor of The New Yorker. He is also a cartoonist, and more than 900 of his cartoons have been published in the magazine in the past thirty years, including the best-selling New Yorker cartoon of all time. He is the author of the book The Naked Cartoonist, published in 2002, about the creative process behind developing magazine-style cartoons. He has also edited dozens of cartoon books and published four of his own.
Lee Lorenz became a staff cartoonist for The New Yorker in 1958. He was the magazine's art editor from 1973 to 1993, and its cartoon editor until 1997. He is the author of The Art of The New Yorker as well as Here It Comes and Now Look What You've Done. Lorenz has served as president of the Cartoonists' Guild and lives in a rustic corner of Connecticut.
See More