E-book
Bullying Interventions in Schools: Six Basic Approaches
ISBN: 978-1-118-36267-9
184 pages
August 2012, Wiley-Blackwell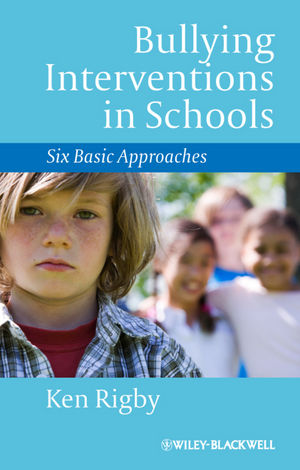 Outlines the existing methods used to address bullying in school, describing when and how each method can be best applied.
Addresses the six major methods of bullying intervention
Critically explores the rationale, strengths, and limitations of each intervention
Evaluates efficacy and applicability of each intervention for different bullying situations encountered in the school setting
See More
Foreword vii
Acknowledgments ix
Introduction xi
Part 1 Interventions in Perspective 1
1 The Current Situation 3
2 A Brief Background to School Bullying 14
3 Preparing to Intervene 25
Part 2 Methods of Intervention in Cases of Bullying 35
4 The Traditional Disciplinary Approach 37
5 Strengthening the Victim 51
6 Mediation 64
7 Restorative Justice 74
8 The Support Group Method (Formerly the No Blame Approach) 86
9 The Method of Shared Concern 96
Part 3 The Choice of Intervention Method 109
10 The School and the Community 111
11 Choosing a Method 116
12 Backdrop and Beyond 139
Appendices 144
A Handling Bullying Questionnaire with Results 144
B Exercise on Fogging 149
References 151
Index 161
See More
Ken Rigby is an Adjunct Professor at the University of South Australia. He is a leading international researcher in the area of bullying in schools, having published five books on the subject and numerous peer-reviewed journal articles. He has ten years' experience as a school teacher, has been an educational consultant for departments of education and schools, and a speaker at conferences and workshops on school bullying around the world. His wide-ranging experience has enabled him to make many significant contributions to the problem of reducing bullying in schools.
See More