Leadership-Driven HR: Transforming HR to Deliver Value for the Business
ISBN: 978-1-118-36282-2
304 pages
January 2013, Jossey-Bass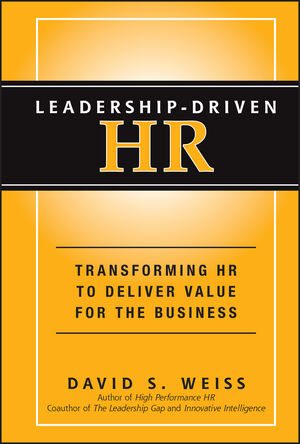 Presents a new vision for HR's role in business
Focusing on strategic solutions for HR, Leadership-Driven HR challenges the traditional view of HR as a service function and replaces it with a new vision of HR as an internal business accountable for the return on investment of essential corporate assets—people and organizational processes. Leadership-Driven HR provides practical strategies for leveraging HR's role, priorities, accountabilities, and organizational design.
Focuses on strategic solutions for HR, addressing current and ongoing concerns in the world of HR
Dr. David Weiss is President & CEO of Weiss International Ltd., which leads innovative consulting and HR projects that generate effective strategy, leadership, innovation, and HR solutions for leaders and employees
HR serves a critical role in managing your most valuable assets. Discover new ways this department can create significant ROI for your business.
See More
Acknowledgments xiii
Preface xvii
About the Author: Dr. David S. Weiss xxvii
PART ONE: TRANSFORMING HR 1
CHAPTER ONE: BEING LEADERSHIP-DRIVEN 3
HR as a Driver of Business Leadership 5
HR Drives Value Through Leaders 8
HR is Driven to Lead 15
Conclusion 19
Summary 20
CHAPTER TWO: LINE OF SIGHT TO THE EXTERNAL CUSTOMER 21
Stage 1: From Control to Service Providers 22
Stage 2: From Service Providers to Partnerships 24
Clear Line of Sight to the External Customer 25
Implications for HR's Internal Relationships 27
Conclusion 31
Summary 32
CHAPTER THREE: "LIGHTEN UP" TO DELIVER PRIORITIES 33
Lighten Up to Rebalance Work 34
Leadership and the Need to Lighten Up 34
Lighten Up by Removing the "Noise" from the System 37
The 4Ds: Delete, Delay, Distribute, Diminish 40
Conclusion 48
Summary 49
PART TWO: THE WORK OF HR 51
CHAPTER FOUR: THE HR TRIANGLE CHART 53
People Capabilities, Organizational Capabilities, and HR Value Propositions 55
Apply the Lighten-Up Process to the HR Triangle Chart 57
Conclusion 59
Summary 60
CHAPTER FIVE: PEOPLE CAPABILITIES 61
The Find People Capability 62
The Develop People Capability 68
The Retain People Capability 82
Conclusion 88
Summary 89
CHAPTER SIX: ORGANIZATIONAL CAPABILITIES 91
Cultural Transformation and Implementing Change 92
Restructuring and Design 93
Organizational Alignment 99
Return on Investment in Human Capital 108
Conclusion 119
Summary 120
PART THREE: THE HR VALUE PROPOSITION 123
CHAPTER SEVEN: HR VALUE PROPOSITION: AN OVERVIEW 125
The Seven Steps to Develop an HR Value Proposition 129
Confi rm that the HR Value Proposition Mitigates the Business Risk 130
HR Must Partner to Deliver the HR Value Proposition 133
Conclusion 134
Summary 135
CHAPTER EIGHT: BUILD LEADERSHIP CAPACITY 137
Management Capacity Versus Leadership Capacity 138
Element 1: Applying Innovative Intelligence 141
Element 2: Applying Emotional Intelligence 147
Element 3: Aligning Employees and Teams to the Future Direction 152
Element 4: Engaging Employees and Teams with the Future Direction 155
Integrating the Four Elements of Leadership Capacity 161
Conclusion 163
Summary 165
CHAPTER NINE: ACCELERATE CULTURE TRANSFORMATION 167
Why Is Accelerating Culture Transformation So Challenging? 168
What Is Culture? 169
The Laser-Beam Approach to Culture Transformation 171
Final Observations about Culture Transformation 187
Conclusion 191
Summary 192
CHAPTER TEN: IMPLEMENT CHANGE 195
Change and Transition 197
Eight-Step Implementing Change Process 198
Conclusion 229
Summary 230
CHAPTER ELEVEN: MAKING LEADERSHIP-DRIVEN HR HAPPEN 233
F: Forward Thinking 236
O: Outside-In 240
C: Co-Create 243
U: Up-to-Date 250
S: Synergies Within HR 252
Conclusion 257
Summary 260
Index 263
See More
Dr. David S. Weiss is President and CEO of Weiss International Ltd., a firm specializing in innovation, leadership, and human resources consulting. Previously Chief Innovation Officer in a multinational consulting firm, David also teaches in three executive development programs at the Rotman School of Management at the University of Toronto, the Schulich School of Business at York University, and The University College of Cayman Islands. His doctorate is from the University of Toronto, and he has Masters degrees in Education and Psychology from Columbia University.
David is also a Senior HR Professional (SHRP), an Institute Certified Director (ICD.D) with the Institute of Corporate Directors, an advisory board member of the Canadian Society for Training and Development, a Certified Training and Development Professional (CTDP), and a past Director on the Board of the Princess Margaret Hospital Foundation. He has been honored with the "HR Leadership Award" at the Asia-Pacific HR Congress, the "HR Distinction Award" from HR Israel, the "Distinguished Lecturer" certificate from the Government of Canada and the Government of Ontario, and the lifetime designation of "Fellow" from both HRPA and CSTD in Canada.
David is a highly sought-after executive consultant, educator, and keynote speaker who has presented at over 200 conferences and is the author or co-author of five other business books: Innovative Intelligence (2011), Leadership Solutions (2007), The Leadership Gap (2005), High Performance HR (2000), and Beyond The Walls of Conflict (1996). Leadership-Driven HR is his sixth book. For more information, visit www.weissinternational.ca and follow David @DrDavidWeiss.
See More