Textbook
Foodservice Management Fundamentals, Study Guide
ISBN: 978-1-118-36334-8
144 pages
March 2013, ©2014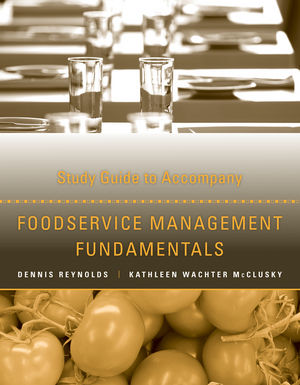 Foodservice Management Fundamentals focuses on the tools necessary for managing foodservice operations in today's aggressive business environment. Reynolds & McClusky show readers how to position, manage, and leverage a successful food service operation—commercial and non-commercial--in a variety of venues. Using a menu-driven approach, the book will be full of management tools, best practices, and techniques. Reynolds brings a hospitality and business background while McClusky brings experience and expertise in nutrition & dietetics.
See More
Focuses on preparing the student to succeed in the broad range of foodservice operations, covering quick service, fast casual, family/midscale, moderate/theme, fine dining, and on site.
Offers multiple approaches to many common foodservice management issues.
Each chapter begins with a clear statement of learning objectives to guide students through the material.
Photographs, illustrations, and tables enhance the presentation of topical material, helping students visualize key aspects of the foodservice business.
Real-word case studies reinforce chapter learning objectives.
Each chapter concludes with managerial implications, summarizing key points, a short case study, and chapter industry exemplars provide useful information as well as real-world illustrations of the qualities that make them leaders in their segments.
See More