MacBook Pro Portable Genius, 4th Edition
ISBN: 978-1-118-36361-4
416 pages
September 2012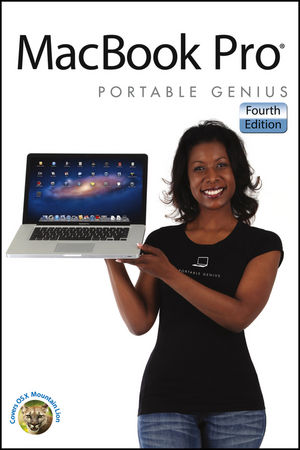 Discover loads of tips and techniques for the newest MacBook Pro
You're already ahead of the game with a MacBook Pro. Now you can get even more out the popular Apple notebook with the new edition of this handy, compact book. Crammed with savvy insights and tips on key tools and shortcuts, this book will help you increase your productivity and keep your Apple digital lifestyle on track. From desktop sharing and wireless networking to running Windows applications, this book avoids fluff, doesn't skimp on the essentials, saves you time and hassle, and shows you what you most want to know.
Includes savvy advice and plenty of no-nonsense information in a clear layout that is easy to access
Covers essential tools, topics, and shortcuts on things like desktop sharing, wireless networking, running Windows applications, using the Intel Ivy Bridge processor, and more
Features Genius icons throughout the book that provide smart and innovative ways to handle tasks and save yourself time
MacBook Pro Portable Genius, 4th Edition shows you just how to get more out of your MacBook Pro.
See More
Acknowledgments viii
Introduction xviii
chapter 1 How Can I Use My Desktop Space Efficiently? 2
Setting the Finder Desktop Icon Preferences 4
Utilizing the Sidebar and Toolbar 4
Using and configuring the sidebar 5
Using and configuring the toolbar 7
Working with the Dock 9
Configuring and using Dock icons 12
Changing the Dock's appearance and behavior 15
Using the Launchpad 16
Configuring the Dashboard 19
Setting the Dashboard keyboard shortcut and hot corner 20
Customizing the Dashboard 21
Configuring widgets 22
Installing more widgets 23
Creating your own web widgets 24
Managing Your Desktop with Mission Control 26
Managing windows on a Desktop 27
Hiding all open windows 28
Showing application windows 29
Showing all windows 30
Using Desktops 30
Configuring Mission Control 31
Managing your Desktop 34
Using Applications in Full Screen Mode 35
Configuring Notifications 36
Working with the Notification Center 36
Configuring notifications 38
Working with Displays 39
Configuring the MacBook Pro display 39
Connecting and configuring an external display with a cable 41
Connecting and configuring an external display with AirPlay 44
Using a projector 45
Setting a Desktop picture 47
chapter 2 How Do I Manage User Accounts? 50
Working with User Accounts 52
Creating Administrator or Standard user accounts 53
Setting Login Items for a user account 58
Configuring e-mail, contacts, and calendar accounts 59
Creating Sharing Only user accounts 60
Creating Group user accounts 60
Changing accounts 61
Deleting accounts 62
Limiting access with Parental Controls 62
Restricting system resources 63
Restricting content 65
Limiting people 66
Setting time limits 68
Setting other limits 69
Using Automatic Login 70
Configuring the Login Window 71
Working with Fast User Switching 72
Working with the Root User Account 73
chapter 3 What Are My Internet Connection Options? 76
Setting Up a Local Network 78
Installing an AirPort Extreme
Base Station or Time Capsule 78
Building a local network 87
Connecting via Wi-Fi 87
Connecting via Ethernet 91
Connecting via Cellular Modem 92
Connecting via iPhone or iPad Tethering 95
Managing Multiple Network Connections 96
Configuring network connections 96
Managing network connections with locations 97
Troubleshooting an Internet Connection 100
Solving a network connection problem 101
Solving a MacBook Pro connection problem 103
Finding help for Internet connection problems 104
chapter 4 What Can I Do on a Local Network? 106
Sharing Files 108
Sharing files with AirDrop 108
Sharing your files with others 110
Configuring sharing user accounts 110
Configuring file sharing 111
Setting sharing permissions from the Finder 115
Accessing shared files 116
Using the sidebar to access shared files 116
Accessing shared files using a URL 118
Sharing files with Windows PCs 119
Sharing files on a MacBook Pro with a Windows PC 119
Accessing files from a Windows PC 120
Sharing files from a Windows PC 122
Accessing shared files from a Windows PC using a Mac 123
Sharing Screens 124
Sharing your MacBook Pro screen with other Macs 125
Sharing another Mac's screen on a local network 126
Sharing Printers 130
Sharing USB printers connected to a base station 130
Sharing printers connected to a Mac 130
Sharing an Internet Connection 131
chapter 5 How Can I Control My MacBook Pro and Maintain Battery Power? 134
Using the Trackpad Effectively 136
Configuring the trackpad 136
Using gestures to control your MacBook Pro 138
Using the Keyboard Effectively 139
Configuring the keyboard 139
Configuring language settings and the Input menu 141
Using keyboard tricks 145
Controlling the keyboard backlight 145
Controlling your MacBook Pro with function keys 145
Controlling your MacBook Pro with default keyboard shortcuts 146
Configuring keyboard shortcuts 147
Creating your own keyboard shortcuts 147
Navigating with the keyboard 148
Using the Input menu 150
Using the Character Viewer 151
Using the Keyboard Viewer 152
Configuring Bluetooth 153
Adding a Bluetooth Mouse 155
Adding a Bluetooth Keyboard 155
Sharing Files with Bluetooth 156
Maintaining the Battery 159
Monitoring battery status 159
Extending battery life 160
Using the Energy Saver 160
Adopting low-energy habits 163
Powering your MacBook Pro while traveling 164
chapter 6 How Do I Take Advantage of iCloud? 166
Getting Started with iCloud 168
Synchronizing Data on Multiple Devices 169
Configuring iCloud on a MacBook Pro 170
Configuring iCloud syncing on an iOS device 174
Managing your iCloud account 176
Working with iCloud web applications 177
Using Find My Mac 178
Using iCloud with Documents 182
chapter 7 How Do I Manage Contacts and E-mail? 186
Adding Contact Information to Contacts 188
Configuring the card template 188
Creating a contact manually 189
Importing vCards 192
Adding contact information from e-mail 192
Editing cards 193
Working with Cards in Contacts 194
Browsing contact information 194
Setting format and sort preferences 194
Browsing for cards 195
Browsing for cards in Card Only view 195
Searching for cards 196
Organizing Cards with Groups in Contacts 197
Creating groups manually 197
Creating Smart Groups 198
Changing groups 199
Synchronizing Contact Information with iPhones, iPod touches, or iPads 200
Synchronizing via iTunes 200
Synchronizing via iCloud 202
Configuring E-mail Accounts in Mail 203
Configuring iCloud accounts 205
Configuring POP accounts 208
Configuring IMAP accounts 210
Configuring Exchange accounts 210
Testing e-mail accounts 212
Working with File Attachments in Mail 212
Sending compressed files through e-mail 213
Preparing attachments for Windows users 214
Working with received files 214
Organizing E-mail in Mail 216
Using mailboxes 216
Using Smart Mailboxes 218
chapter 8 How Do I Communicate and Share in Real Time? 220
Conversing with FaceTime 222
Configuring FaceTime 222
Starting a call 223
Receiving a call 224
Conducting a call 225
Messaging with Messages 225
Configuring Messages 226
Creating and configuring chat accounts 226
Setting General preferences 230
Setting Messages preferences 231
Setting Alerts preferences 232
Setting Audio/Video preferences 232
Using Messages to text chat 233
Using Messages to audio or video chat 236
Sharing Desktops during a chat 240
Sharing Your Content 242
chapter 9 How Can I Manage My Calendars? 244
Managing Calendars 246
Configuring Calendar preferences 246
Creating calendars 251
Managing calendars 252
Adding events to calendars 253
Working with event invitations and availability 256
Managing events 256
Printing Calendars 258
Sharing Calendars 259
Publishing calendars via iCloud 259
Sharing calendars via iCloud 261
Working with Published and Shared Calendars 262
Subscribing to published calendars 262
Working with shared calendars 263
Subscribing to public calendars 263
Moving Calendars to iPhones, iPods, and iPads 264
chapter 10 How Can I Make Better Use of the MacBook Pro Audio Features? 266
Getting Sound Out of a MacBook Pro 268
Understanding sound output options 268
Using external speakers 269
Connecting an analog system 269
Connecting a digital system 269
Controlling sound output 270
Creating and Using Sound Effects 272
Configuring sound effects 273
Creating and using custom sound alerts 274
Creating a sound alert 274
Adding a custom sound alert 276
Recording and Working with Sound 277
Recording sound with the internal microphone 277
Configuring the internal microphone 278
Recording sound with the internal microphone in iMovie 279
Recording sound with a USB headset 279
Recording sound with a video camera 280
Recording sound from external microphones and musical instruments 281
Recording sound with an iPhone, iPod touch, or iPad 281
Dictating to Your MacBook Pro 282
chapter 11 How Do I Add and Manage Storage Space? 284
Using External Hard Drives 286
Installing an external hard drive 287
Preparing an external hard drive with Disk Utility 288
Working with external hard drives 292
Managing free space on a hard drive 293
Maintaining Hard Drives 293
Checking the available space on a drive with Activity Monitor 295
Checking or repairing an external drive with Disk Utility 296
Checking or repairing the internal drive with Disk Utility 297
Erasing an external hard drive with Disk Utility 298
Working with SD Cards and Flash Drives 300
chapter 12 How Can I Run Windows Applications? 304
Choosing a Windows Option 306
Running Windows with Boot Camp 307
Configuring Boot Camp and installing Windows 307
Running Windows using Boot Camp 311
Running Windows Virtually with VMware Fusion 313
Installing VMware Fusion 314
Running Windows under VMware Fusion 314
chapter 13 How Can I Protect My MacBook Pro? 318
Keeping Software Current 320
Keeping App Store software current 320
Updating App Store software manually 320
Updating App Store software automatically 322
Keeping other software current 323
Manually updating Microsoft Office applications 324
Automatically updating Snapz Pro X 325
Preventing Internet Attacks 325
Shielding your MacBook Pro with a base station 325
Shielding your MacBook Pro with the Mac OS X firewall 326
Protecting MacBook Pro with General Security 328
Protecting Data with Time Machine 330
Preparing a backup drive 331
Backing up with Time Machine 332
Restoring files with Time Machine 336
Restoring files in the Finder 336
Restoring files in applications 338
Using the Mac OS X Document Protection Features 339
Using Auto Save 339
Restoring documents with Versioning 340
Protecting Data with Online Backup Services 341
Protecting Data with Encryption 342
Protecting Information with Keychains 344
Viewing and configuring keychains 345
Adding items to a keychain 347
Working with keychains 348
chapter 14 How Do I Solve MacBook Pro Problems? 350
Looking for Trouble 352
Understanding and Describing Problems 355
Recognizing user errors 355
Recognizing software problems 356
Recognizing hardware problems 357
Describing problems 358
Trying Fast and Easy Solutions 359
Forcing applications to quit 359
Forcing the Finder to relaunch 360
Restarting or restoring 361
Shutting down soft 361
Shutting down hard 362
Using a troubleshooting user account and deleting preferences 362
Repairing external hard drives 365
Repairing the internal hard drive 365
Repairing permissions 366
Reinstalling applications 366
Starting up from the Recovery partition 368
Starting up from an alternate external drive 369
Getting Help with MacBook Pro Problems 370
Using the Mac Help system 370
Describing a problem in detail 371
Profiling a MacBook Pro 371
Monitoring MacBook Pro activity 372
Capturing screenshots 373
Getting help from others 375
Starting Over 375
Reinstalling Mac OS X 376
Melting and repouring 377
See More
Brad Miser is a solutions consultant and the author of nearly 50 books, including Teach Yourself Visually MacBook Pro and iPhoto '11 Portable Genius. He has also been the coauthor or editor of another 50 titles.
See More