Essentials of Planning, Selecting, and Tailoring Interventions for Unique Learners
ISBN: 978-1-118-36821-3
496 pages
March 2014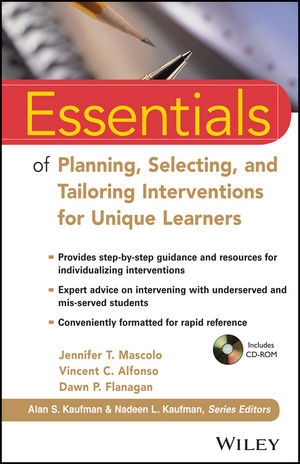 A Resource for Designing and Implementing Intervention Programs for At-Risk Learners
This authoritative resource provides step-by-step procedures for planning, selecting, and tailoring interventions for at-risk learners with a unique focus on how to individualize interventions using actual case examples. In addition, this volume offers guidelines for gathering and interpreting data in a manner that assists in identifying targets for intervention and rich discussion and information relating to specific academic, cognitive, and behavioral manifestations of students with learning difficulties in reading, math, writing, and oral language. Practitioners will also recognize and learn how to intervene with students from underserved and mis-served populations who are at risk for learning failure including English-language learners and students from impoverished environments.
Each chapter describes how specific difficulties interfere with classroom tasks and explain how to select, modify, or otherwise tailor an intervention based on that information. As with all volumes in the Essentials of Psychological Assessment series, this volume includes callout boxes highlighting key concepts, extensive illustrative material, and test questions. The companion CD-ROM provides additional worksheets, case studies, and handouts.
See More
Series Preface xi
Acknowledgments xiii
Part I Intervention Planning: Diagnostic Assessment, Response to Intervention, and Consultation 1
One A Systematic Method of Analyzing Assessment Results for Tailoring Interventions (SMAARTI) 3
Jennifer T. Mascolo, Dawn P. Flanagan, Vincent C. Alfonso
Two Essentials of a Tiered Intervention System to Support Unique Learners: Recommendations
from Research and Practice 56
Devin M. Kearns, Christopher J. Lemons, Douglas Fuchs, Lynn S. Fuchs
Three Home-School Collaboration for Intervention Planning 92
Michael J. Coutts, Susan M. Sheridan, Tara M. Sjuts, Tyler E. Smith
Part II Selecting and Tailoring Interventions and Individualizing Instruction 121
Four Tailoring Interventions in Reading Based on Emerging Research on the Development of Word Recognition Skills 123
David Kilpatrick
Five Selecting and Tailoring Interventions for Students With Reading Difficulties 151
Steven G. Feifer
Six Selecting and Tailoring Interventions for Students With Mathematics Difficulties 178
Diane Pedrotty Bryant, Kathleen Hughes Pfannenstiel, Brian R. Bryant, Jessica Hunt, Mikyung Shin
Seven Selecting and Tailoring Interventions for Students With Written Expression Difficulties 204
Tanya Santangelo, Steve Graham
Eight Individualizing Instruction for Students With Oral and Written Language Difficulties 231
Virginia W. Berninger, Jasmin Niedo
Part III Interventions for Underserved and Mis-served Populations 265
Nine Interventions for English Learners With Learning Difficulties 267
Julie Esparza Brown, Samuel O. Ortiz
Ten Interventions for Students With Executive Skills and Executive Functions Difficulties 314
George McCloskey, Caitlin Gilmartin, Betti Stanco Vitanza
Eleven Interventions for Students With Memory Difficulties 357
Milton J. Dehn
Twelve Interventions for Students With Lecture Note–Taking Difficulties 387
Stephen T. Peverly, Gardith Marcelin, Michael Kern
Thirteen Interventions for Students from Low Resource Environments: The Abecedarian Approach 415
Craig T. Ramey, Joseph J. Sparling, Sharon L. Ramey
About the Editors 449
Index 451
About the CD-ROM 479
See More
JENNIFER T. MASCOLO, PsyD, NCSP, is a full-time lecturer in the Graduate School of Psychology program at Teacher's College, Columbia University. She is the coauthor of three books and a nationally certified school psychologist and a licensed psychologist in New York and New Jersey.
VINCENT C. ALFONSO, PhD, is a former professor in the Graduate School of Education at Fordham University in New York City and current dean of the School of Education at Gonzaga University in Spokane, Washington. He is coeditor of Essentials of Specific Learning Disability Identification and coauthor of Essentials of Cross-Battery Assessment, Third Edition. He is president of Division 16 (School Psychology) of the American Psychological Association, a certified school psychologist, and a licensed psychologist in New York State.
DAWN P. FLANAGAN, PhD, is Professor of Psychology and Director of the School of Psychology Training Programs at St. John's University in Queens, NY, and Clinical Assistant Professor at the Yale Child Study Center. She is the coeditor or coauthor of several popular books including Essentials of Specific Learning Disability Identification and Essentials of Cross-Battery Assessment, Third Edition.
See More