Focused Ultrasound Techniques for the Small Animal Practitioner
ISBN: 978-1-118-36959-3
360 pages
January 2014, Wiley-Blackwell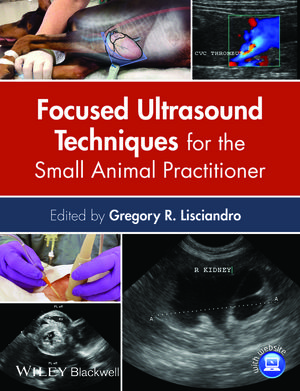 Focused Ultrasound Techniques for the Small Animal Practitioner
offers a highly practical guide to incorporating abbreviated ultrasound exams into the veterinary practice. Focused point-of-care exams are an effective way to quickly detect conditions and complications not readily apparent through the physical exam, laboratory diagnostics, or radiographic findings. Encompassing all the information needed to begin performing these techniques,
Focused Ultrasound Techniques for the Small Animal Practitioner
is a useful tool for improving patient outcomes in clinical practice.
Covering focused exams in all body systems, the book also outlines the principles of interventional radiology, medical documentation, and the basic fundamentals of using an ultrasound machine. A companion website offers 87 video clips of AFAST, TFAST, and Vet Blue examinations with normal, abnormal, and incidental findings at www.wiley.com/go/lisciandro/ultrasound. Focused Ultrasound Techniques for the Small Animal Practitioner is an essential purchase for veterinary practitioners and specialists wanting to implement these techniques in their veterinary practice.
See More
Contributors ix
Acknowledgements x
Introduction xi
Gregory R. Lisciandro
About the Companion Website xiv
1 Focused—Basic Ultrasound Principles and Artifacts 1
Robert M. Fulton
2 The Abdominal FAST3 (AFAST3) Exam 17
Gregory R. Lisciandro
3 Focused or COAST3—Liver and Gallbladder 44
Stephanie Lisciandro
4 Focused or COAST3—Spleen 65
Stephanie Lisciandro
5 Focused or COAST3—Kidneys 80
Stephanie Lisciandro
6 Focused or COAST3—Urinary Bladder 99
Stephanie Lisciandro
7 Focused or COAST3—Gastrointestinal and Pancreas 110
Søren Boysen and Jennifer Gambino
8 Focused or COAST3—Reproductive 126
Robert M. Fulton
9 The Thoracic FAST3 (TFAST3) Exam 140
Gregory R. Lisciandro
10 The Vet BLUE Lung Scan 166
Gregory R. Lisciandro
11 Focused or COAST3—Echo (Heart) 189
Teresa DeFrancesco
12 Focused or COAST3—Central Venous and Arterial Line Placement, Big Arteries, and Veins 206
Scott Chamberlin
13 Focused or COAST3—Pediatrics 222
Autumn P. Davidson and Tomas W. Baker
14 Focused or COAST3—Eye 243
Jane Cho
15 Focused or COAST3—Musculoskeletal 261
Gregory R. Lisciandro
16 Focused or COAST3—Cardiopulmonary Resuscitation (CPR), Global FAST (GFAST3), and the FAST-ABCDE Exam 269
Gregory R. Lisciandro and Andrea Armenise
17 Interventional Ultrasound-Guided Procedures 286
Søren Boysen
Appendices 304
I Setting Up an Ultrasound Program 304
II Goal-Directed Templates for Medical Records 306
III Abbreviations, Terminology, and Glossary 315
IV Quick References of Normal Values and Rules of Thumb 318
V Ultrasound Resources and Companies 324
Index 325
See More
Gregory R. Lisciandro, DVM, Dipl. ABVP, Dipl. ACVECC, is in private practice at the Emergency Pet Center, San Antonio, Texas.
See More
Provides all the information needed to begin using focused point-of-care exams as a patient diagnostic screening and monitoring tool for trauma, triage, and tracking
Describes the essentials of performing and incorporating the abdominal FAST (AFAST), thoracic FAST (TFAST), and Vet Blue lung ultrasound exams into your practice
Emphasizes how FAST exams serve as a platform for developing necessary ultrasound skills for the additional focused exams in other organs covered in the book
Improves patient outcomes by aiding in the detection of conditions and complications not apparent through the physical exam, laboratory diagnostics, or radiographic findings
Written by the foremost experts in the use of focused exams in veterinary patients
Includes access to a companion website offering 87 video clips of AFAST, TFAST, and Vet Blue examinations with normal, abnormal, and incidental findings at www.wiley.com/go/lisciandro/ultrasound
See More
"The seemingly endless tips, together with the author's clinical experience and potential artefacts mentioned in every chapter will be a great help in maximising the return on your investment for your scanner." (Vet Nurses Today, 1 October 2015)
"Overall, this book is a well-organized and thorough instructional guide for small animal practitioners interested in abbreviated ultrasound examination techniques." (Journal of the American Veterinary Medical Association, 15 September 2015)
"Overall, this book is a very nice eye-opener to AFAST3, TFAST3 and GFAST subtleties with definitions and usefulness." (European Journal of Companion Animal Practice, 1 October 2014)
"In the end, the book will be of more interest to those wishing to find a pearl or two of novel information to add to their ultrasound skill sets." (Doody's, 17 October 2014)
"A must for afterhours clinics! Veterinarians or vet students with an interest in ultrasound may also find this book useful in conjunction with other ultrasonography textbooks, as the descriptions of principles and ultrasound findings are very informative." (Australian Veterinary Journal, 28 October 2014)
"Experts in the field write articles, access is provided to a companion website of video clips, and black and white radiographic images pack a solid coverage highly recommended for any vet's practice and many a student technician." (Midwest Book Review, 1 July 2014)
See More
Instructors Resources
Request a print evaluation copy
Contact us

See More
See Less